Most Comfortable Men's Shoes for Everyday Wear and Travel
When in the market for a new pair of shoes, you should consider comfort before anything else. Comfortable shoes mitigate the risk of injuries as you run your daily errands on different surfaces, regardless of the duration. Luckily, the most comfortable men's shoes are also stylish and durable, so you will find a pair for any occasion.
To help you pick the best and most comfortable shoes, we have assembled a list of the seven best sneakers for daily wear. We also added a comprehensive buying guide at the end that will help you understand the different factors to consider when purchasing a comfortable shoe.
Which Are The Most Comfortable Men's Shoes for Daily Wear?
Did you know that uncomfortable shoes affect blood flow, which can have terrible effects on your lower limb health? The most comfortable shoes for men are designed to keep your feet safe and healthy on days you can't stop standing or moving around. They are best for people who are constantly on their feet, like those working in the healthcare, restaurant, and retail industries.
These shoes cushion your feet from stress and environmental elements to help you go about your day without fatigue or pain. So, when you need a new pair, you can get the best sneakers for men from Vessi.
Vessi is an up-and-coming Canadian brand in the footwear sphere. They're mostly known for making innovative and multipurpose sneakers and athletic shoes that are also waterproof, lightweight and super comfortable, so you can wear them to work, the gym, or home.
The Vessi Everyday Classic sneaker is one of the brand's best sellers and for a good reason. They're one of the most comfortable sneakers you can find in the market today. Plus, you can tell from their name that these sneakers were made for daily routines and just about any outfit.
These comfortable and lightweight shoes for men feature sportier soles that ensure your feet remain comfortable all day and throughout any weather. In addition, every pair of these comfortable sneakers is well thought out when it comes to the design.
The top layer of the shoe features patented Dyma-tex® technology that is woven into the knitting. A nano filtering membrane and a stretch knit layer that prevents debris and moisture from seeping in make Vessi shoes 100% waterproof.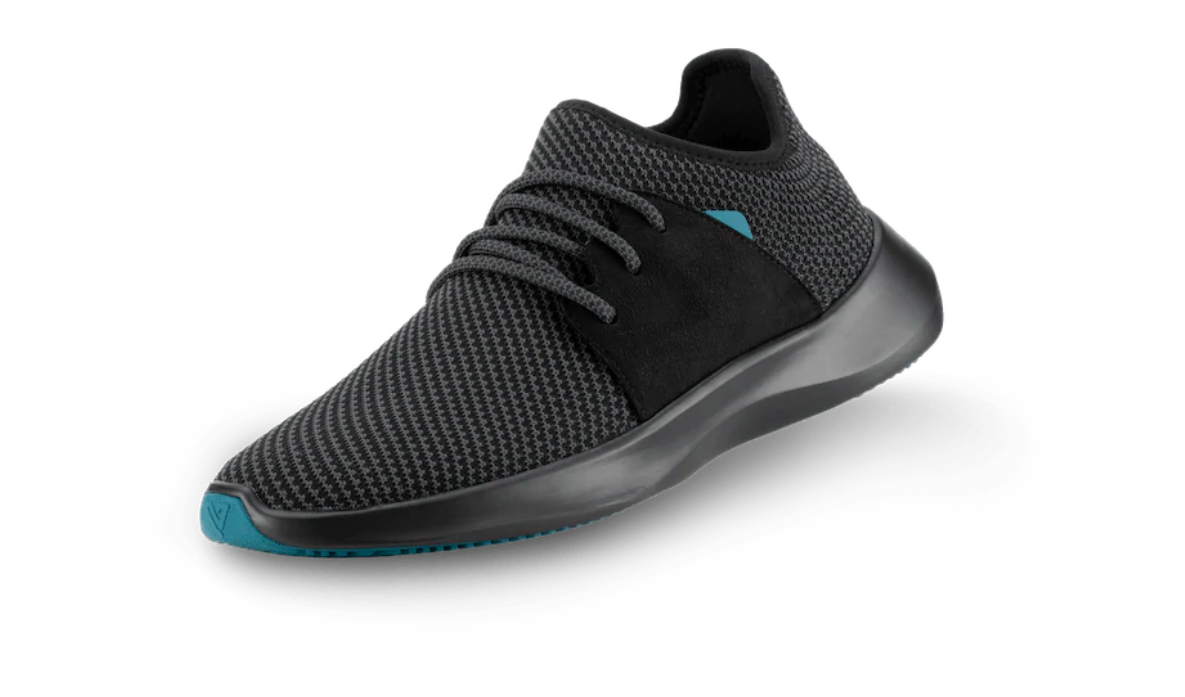 Image source: Vessi
Lastly, they come with removable antibacterial insoles. Because they're replaceable, you get guaranteed comfort throughout the shoes' lifespan. Plus, you can swap them for your custom orthotics if you need them.
Pros
Cushioned footbed

Lightweight design

100% waterproofing

Antibacterial insoles

Durable rubber outsole

Vegan materials

Removable insoles
Cons
Shipping is only limited to some countries

Lighter colors can be hard to keep clean

These weekend sneakers from Vessi are some of the most comfortable options you can rock with any outfit. Like other Vessi shoes, this pair of casual shoes feature a waterproof upper, but one with large enough pores to guarantee maximum breathability to prevent odors.
In addition, the pair is made with vegan materials and is lightweight enough to guarantee comfort on busy days. These Vessi shoes also have a carefully-designed tread pattern that guarantees traction on all surfaces.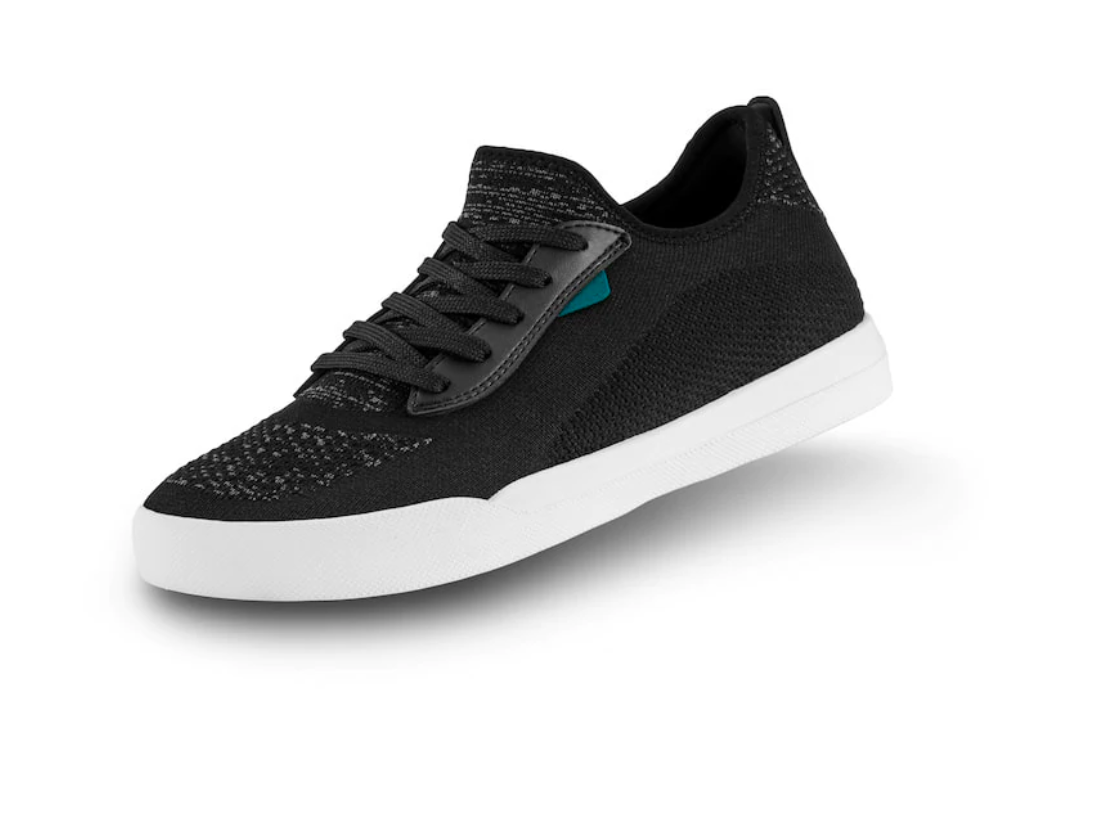 Image source: Vessi
The shoes also come in a lace-up design for a great fit, and a pull tab on the heel counter will make wearing the shoes a breeze. Additionally, the shoes come with removable insoles, and you can replace those with your more comfortable insoles if you deal with heel pain. The shoes are also easy to clean as you can toss them in the washing machine.
Pros
True-to-size design.

Available in different sizes and colors.

Made with a breathable upper for maximum comfort.

Thick rubber soles to distribute weight evenly.

The sneaker comes with removable insoles for easy cleaning or replacement.

The breathable upper is 100% waterproof.

The shoes come in a lace-up design with a sturdy pull tab
Cons
When you need to look stylish at work or on the weekend, these Vessi Weekend Chelsea boots are exactly what you need. These shoes are designed for plush comfort and safety along different terrains. They fit true-to-size and are available in several colors.

These boots are made with the company's patented 100% waterproof Dyma-tex® knit, which is integrated into a breathable mesh upper. Unlike other waterproof technologies from other companies that are a coating, Dyma-tex® is a vegan knit sewn into the shoe upper to block all water particles, but it also leaves enough room for air particles to circulate.
The shoe comes with sturdy, vegan leather pull tabs for easy wearing, while the rubber soles provide cloud-like cushioning on all surfaces. These shoes are also lightweight, so you can wear them to a busy workplace.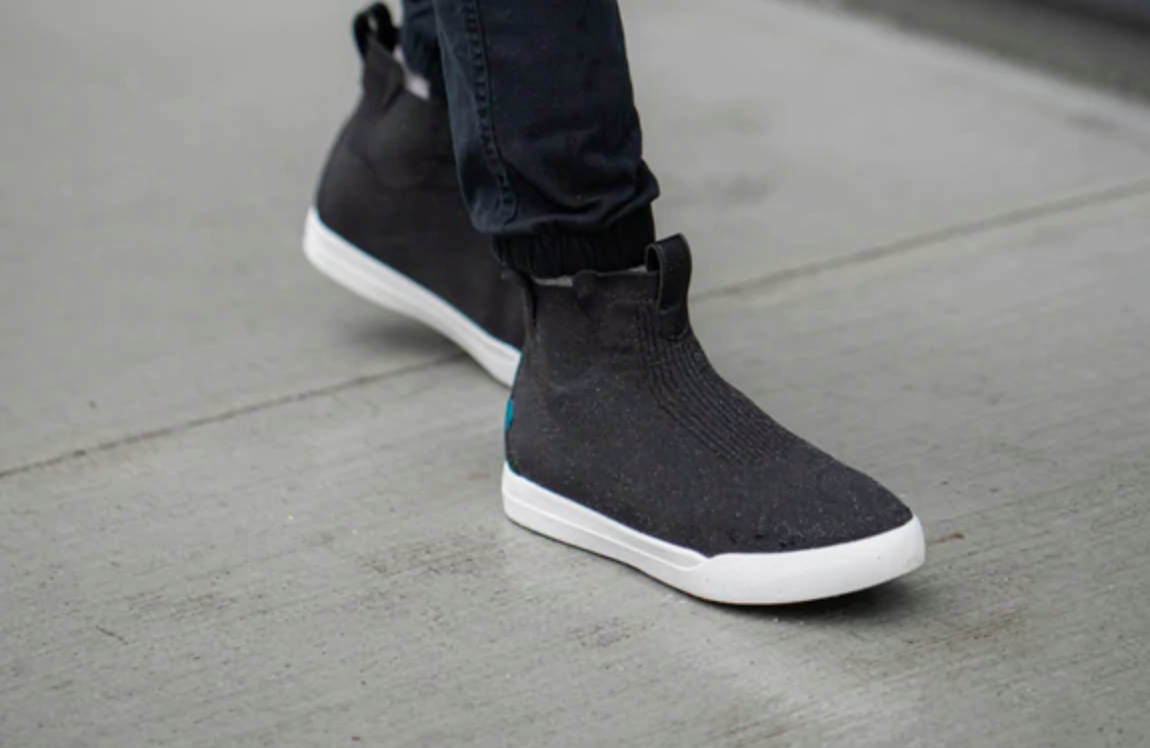 Image source: Vessi
The cleaning process is a breeze as well. All you have to do is soak your Vessi's into a basin with water and soap, scrub the soles with a soft brush, and wash the uppers with a sponge. When clean, leave the shoes to air-dry in an airy place.
Pros
Easy to wear as they come with pull tabs at the front and back.

Easy to clean.

The uppers are 100% waterproof and breathable.

They fit true-to-size.

Made with 100% vegan materials.

Available in different colors.
Cons
You have to size up or down for half sizes.
If you are looking for comfortable athletic shoes you can wear anywhere, these Cityscape sneakers from Vessi are ideal. The shoes come in two color options, are lace-up design, and fit true-to-size from sizes 6 to 13.

You can rock these 100% waterproof yet breathable sneakers anywhere and any time. Vessi shoes are great as walking or even casual running shoes when you need to be more active.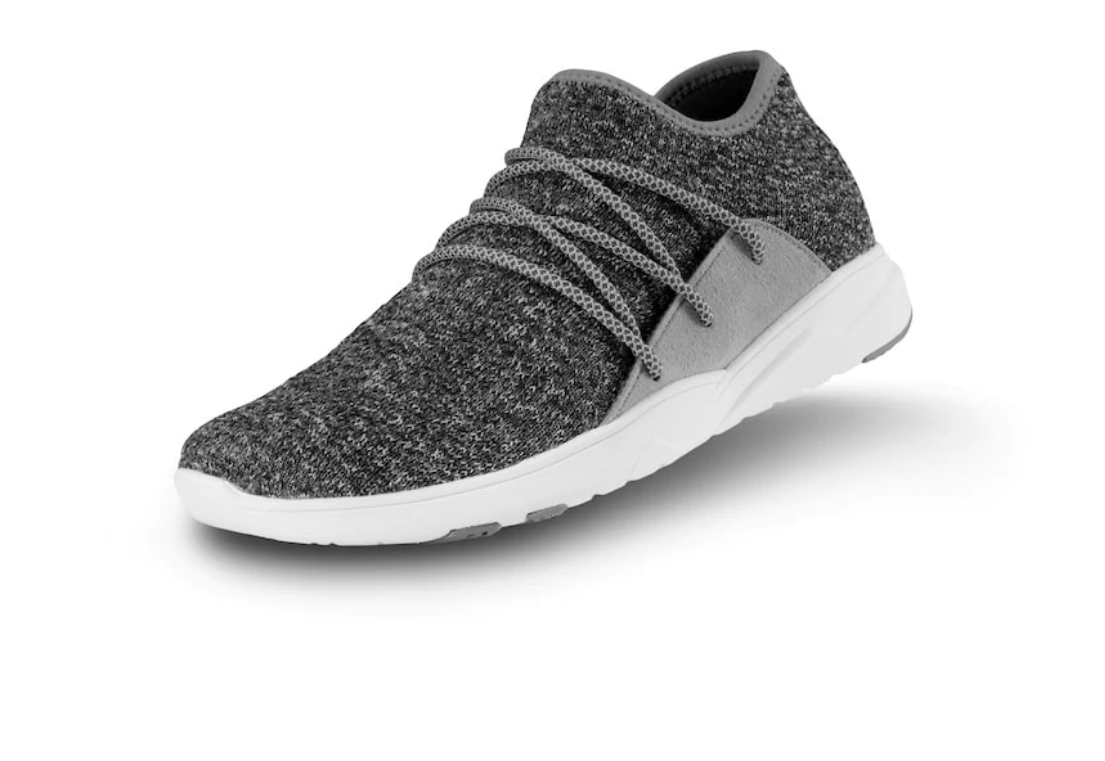 Image source: Vessi
The Cityscape sneakers are designed for commuting in the city, and the breathable knit upper provides flexibility as you move. In addition, the shoes have a comfortable toe box, so you can wear them for long periods of time. Like other Vessi shoes, these are also made with vegan materials, rubber soles, and come with removable, antibacterial insoles.
Pros
100% waterproof and breathable.

They fit true-to-size and feature a lace-up design to lock in the best fit.

The shoes come with a flexible upper.

They come with removable insoles and comfortable rubber soles for the best cushioning.

The shoes are lightweight and easy to pair with different outfits.
Cons
No half sizes.

Not machine washable.
The Everyday Move Slip-On Sneakers are the best alternatives to the Everyday Classic Sneaker. The shoe is designed with the brand's patented Dyma-tex® knit woven onto the upper fabric to block out dirt and water particles. But, the fabric has big enough pores to encourage air particles to pass through, thus guaranteeing the shoes are breathable.

These slip-on sneakers are available in true-to-size fits from 6 to 14, and you can also size up or down to get a half-size fit.
The slip-ons come with a stretchy upper, making them ideal for wide feet, while you will also enjoy the laceless design when you want to balance casual and office wear. In addition, the shoes come with sturdy pull tabs for easy wearing when in a hurry.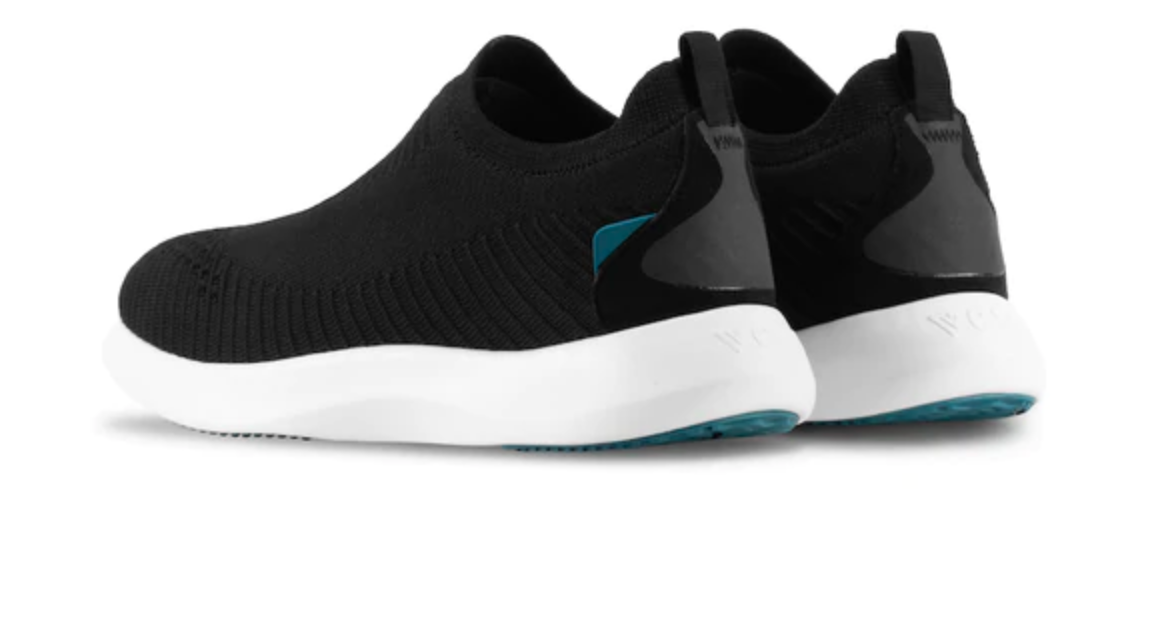 Image source: Vessi
Finally, the shoes feature cloud-like cushioning with VZero2 midsoles to give relief from plantar fasciitis and other conditions.
Pros
100% waterproof and breathable.

Stretchy upper fabric for the best fits.

Easy to wash with warm, soapy water.

Available in different true-to-size fits.

The shoes come with sturdy pull tabs for easy wearing.

They offer cloud-like cushioning to prevent heel pain.
Cons
Not machine washable.

No half sizes.
As you look for the most comfortable shoes for active people, nothing beats these Everyday Move sneakers. With great cushioning, fit, and waterproof features this is an athletic shoe you can rock on many terrains.

Available in true-to-fit sizes, the shoe also comes in different colors to choose from. The pair is ideal when worn as work shoes, but you will need to ensure your workplace does not demand steel-toe boots.
The lightweight shoes come with the VZer02 midsoles that provide cushioning and shock absorption on different terrains. In addition, the shoe features a rubber outsole for abrasion resistance, while the reliable herringbone grip provides traction on most surfaces.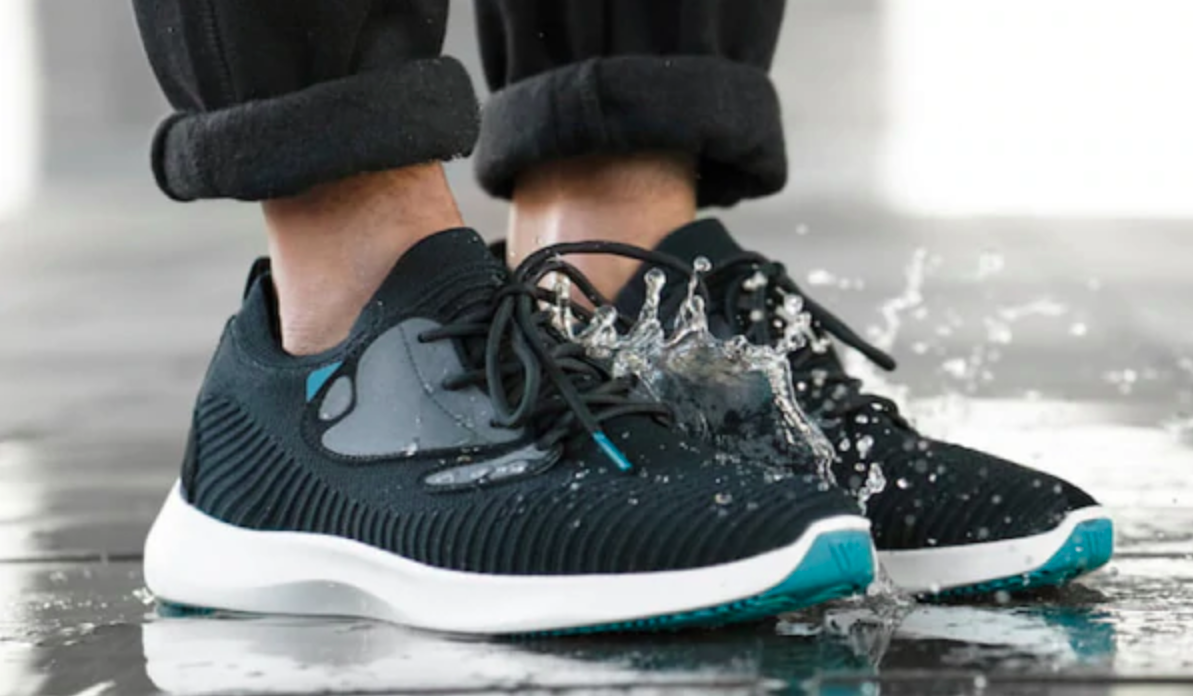 Image source: Vessi
The upper knit is made with vegan materials and comes with a sturdy pull tab. It is 100% waterproof and breathable, and it adjusts to the shape of your foot for maximum comfort. The lace-up design is ideal when you want to lock in the best fit for your adventures.
Pros
Rubber outsole with a herringbone pattern for the best grip.

Made with vegan materials.

Easy to wear with the pull tabs.

Waterproof and breathable uppers.

Lightweight and comfortable for outdoor adventures.
Cons
While other shoes on this list are superb for more active and work wear, this pair is suitable when you are lounging at home or running a few errands. They are slip-ons that also offer true-to-size fits and are available in different colors.

They are waterproof, breathable, lightweight, and made with vegan materials. In addition, the slippers come with a collapsible heel to suit your lounge or outdoor style. The pair also comes with a rubber outsole with a herringbone tread pattern for great grip on any surface.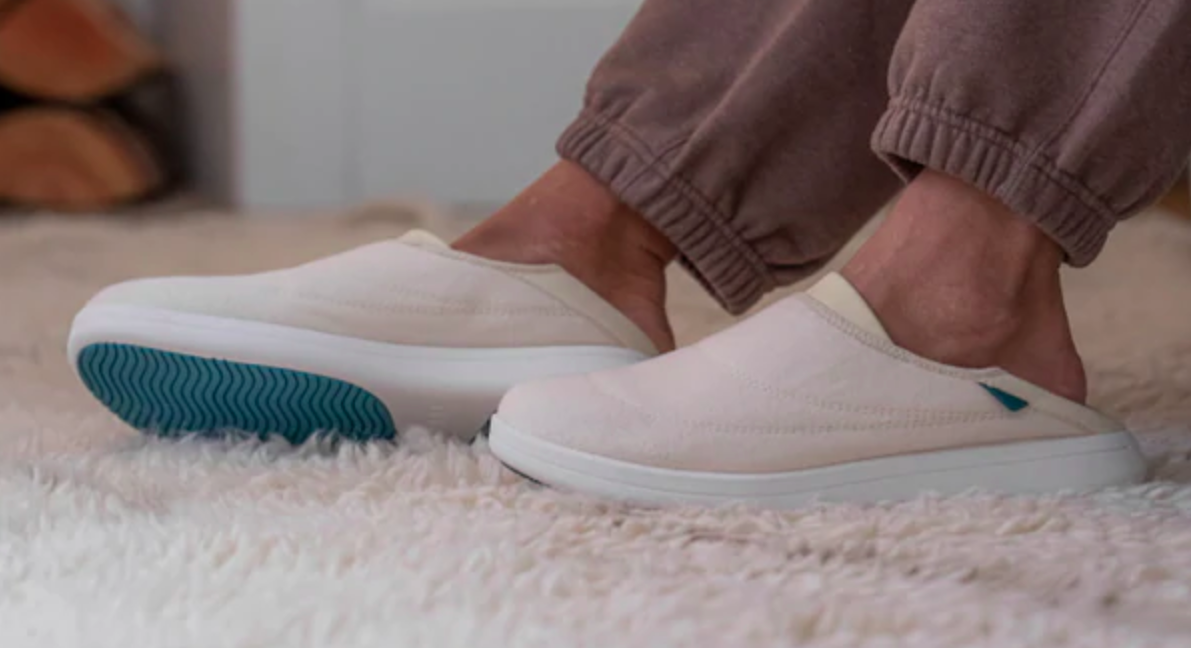 Image source: Vessi
Pros
The shoes come with a collapsible heel for easy wearing when on the move.

They come with waterproof and breathable uppers.

Great lugs to provide traction as you walk.
Cons
What Things Do You Consider When Picking The Most Comfortable Shoes?
Here are the top factors to consider when buying comfortable work, casual, or athletic shoes for men.
1. Soles
The soles of the shoe are key aspects you should look into. Because the sole will be in between your foot and the hard ground, you want to find something that will be high quality, supportive, and that provides the best feedback as you move. For peak comfort, the most comfortable shoes tend to feature either EVA, Polyurethane (PU), or VZero2 midsoles and rubber outsoles.
2. Footbed
To achieve excellent step comfort, a soft insole is essential. Some shoes will have removable Ortholite insoles, which can be substituted with your preferred insole or custom orthotic. Ideally, the insole of the most comfortable shoe needs to have a contoured profile for all-day support. A leather-lined footbed also helps elevate the fit and comfort levels.
3. Uppers
Leather uppers tend to be what most people prefer because of their durability and easy cleaning. However, mesh uppers are also a great option, thanks to their breathability. Another important factor to consider is a stretchy upper, which allows your feet to flex without feeling too constricted.
Additionally, you can also look for waterproof uppers that make any shoe rain, snow, or water puddle-ready. Unfortunately, most brands that offer waterproof shoes use a coating over the fabric that, while keeping water molecules out, also prevents breathability, which can lead to smelly feet.
When buying comfortable men's shoes, look for a brand like Vessi, which uses the latest technology to design a waterproof knit woven into the shoe's upper to keep water molecules out. Luckily, the upper will not prevent breathability nor make the upper too stiff and hard to clean.
4. Cushioning and shock absorption
The most comfortable shoe should have plenty of padding as well as a soft and folded tongue. This ensures the tongue doesn't bite into the foot, helping minimize the break-in period and prevent foot pain.
5. Stability and support
Heel or foot pain is often caused by a shoe's lack of proper arch support. The most comfortable sneakers require arch support that matches your walking gait. Look for shoes with great shock absorption and motion correction features to deal with some of the most common foot problems.
Additionally, the most comfortable sneakers should have a proper heel counter which cradles the arch and heel to create a snug fit. This also helps create a locked-in feeling and minimize over-pronation. A steel shank, which is often found in boots, will also help maintain the shape of your foot while still protecting you from injuries.
6. Additional features
While the things we mentioned above as the base of good everyday shoes, there are more things you can look out for.
Here are some other additional features you should consider:
Colors and design depend on the occasion or the use.

A padded collar provides extra stability.

Nonslip outsoles with great traction for slippery surfaces

Higher heel to reduce pressure on the Achilles.
How Do You Make Shoes More Comfortable?
While the best way to do this is to first pick a shoe that has common comfort features, there are things you can do to make them even better. Here are some helpful hacks to ensure your shoes stay comfortable throughout the day:
Ensure you're wearing the correct shoe size and width. It's worth measuring your feet to find your correct size before buying.

Wearing moisture-wicking socks can make a huge difference. These socks are made from synthetic materials that help evaporate moisture.

Try using a foot powder to soak up moisture, reduce body odours, and block sweat ducts.

Consider using shoe stretchers to ensure the shoe fits comfortably.

Take your time breaking in the shoes to ensure a comfortable fit.

Use orthotic inserts for improved overall comfort while standing, exercising, or walking around.

Try using heel grips as they stick at the back of the heel.

Consider buying high-quality footwear that is well designed.
Frequently Asked Questions About Comfortable Shoes for Men
1. What brand of shoes is best for standing all day?
In our opinion, the best brand of shoes for all-day standing is Vessi. Vessi shoes are not only functional and comfortable but are also manufactured with sustainable processes. They also have excellent cushioning and absorb shock from all-day standing.
However, their best feature is that they're 100% waterproof to prevent rain, snow, slush, mud, and sand from entering your shoes. Other great brands are Nike, Sketchers, Adidas, New Balance, and Timberland.
2. Which is the most comfortable sneaker?
Out of all the Vessi shoes above, the Everyday Classic sneaker takes top place. After all, you can never go wrong with a breathable sneaker that is 100% waterproof and has excellent padding for ample cushioning. On top of that, it features sportier soles that ensure your feet remain comfortable all day.