Best Off White Tennis Shoes for Comfort and Traction
The story of off-white shoes as part of the tennis uniform dates back all the way to the 1880s. Back then, seeing players sweating was the peak of inappropriateness, all-white outfits became mandatory to help hide any sweat stains.
While sweat wouldn't really show on your shoes, it did make sense fashion-wise to make off-white tennis shoes mandatory in order to match the rest of the clothes. But, of course, today, unless you're playing in big tournaments, you can choose any color you like. But, if you are the kind of person who appreciates a good classic, then this article is for you.
5 Best Off-White Footwear For Tennis
1) Weekend Sneakers

Comfort should be a priority when you hit the court, and out of all the styles Vessi offers on their site, the Weekend Sneakers might be the best for that. For starters, the PU molded midsole keeps your feet cozy while providing reliable support when jolting forward, making quick turns, or planting your feet for the winning strike.
The replaceable insole means you can swap them for orthotics if you need to improve comfort and support. These shoes are also 100% waterproof, thanks to the brand's patented Dyma-tex® knit technology. So, you can hit the court regardless of the weather and remain comfortable. In addition, the material is breathable.
Another plus, if you decide to shop on their website, is that shopping becomes quick and easy. In addition, they ship to some international countries, offer promotions all the time, and you can even create (and sign in) to your account with your email to see any additional information about your order you might need.
Pros: 
It comes in other colors like black and gray.

Fits custom orthotics.

Lightweight.

EVA midsole.

Rubber outsole for traction on hard courts.

It can be worn off the court.
Cons: 
Not for competitive tennis players.

It lacks a toe cap.
2) Vessi Cityscape

Inspired by everyday city life, these sneakers are perfect for every occasion. Apart from being super lightweight, these shoes are also waterproof. But, waterproof doesn't mean unbreathable. They are also made from very breathable materials that wick moisture away.
As with all other Vessi shoes these are made from vegan materials. Added to that, the patented Dyma-tex® knit used to make the shoes will mold to your feet and keep you comfortable all day long. This special knit will also make sure you stay cool in the summer and warm and cozy in the winter. The added antibacterial insoles prevent any bacteria from building, therefore keeping your feet safe.
The sole has a signature wave grip to keep your feet steady and provide awesome and immediate traction when needed. For example, on a tennis court, you will have ample traction, as well as cushioning to protect your feet.
Pros:
Lightweight.

Waterproof.

Comfortable.

Anti-odor.
Cons:
3) Vessi Everyday Classic

The longer you wear these shoes, the more comfortable they get as they are designed to hug your feet. The stretchy knit upper will eventually contour to your foot shape, and just like that, you will have personalized shoes. Additionally, the shoes are equipped for all-day comfort.
This means you can easily wear these shoes for extended periods without an ache or pinch in your foot. The bottom of the shoes has an airwave pattern to confirm traction. They are excellent for when you have to make quick turns and stops on a tennis court.
The sole is also designed to be cushy, so you never have to feel the ground under your feet as you walk. You might need to change your tennis shoes in six to twelve months, but you will get the most use out of them.
Pros:
Comfortable

No break-in period required

Waterproof

Durable

Extra grip
Cons:
4) Vessi Everyday Move

When feeling adventurous, these Vessi everyday move sneakers are your best bet. Apart from being the perfect shoes for outdoor activities, they are also very comfortable. The pull tabs on the shoes help with slipping them on and off which is ideal when you can't deal with tying laces.
Additionally, they are made with breathable knit uppers. This way, your feet can always remain cool and well-protected even if you're running on a tennis court. The shoes also have well-placed ridges to ensure enough traction to minimize slipping and maximize performance.
Pros:
Lightweight.

Comfortable.

100% Waterproof.
Cons:
5) Vessi Weekend

The Weekend Sneaker is also perfect for playing tennis. The comfortability and durability of these shoes is out of this world. The insoles are padded and mold to your feet the minute you put them on.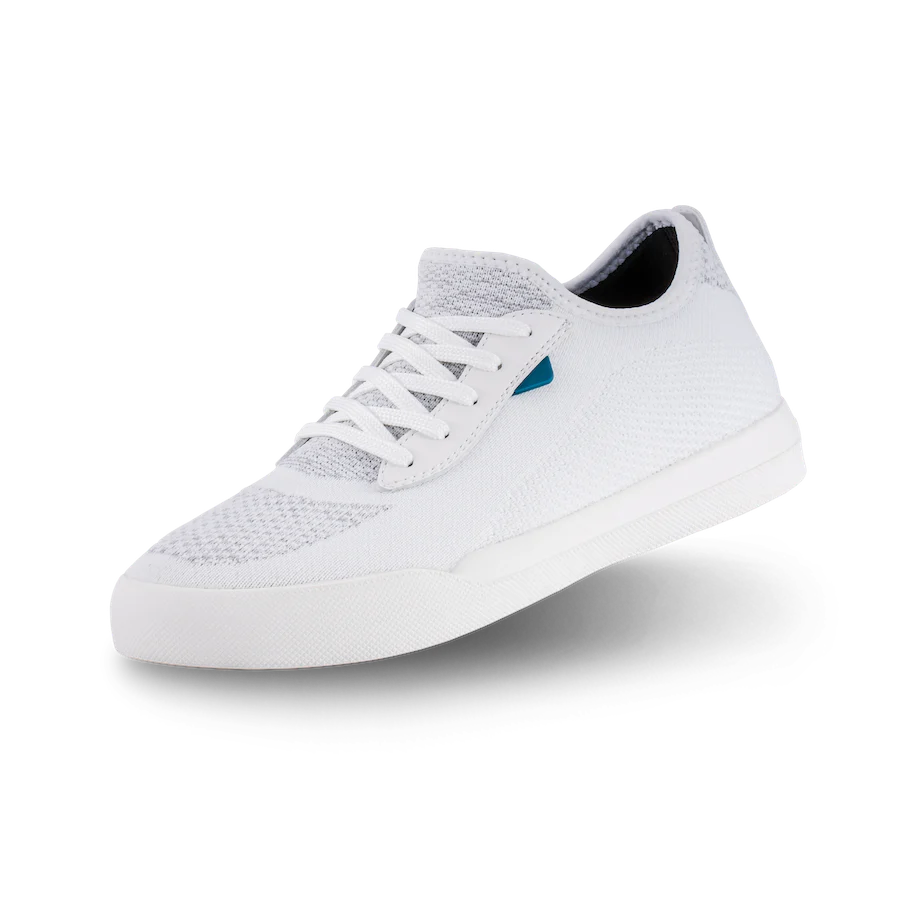 You can easily keep moisture out and keep your feet warm and dry as you go about your business. The best part about these shoes is that they are easily machine-washable. All you have to do is remove the laces and insoles and put the shoes in the washer.
This is super convenient. However, they are to be air-dried only. They are perfect when you need to run errands or play tennis.
Pros:
100% waterproof

Machine-washable

Breathable construction
Cons:
What Shoes Do You Need On Different Tennis Court?
Before we delve into the types of shoes you need on the tennis court, discussing the types of court surfaces is a crucial first step. After all, where you step has a direct relation to what features you need to look for when it comes to buying your next shoe.
i) Clay Courts
If you find yourself playing on clay courts, you'll need a tread pattern to help you grip the ground properly and prevent any slipping. A herringbone tread pattern loosens clay underneath your stride for an efficient grip.
Another thing to note is that these surfaces don't require a lot of padding or a firm sole. This means you can pick shoes that are more lightweight. Lastly, you want to find a shoe that is built to prevent the clay from entering them while on the court. So, ideally, you want something that isn't made of mesh or, if it is, a mesh that's tightly knit.
ii) Hard Courts
Hard courts are pretty popular among tennis players despite their unforgiving nature. The best tennis shoes for these surfaces must offer endurance and comfort since each step involves hitting really dense material. Your shoes should withstand the rigid surface by offering shock absorption, traction, and extra padding.
In addition, the soles should not leave scuff marks on the surface. They should also be "springy" to cater to the wellness of your joints.
iii) Grass Courts
Although grass courts are not as popular as hard courts and clay courts, playing these fields is always fun. The surface is quite slick, especially when wet, so you need to focus on finding shoes with small spikes or studs on the soles for a better grip. However, the traction-enhancing extras on the sole can damage the playing area.
If the court is privately owned, we recommend asking what the regulations are beforehand. For example, some places have strict regulations on the types of tennis shoes you can wear on their courts. However, for such terrains, you should always have traction accessories such as rubber lugs.
Buying Guide For Tennis Shoes
There are a few things you want to look for when buying tennis shoes. They are:
a) Comfort Level 
Tennis shoes should provide your feet with adequate support for the numerous motions performed on the court. Most of the options on the market today are pretty stiff, making them perfect for the job. But keep in mind that a sturdy build might get uncomfortable - especially when playing regularly.
Generous padding for the midsole is essential for extra support and comfort. In addition, a removable insole is an excellent option to make the interior cozier. Replaceable insoles also ensure you have freedom of choice depending on your own needs.
b) Stability
It is common to find yourself shifting from side to side and performing abrupt movements on the court. That's why stability is a critical factor in the kind of shoes you buy. Ideally, you should consider three things regarding how stable an option is:
Width of the shoe: This helps you with balancing your footwork. For example, if you can plant your feet well, you can set yourself up for a powerful strike to catch your opponent off-guard. On the other hand, a stable footing allows you to change direction without contorting your feet in an uncomfortable position.

Rigid soles: This is in order to handle abrupt bursts of motion in various directions. Most tennis shoes come with a stiff shank that ensures they do not twist when you are quickly changing directions on the court. This means your footing will remain stable.

Upper: Find one that wraps around your foot to increase your stability. After all, you don't want the sensation of slipping inside your shoes when you're tracking backward for a lob or hitting the groundstrokes with sharp lateral movements.
c) Durability
Since you're likely to play on hard courts most of the time, the durability of your tennis shoes is vital. Pay attention to the outsole, for starters, since it bears much of the brunt of work when running. In addition, the toe area frequently comes into contact with the court, so visible wear on the front part due to constant scrapping is normal.
Plus, depending on your playing style, you may experience significant wear in different parts of the shoes. Check your current shoes for signs of wear and the different locations, and from there, find a shoe that has those areas reinforced. It is also a superb idea to do your research on different types of shoes that fit your lifestyle.
d) Grip
Since the outsole is the first line of contact between your feet and the court surface, the grip it offers is essential for improving your performance. Although traction is critical, your shoes should let you slide, so you don't sprain your ankle. This means it's important you pay attention to the tread pattern, texture, and material of the outsole.
e) Breathability
If you plan on playing when the sun is out, and depending on where you live, the breathability of your tennis shoes may be crucial. After all, you don't want to start sweating and end up with wet feet, bad odor and painful blisters.
This is why finding a well-ventilated pair like the Vessi Weekend Sneakers is a great option to allow your feet to lose moisture while keeping wetness out. Additionally, off-white, white and light-colored shoes tend to reflect heat well to ensure you don't get uncomfortably warm. Plus, mesh-like construction for breathing helps minimize the shoes' weight.
f) Arch Support
Depending on your feet's pronation, you may need to consider additional arch support. The good news is that most options on the market offer moderate to low prop-up, which caters to most players' foot needs.
The Vessi Weekend Sneakers, for example, allow you to insert custom orthotics to increase arch support. This is perfect for people who require added arch support or have conditions such as plantar fasciitis.
Final Thoughts 
All being said and done, you need to know how to clean tennis shoes. The type of shoes you wear has a bearing on how your tennis match ends up looking when playing. We know that choosing the right off-white tennis shoe is tricky when you do not know where to start. So hopefully, our detailed buying guide will help keep you on the right track.