Best Lightweight Running Shoes for Weightless Speed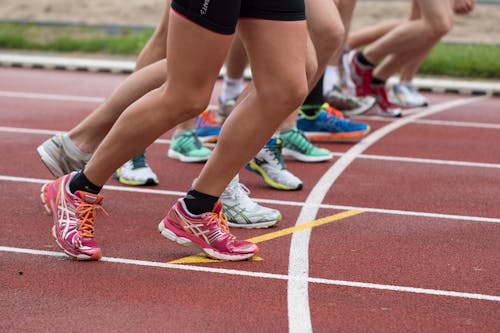 Running shoes are great to have, especially if you are interested in maintaining an active lifestyle. However, even among running shoes, some can be heavier than others meaning that you could limit your full speed potential if you go with heavier options. Luckily, we've assembled a list of the best lightweight running shoes and the issues to consider when selecting the most suitable pair for your needs.
Let's get started!
The best pair of lightweight shoes you can buy is the Vessi Cityscape. As one of the lightest shoes on the market, everything about them works together to give you a comfortable and weightless experience. They feature an ultra-light sole that's still durable enough to provide the traction and grip you need for stable movement.
The uppers on these shoes are made from Dyma-tex material, a 100% waterproof knit specially designed to still foster a breathable environment. As a result, you won't have to worry about sweaty feet since air can move in and out of the shoe with minimal restriction. At the same time, the waterproof upper ensures you can walk on wet surfaces without moisture penetrating the shoes.
The insoles are made to provide ample arch support thanks to their shape, which contours to your feet. As you run in these shoes, it'll feel as if you're moving on clouds. The removable insoles also feature an anti-odour layer that prevents smell development for maximum comfort.
Pros
Lightweight construction

Resistant to odour formation

Waterproof

Removable insoles

Breathable
Cons
Not suitable for all foot shapes
The second option we'll discuss is the New Balance FuelCell Rebel V2 Speed Running Shoe. If you are looking for the perfect combination of style and weightlessness, this is the pair you need. These lightweight running shoes come in various designs to ensure you can find a great match for any occasion.
The foam inside the shoes is strategically placed to give you a responsive burst of energy that will propel you forward much faster. This ensures you can run as fast as you need without feeling weighed down. In addition, the uppers are made of mesh material making them breathable without compromising on durability.
If you need support for overpronated feet, you'll be glad to know that there's a heel counter inside the shoe to deliver the support you require without making the shoe heavier. Additionally, the collar foam will also hold your foot inside the shoe to prevent it from accidentally slipping out. You'll also get maximum grip on the road thanks to the rubber outsole technology on this pair of running shoes.
Pros
Stylish

Wide toe box

Responsive performance

Breathable mesh uppers

Locked fit

Comfortable to wear
Cons
The next lightweight running shoes to consider are the Saucony Kinvara 12 Running Shoes, ideal for short and long-distance runners. The lightweight build comes courtesy of the synthetic mesh uppers, which keep your feet comfortable since they stretch and contour to the shape of your feet.
These shoes are highly responsive thanks to the PWRRUN cushioning, which will give you a strong bounce that can help you run faster and longer. In addition, you won't feel unstable while running in these shoes since they have synthetic outsoles that deliver maximum contact with the ground for better traction.
They also feel flexible enough to let you make quick transitions even around tight corners for peak athletic performance. Wearing these lightweight running shoes on your race day will give you an advantage over other competitors since they also deliver a snug fit. As such, the shoes won't unexpectedly slip out as you run.
Pros
Lightweight frame

Keep feet cool and dry

Great for long distances

Secure fit

Comfortable feel
Cons
Not great for narrow feet
We can't fail to mention the Adidas Adizero Boston 6 Running Shoes when talking about the best lightweight running shoes. You'll find several variations to provide enough options for a perfect match for your outfit or race. They are arguably some of the lightest running shoes available, thanks to the materials used in their construction.
If you're looking for trail shoes that can add some power with every step you take, these are the shoes you need. They have energy-returning capabilities that ensure a responsive performance on the race track. This means that you'll use less energy to drive yourself since the shoes will do some of the work for you.
The engineered mesh material will hug your foot and contour to your shape for a comfortable fit. This ensures you won't develop sweaty feet or wet socks since the materials have high breathability. If you often develop blisters or experience chafing, you can say goodbye to these issues when wearing these shoes since they have a wide toe box lined with soft materials to keep your toes cozy.
Pros
Flexible design

Prevents blisters and chafing

Durable outsole rubber material

Responsive

Unnoticeable weight
Cons
Not the best for an active athlete
Lastly, we wanted to bring up the Brooks Hyperion Tempo Running Shoes. They're ideal for active athletes who need a robust performance. You can get the most out of these shoes since they are light and responsive which means a short recovery time during your runs. These shoes also offer a comfortable ride that can keep you on your feet for hours without pain or fatigue.
Those in the market for a lighter running shoe will be glad to find this pair. The DNA FLASH midsole in these shoes contains nitrogen, making the shoe more lightweight than others. This type of midsole also offers a spring-like performance. Additionally, the woven upper stretches with your feet to deliver a great fit that allows you to run without losing the shoes.
The design of this shoe ensures you can enjoy natural foot movement since it's flexible and stable. If you engage in long races, these shoes are a perfect pick since they offer great performance and comfort. You won't have to wait for a long break-in period for these shoes to become comfortable either.
Pros
Light construction

Ideal breathability

Great cushioning

Ideal for wider feet
Cons
It won't fit narrow feet well
What Are The Benefits of Lightweight Shoes?
There are several advantages to choosing lightweight running shoes. We'll discuss them in detail in this section.
1. Better breathability
Unlike regular running shoes, lightweight versions are made with materials that are light and airy. Instead of heavy upper materials, these shoes typically feature mesh uppers which are thinner than other fabrics. As a result, lightweight shoes are better at allowing moisture and heat to escape from the inside.
Usually, when the upper material is thick, it'll cause sweat to accumulate inside leaving you with wet socks and an uncomfortable feeling. So, if you are looking to keep your feet cool and dry during your runs you should consider lightweight footwear.
2. Enhanced comfort
If you are participating in a long-distance race, comfort is of utmost importance. Unfortunately, heavier shoes can drag your performance down since you'll need to deliver double the effort for the same result thanks to the additional weight. A great performance can be challenging to achieve when wearing standard running footwear since they could be so heavy that they pull you down.
With a perfect pair of lightweight shoes, you can go for miles without developing pain or fatigue in your feet. As a result, you can go longer and faster, guaranteeing a top position among your competitors.
3. More flexibility
Something else you'll get from light shoes is flexibility. Typically, running shoes feature heavy rubber soles for maximum longevity which can be considered stiff. When the outsole of your shoe is stiff, you'll have a more challenging time moving your feet naturally which will affect your performance on the track.
Lightweight shoes come with flexible soles that can bend according to the natural movement of your feet. As a result, you'll be more comfortable running without feeling restrained - allowing you to go further within shorter times. Avoiding discomfort is crucial to ensuring you run as fast as you need to.
How Do I Choose The Best Lightweight Running Shoe?
If you don't know what factors to consider as you choose your running shoes, we have you covered. We're going to share tips on how to choose the best shoes for your situation. You'll want to keep the following details in mind as you look through the various options in this post.
1. Stability
It's crucial for your shoes to provide ample stability since, without a stable feel, you can easily sprain your ankle. Stable shoes will protect your feet from damage by providing a reliable platform to move on. Without proper motion control, you can't make spontaneous changes in direction without falling or sliding.
One thing that affects stability is the material of the soles. You'll want to go with rubber soles since these deliver great grip and traction, even on slippery or wet surfaces. Additionally, you should ensure the shoes have a deep tread pattern so you can grip the ground without worries.
2. Comfort
Another thing to consider is the level of comfort the shoes provide. Your comfort determines how long you can run without pain which is why it's crucial to find a comfortable pair. While minimally cushioned running shoes might sound less cozy, they actually work the opposite way. These shoes can deliver the right amount of support without making the shoe uncomfortable.
You can still get a smooth ride from a shoe with minimal cushioning since the thickness of the midsole isn't the only factor affecting comfort. You'll also want to pick a secure fit to ensure your feet don't move about inside the shoes or suddenly slip off.
3. Durability
You don't want to invest in shoes that you'll have to replace after a few weeks. It's advisable to select a pair that can last as long as possible to ensure you get good value for your money.

Start by checking out the materials used to construct the shoes since that'll determine how long the shoe can last. Do keep in mind that even if the upper fabric is lightweight, it shouldn't compromise durability. One thing to note is that you'll likely need to replace your running sneakers after around 300-500 miles in them.
4. Weight
Many shoes in the market are considerably heavy and can lower your performance because of their additional weight. If you want to run fast with little restriction you should look for lighter options.
Check the weight of the shoes before buying them to ensure they are light enough to run without quickly getting tired.
5. Breathability
It's also essential to have shoes that allow your feet to breathe. The upper material is the dominant factor influencing breathability, which is why you should choose shoes with a mesh upper.
With a breathable pair, you can trust that your feet won't get wet and cold inside the shoes since the material will allow air to pass through. With low breathability, the shoes will encourage sweat buildup, making it slippery inside the shoe.
6. Shock Absorption
The final thing to consider is whether the shoes offer ample shock absorption. With lightweight shoes, it's possible to get a thinner sole that doesn't do much for the impact you take when your feet hit the ground.
Instead, you should select shoes that have cushioning like EVA foam to ensure they can absorb as much shock as possible. That'll help keep your feet free from pain and discomfort, allowing you to keep running longer.
Frequently Asked Questions
1. Which brand has the lightest shoe?
While there are many options out there, like the ones we mentioned above, Vessi seems to offer some of the best options. Their Cityscape sneakers are some of the lightest shoes in the market today making them lightweight and cozy.
2. Do light running shoes make a difference?
Yes, light running shoes absolutely make a difference. This is because standard running shoes can tend to heavier soles. And heavier soles mean the potential of being dragged down as you run. They can also make you significantly slower.
3. Are minimally cushioned running shoes comfortable?
Yes, they are. Even if the cushion is thinner, the shape and fit of the shoe could still ensure it's comfortable to wear.