What Shoes to Wear with Leggings: Keep it Trendy and Stylish
Leggings are one of the most comfortable and versatile wardrobe staples. Whether you are tossing them on for gym sessions, a quick grocery run, or date night, these stretchy bottoms work for several occasions, and as such, you need to pick the right shoes to avoid detracting from the overall look. After all, choosing what shoes to wear with leggings is key to finding your style and will elevate your legging outfit to the next level without swapping them for skinny jeans or something more restricting.
Our Vessi Shoes redefine styles and practicality, just like leggings blend style with comfort. Our shoes are waterproof and super comfy, making them an absolute match with leggings. The sleek and modern designs effortlessly complement the legging's streamlined silhouette, giving you a versatile and super-fashionable combo. From classic sneakers to trendy waterproof boots, there is a pair at Vessi for a laid-back vibe of the leggings outfit.
Let's dive into our selection of the best shoes to wear with leggings for casual, athleisure, and smart casual ensembles.
What Shoes to Wear with Leggings?
1. Slip-on sneakers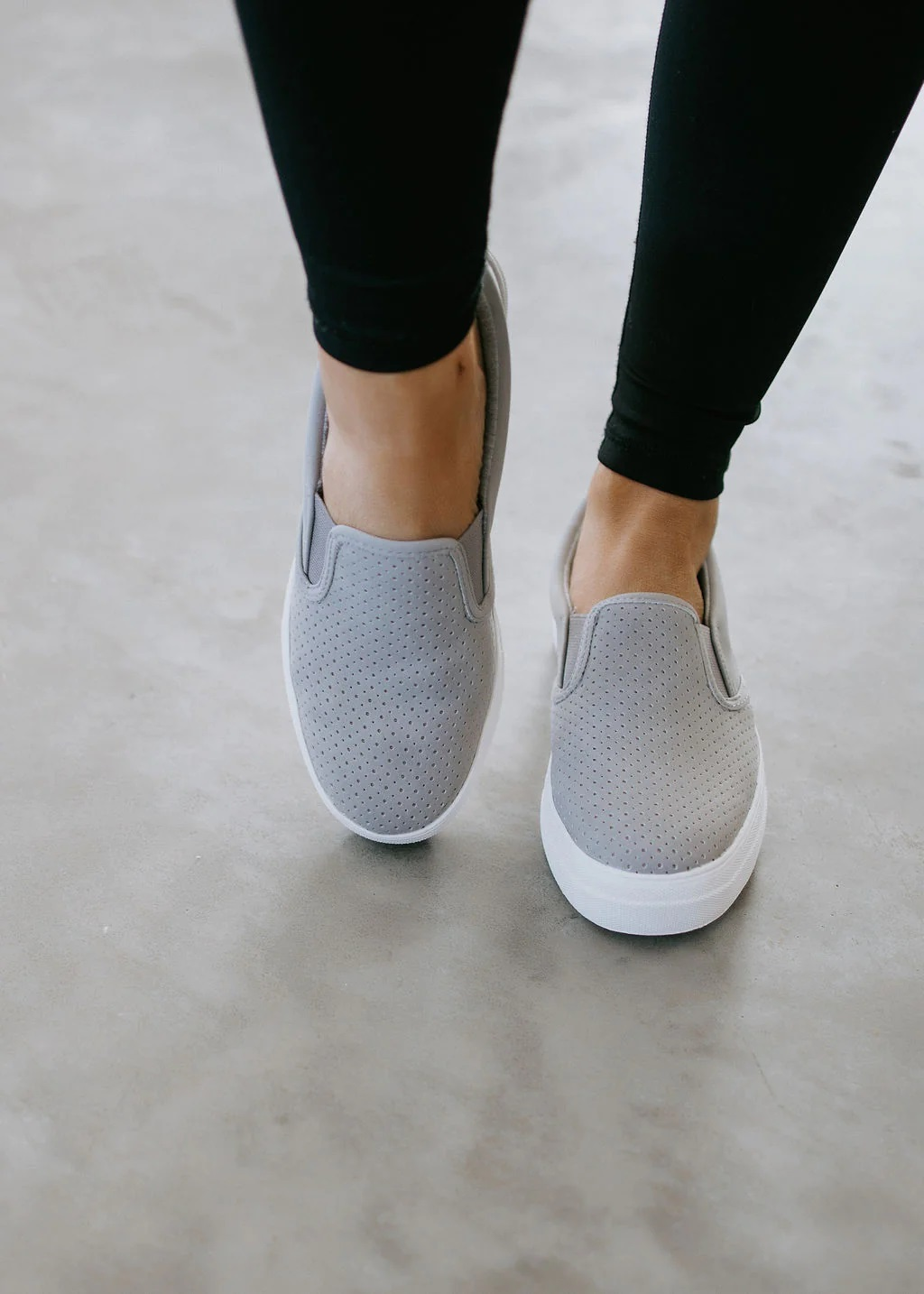 Image Source: lauriebelles.com
If you love the sneaker-leggings look but want a less athletic vibe or can't deal with laces, try slip-on sneakers. Slip-on sneakers paired with leggings, while still having a sporty vibe, will give a more minimalist aesthetic, projecting a more relaxed and casual vibe ideal for weekend getaways or holidays.
2. Ballet flats
Simple, light, and comfy, ballet flats are the leggings of the shoe world, so it makes sense that you can easily pair them together. Ballet flats are classic and add a touch of elegance to the leggings outfit. Their simple and slim design match perfectly with leggings for a laid-back look. They are comfy and easy to walk in, making them perfect for everyday wear.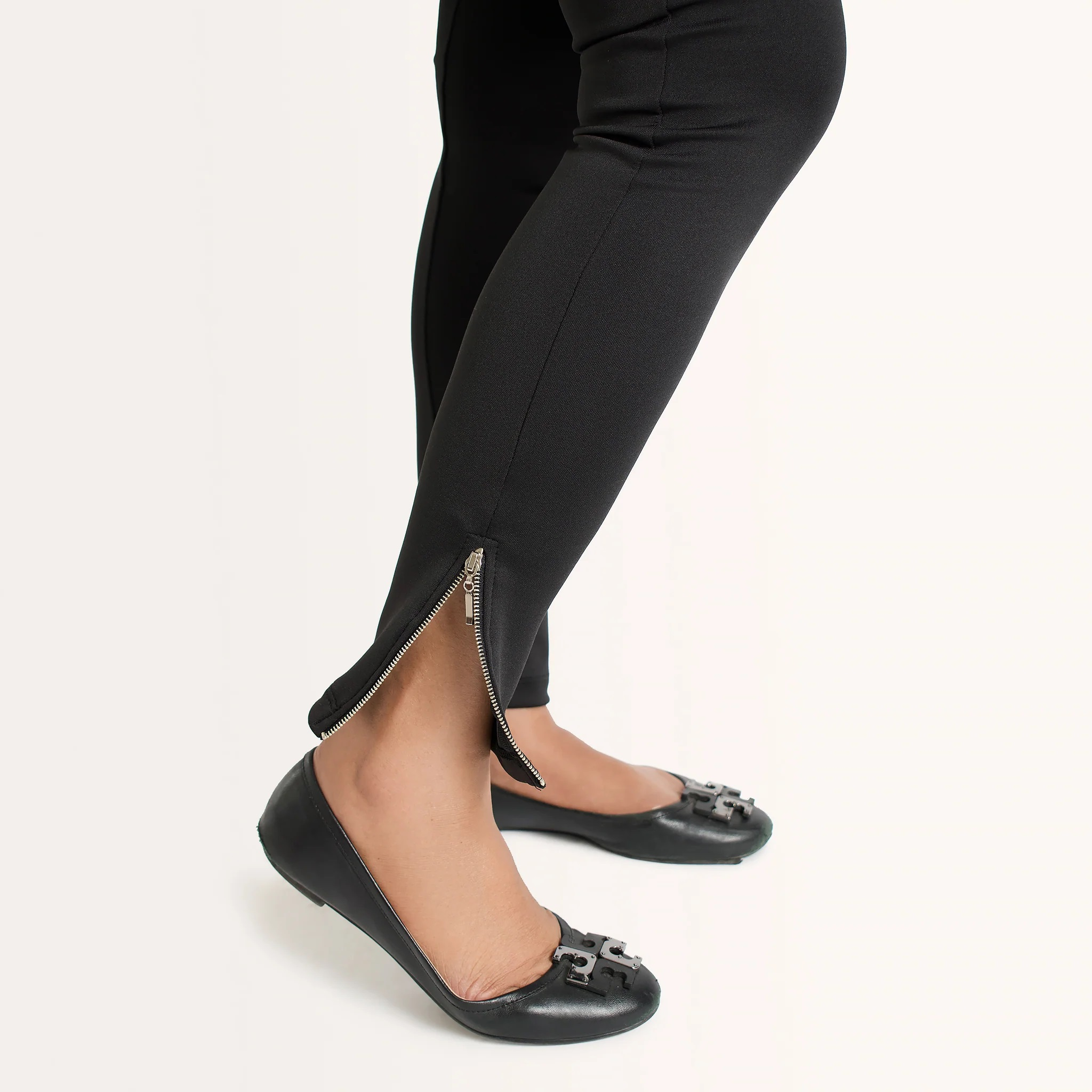 Image Source: encircled.co
Use this combination for a casual yet chic look. Also, your ballerina flats should have a more trendy shape to produce an impressive appearance. Ballet flats are also an easy, ready-to-go option you can wear in almost all seasons and can be dressed up or down, depending on the occasion.
3. Mules
Mules are another fun shoe to wear with leggings. They are trendy and easy to slip on. The open-back style provides contrast between your leggings and shoes while elongating your legs. Whether you prefer closed-toe or open-toe mules, this versatile footwear adds a touch of elegance and can elevate any leggings outfit while providing comfort.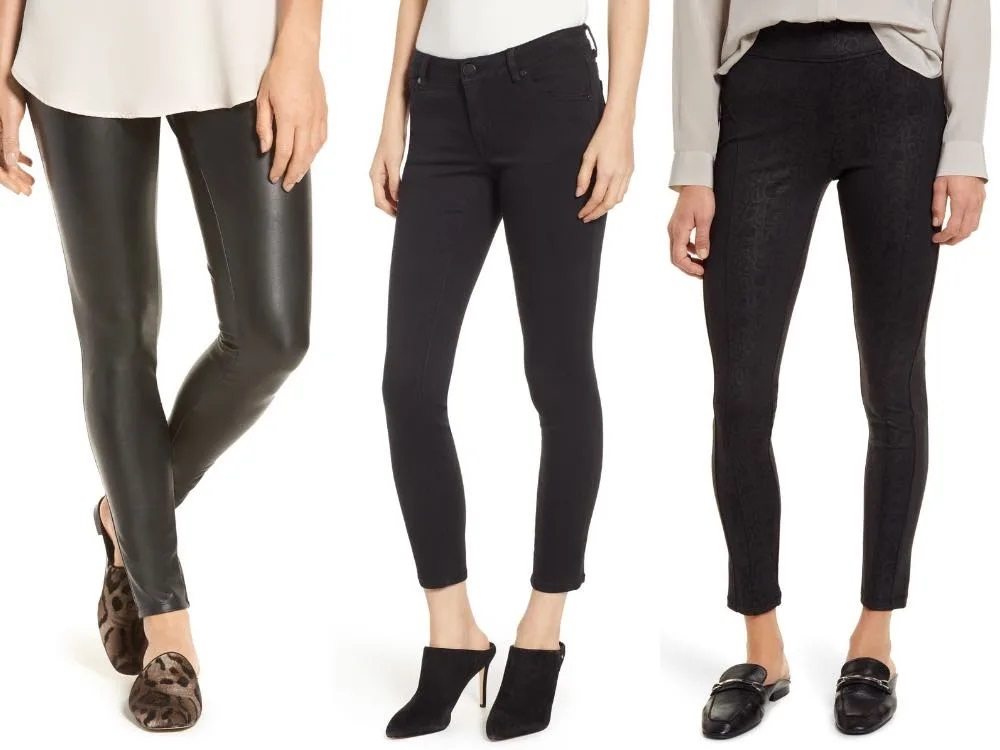 Image Source: shoe-tease.com
Try a pair of flat or kitten-heeled mules in a neutral colour like nude, white, or black to add sophistication to your leggings outfit for either date nights or office days.
4. Heels
While pairing leggings with high heels may sound a little dicey, this combination is stylish and fabulous for anyone looking to dress up their leggings. Whether it's a pair of classic court shoes or sparkly heels, the length of the leggings perfectly complements high heels and lets you show off your favourite pair. Heels also elongate your legs, making you look taller and leaner.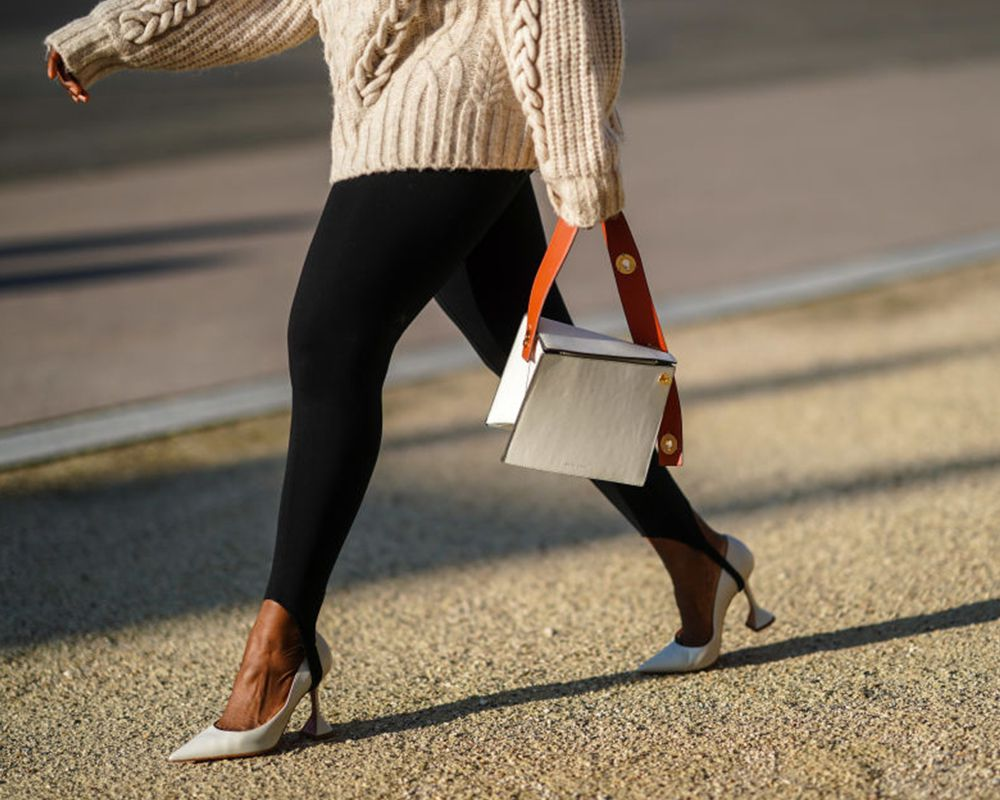 Image Source: byrdie.com
Still, choosing the right heel type is essential to ensure you are comfortable and not overdressed. The key to this look is to keep it simple with the style of your high heel.
For a casual chic look, wear kitten heels or block heels with ankle-length leggings. Low or block heels offer stability and comfort while still adding some height. But stiletto heels and high-waist leggings are an excellent choice for a more formal occasion or a daring look. They add glamour and sophistication to your outfit. You can add a leather jacket for an edgier appearance.
Also, remember to keep off anything too fussy, like heels with ankle straps, as they can look cluttered next to leggings' slim fit.
5. Ankle Boots
Leggings and ankle boots are a platonic combination. Ankle boots are chic, classy and versatile, and no matter what your style is, there are so many ankle boots styles to choose from, from leather to suede and from flat to heeled.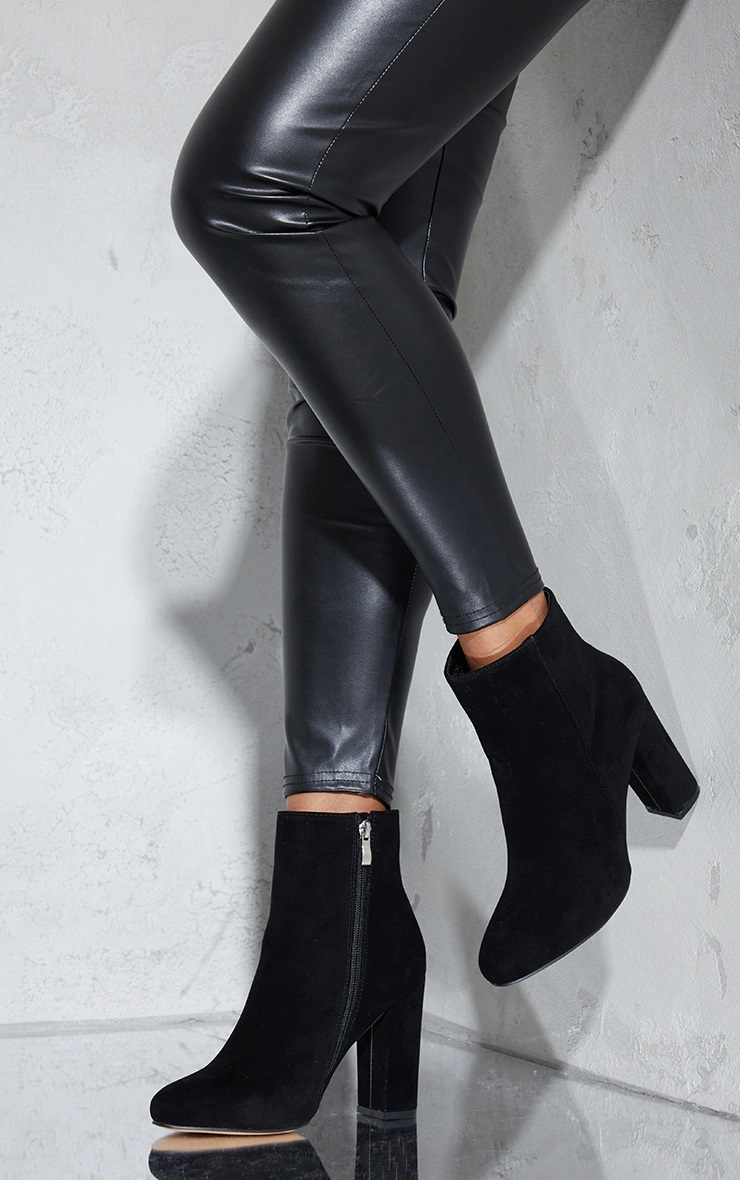 Image Source: prettylittlething.com
For a casual look, you can pair your leggings with flat ankle boots. Mid-height block-heeled, and kitten-heel ankle boots are for a dressier office chic look. But high-heeled stiletto ankle boots will take you from the office desk to dinner or a night out.
Another thing to consider when choosing ankle boots to wear with leggings is the length of the shoes. Low-cut ankle boots are the most flattering and can elongate your legs. For a comfortable and stylish option, try our Vessi Chelsea Boots. These waterproof boots have a classic Chelsea design with an ankle height, perfect for a seamless, flattering look. Pair them with leggings ending just above the ankle. But avoid wearing ankle boots with cropped leggings.
Also, consider the colour of the ankle boots. Try a pair of neutral-coloured ankle boots made from suede or leather for a casual chic look. But if you're feeling more adventurous, a pair of snakeskin or animal print ankle boots will give your leggings outfit some extra oomph.
6. Sandals
Another easy-to-wear shoe that looks fantastic when worn with leggings is sandals. This great combination is perfect for the summer months. While sandals are a great way to look chic and stay cool with a leggings outfit, the trick to successfully rocking this combination is finding the right style.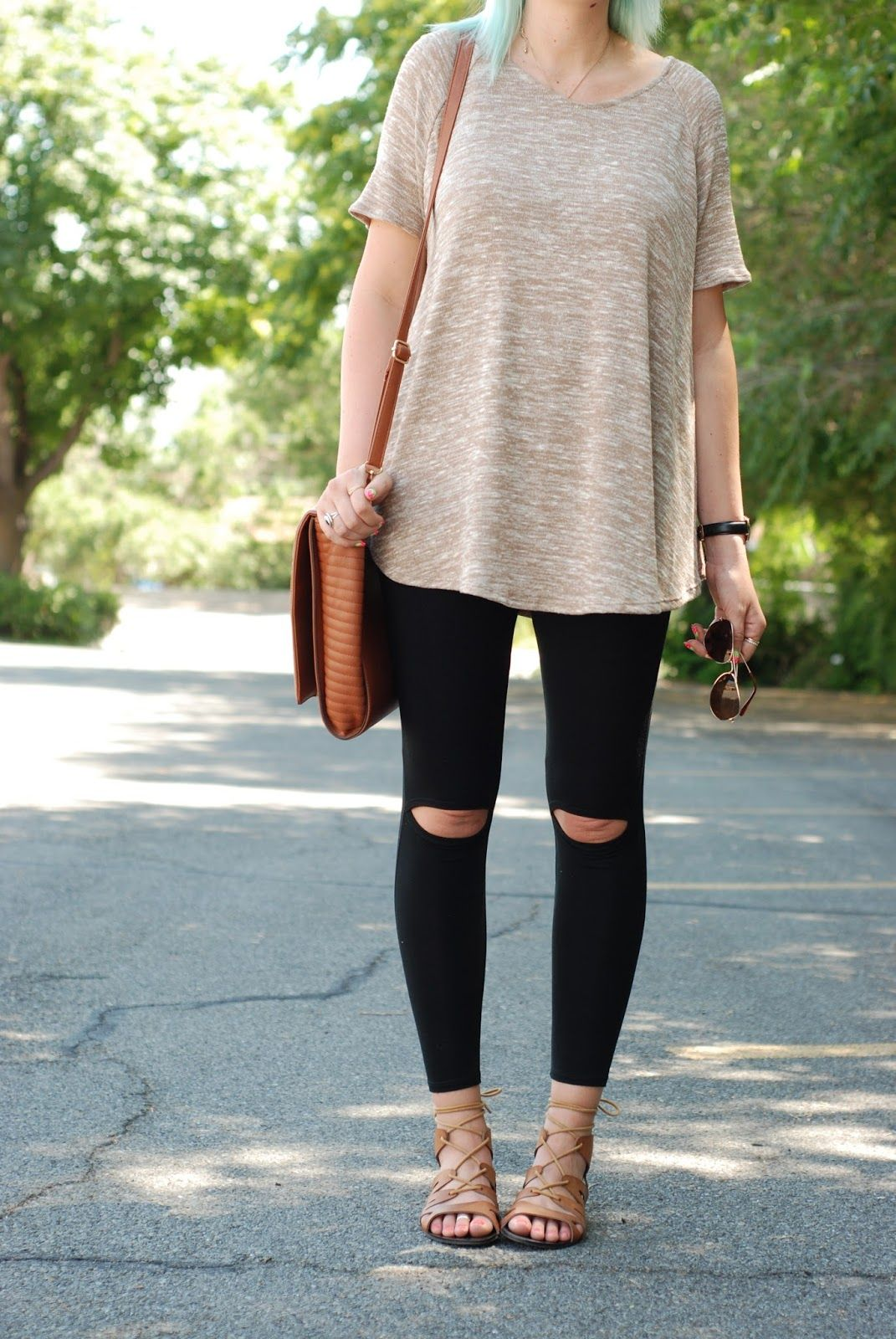 Image Source: lerawilson.top
With flexible soles and several colours and styles, flat sandals offer the ultimate blend of style and comfort. Try gladiator sandals and tie them over your leggings to complement a bohemian style. You can also opt for minimalist strappy sandals with high heels or kitten heels to add a touch of chicness to your look, or try bold multi-strap designs for an edgier appearance. Wearing ankle-strap sandals and leggings adds a touch of elegance and femininity.
7. Loafers
Loafers are another versatile shoe style making a surprisingly stylish footwear option to wear with leggings. Thanks to their chic and polished look, you can use loafers to dress leggings up for an elevated casual appearance.
Image Source: canellalane.ie
Whether a chunky soled loafer, a slipper style loafer, penny loafers or a classic loafer style, these shoes are stylish and comfortable and will provide a laid-back yet sophisticated look when paired with leggings. The key is to keep it simple and just go with small embellishments like a tassel or buckle.
8. Converse shoes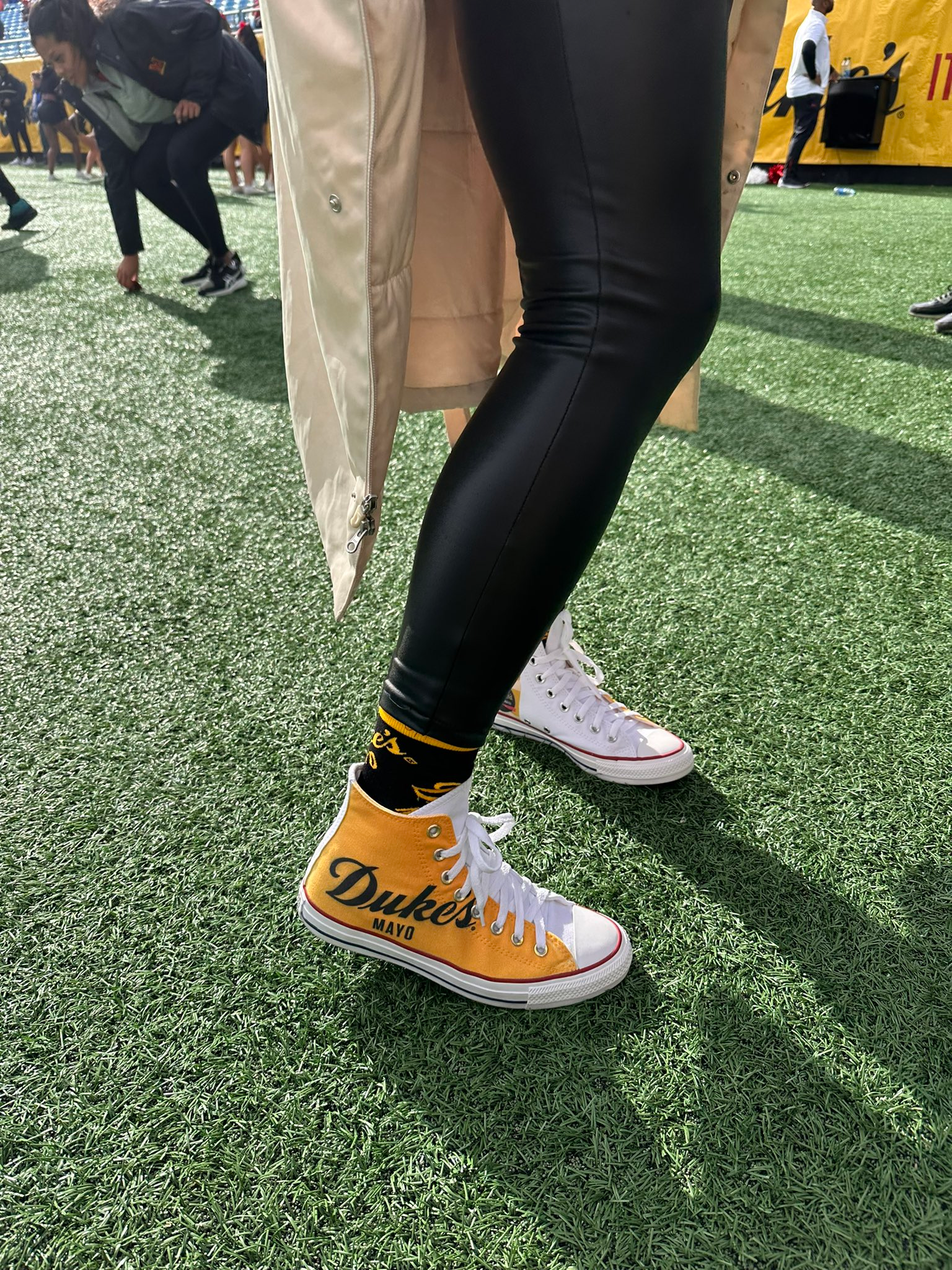 Image Source: twitter.com
Most sneakers are great with leggings, including Converse sneakers. High collars are a hallmark of Converse footwear. High-collar Converse shoes are perfect with leggings due to their boot-like appearance. This combination creates a dynamic and unique look. Converse shoes are also ideal for toning down shiny or ornamented leggings.
9. Chunky boots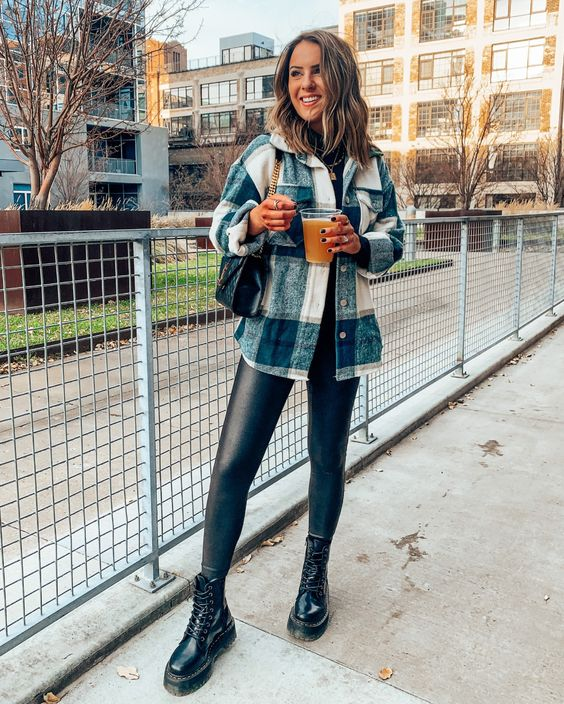 Image Source: eviemagazine .com
Chunky boots are probably one of the most accessible shoes to wear with leggings. The chunkiness of these boots balances out the slenderness of the leggings. Whether you choose a pair of flatter Chelsea boots or a higher lug soled platform combat boots, they will add a touch of contemporary cool to any legging outfit.
10. Lace-up sneakers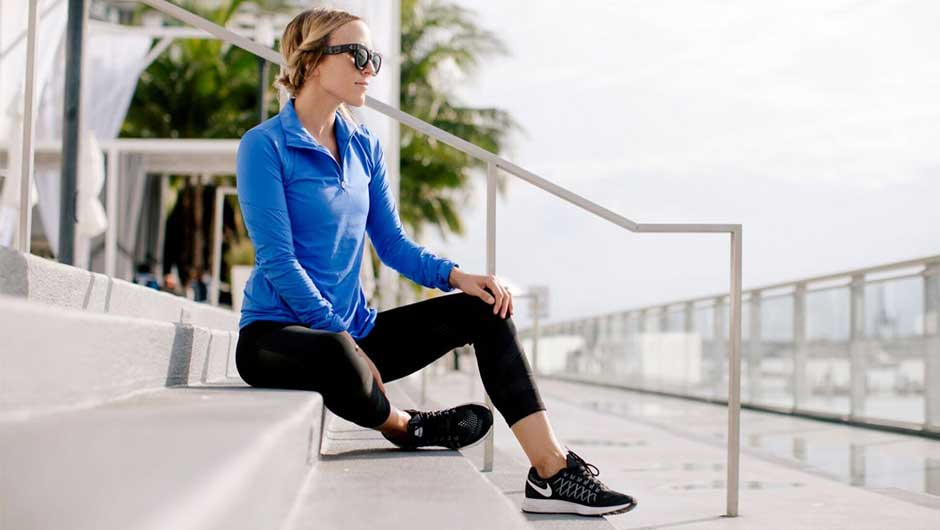 Image Source: shefinds.com
The combination of lace-up sneakers and leggings is an iconic duo. Both leggings and sneakers have sporty aesthetics making this combination perfect. Whether it's a run in the park or a trip to the gym, lace-up sneakers are cute and won't make your legs unnecessarily hot. While you can try this look in several ways, it appears incredibly chic when styled with an athletic edge. For instance, you can try a pair of minimalist lace-up sneakers and sporty leggings to show off this look.
11. Knee-high boots and thigh-high boots
Tall boots and leggings gel together well. They are not only stylish but will keep you warm in colder temperatures. The tall boots and leggings combination makes a chic and comfy outfit for all ladies. Knee-high and over-the-knee boots also make your legs appear longer and leaner.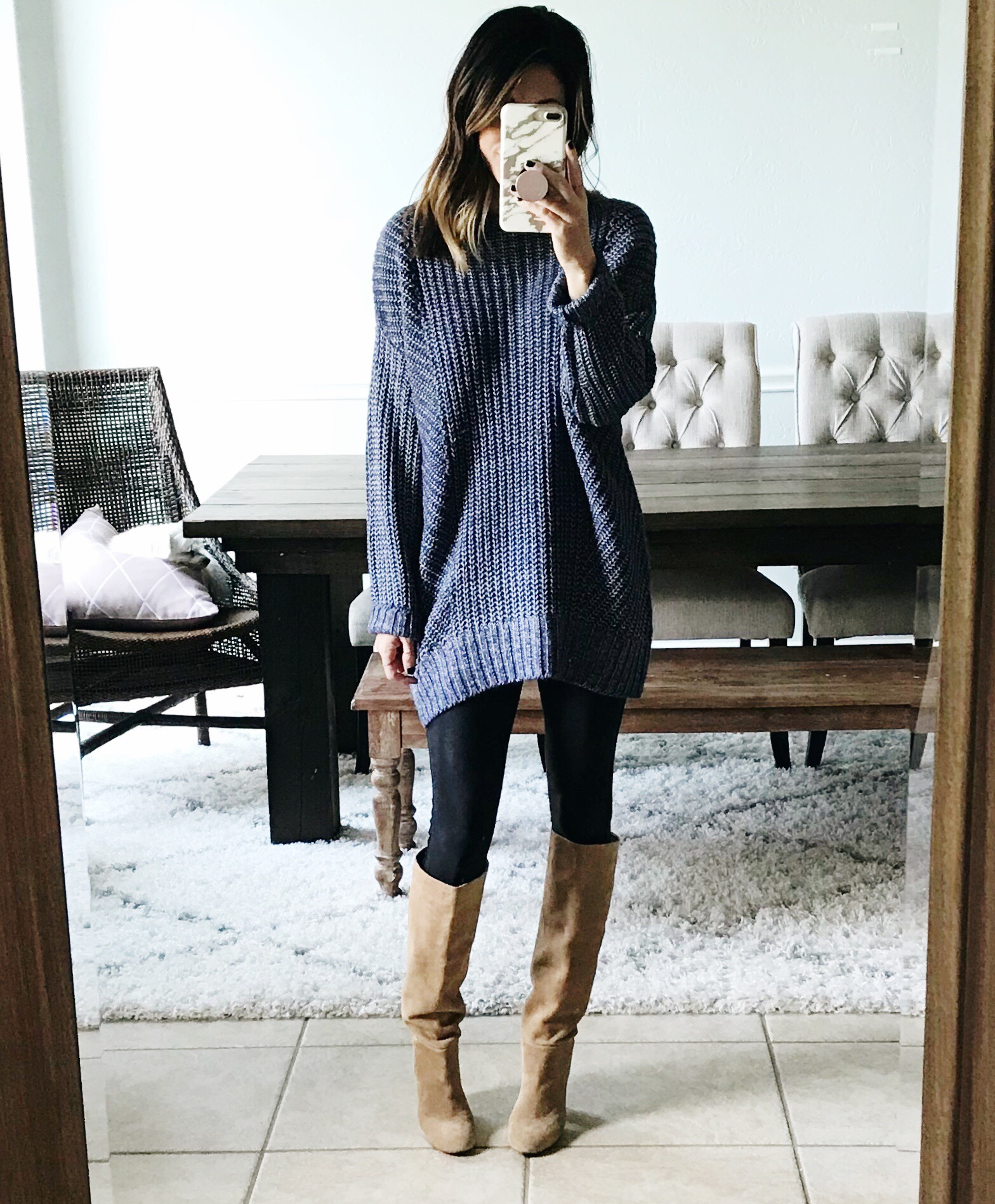 Image Source: the-sister-studio.com
Also, the super slim fit of the leggings means your legs will easily slide into your tall boots for a seamless look. For a chic casual look, wear flat tall boots or dress up with stiletto heels. Alternatively, you can keep your style traditional by opting for a monochrome colour pallet by matching your shoes to your leggings for super leg elongating properties.
You can also experiment with different types, including leather and suede tall boots. For instance, pairing faux-leather leggings with thigh-high or knee-high suede boots and a cozy sweater dress will keep you warm.
12. Slides
Slides and leggings blend flawlessly for a cool, trendy look. This outfit offers you freshness, comfort, and personality. Summer is the season for slides, and these simple slip-on shoes are the perfect blend of street and sporty, making an excellent choice for a trendy athleisure appearance.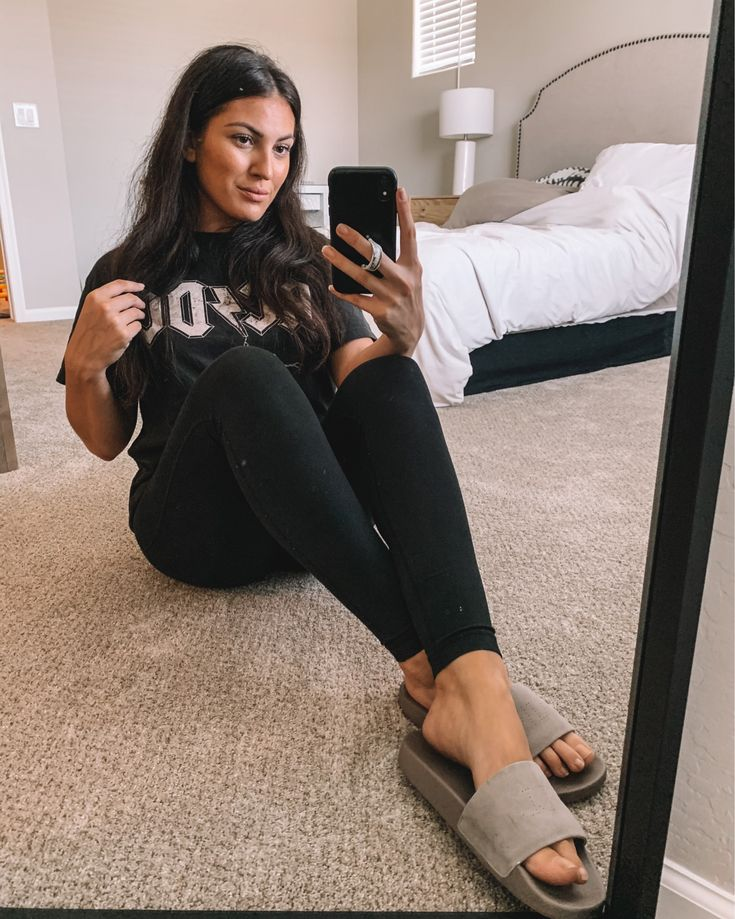 Image Source: pinterest.com
Slides are also available in countless varieties to match every leggings outfit. For instance, you can pair sporty slides with plain or athletic leggings for a casual look or use a pair of platform slides to add extra fun to your leggings outfit.
13. Chunky sneakers
Chunky sneakers and leggings make for a winning combination, adding style and comfort to your outfit. The combination gives a trendy athletic style while keeping your outfit light and basic. These sneakers are comfy because of the added padding, and their oversized look balances out the tight fit of the legging, giving a much more contemporary look.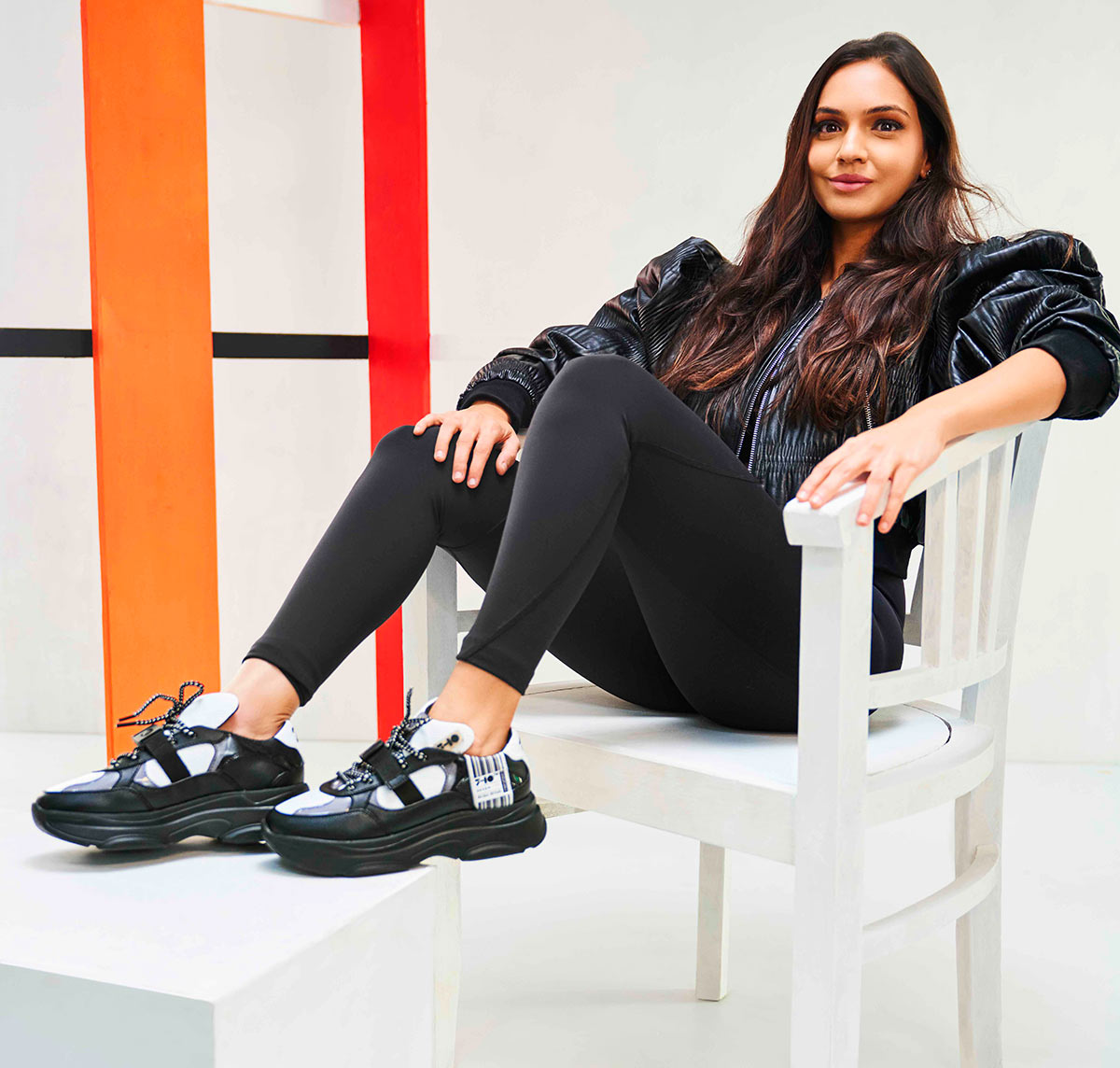 Image Source: m.rediff.com
Still, if you plan to wear leggings and chunky sneakers outside of your workout, you should embrace simplicity and choose either white or black chunky sneakers to pair with black leggings.
Shoes not to Wear with Leggings
Image Source: timesofindia.indiatimes.com
Even though style is relative, there are some shoes you should steer clear of for any leggings outfit. They include;
1. Platform heels
Wearing leggings and platform heels will make you feel like they're a little too edgy compared to the casual nature of leggings.
2. Flip-flops
Flip flops make leggings look a bit too casual, and instead of elevating the leggings outfit, they will bring it down further.
3. Espadrilles wedges
Espadrilles wedges have a rustic feel and a platform style that would look stylistically odd with any style of leggings.
4. Sock boots
While sock boots are on trend, you shouldn't pair them with leggings unless you want your footwear to look like an extension of your leggings. It is best to go with something providing more contrast, such as trendy combat boots.
Styling Tips for Pairing Shoes with Leggings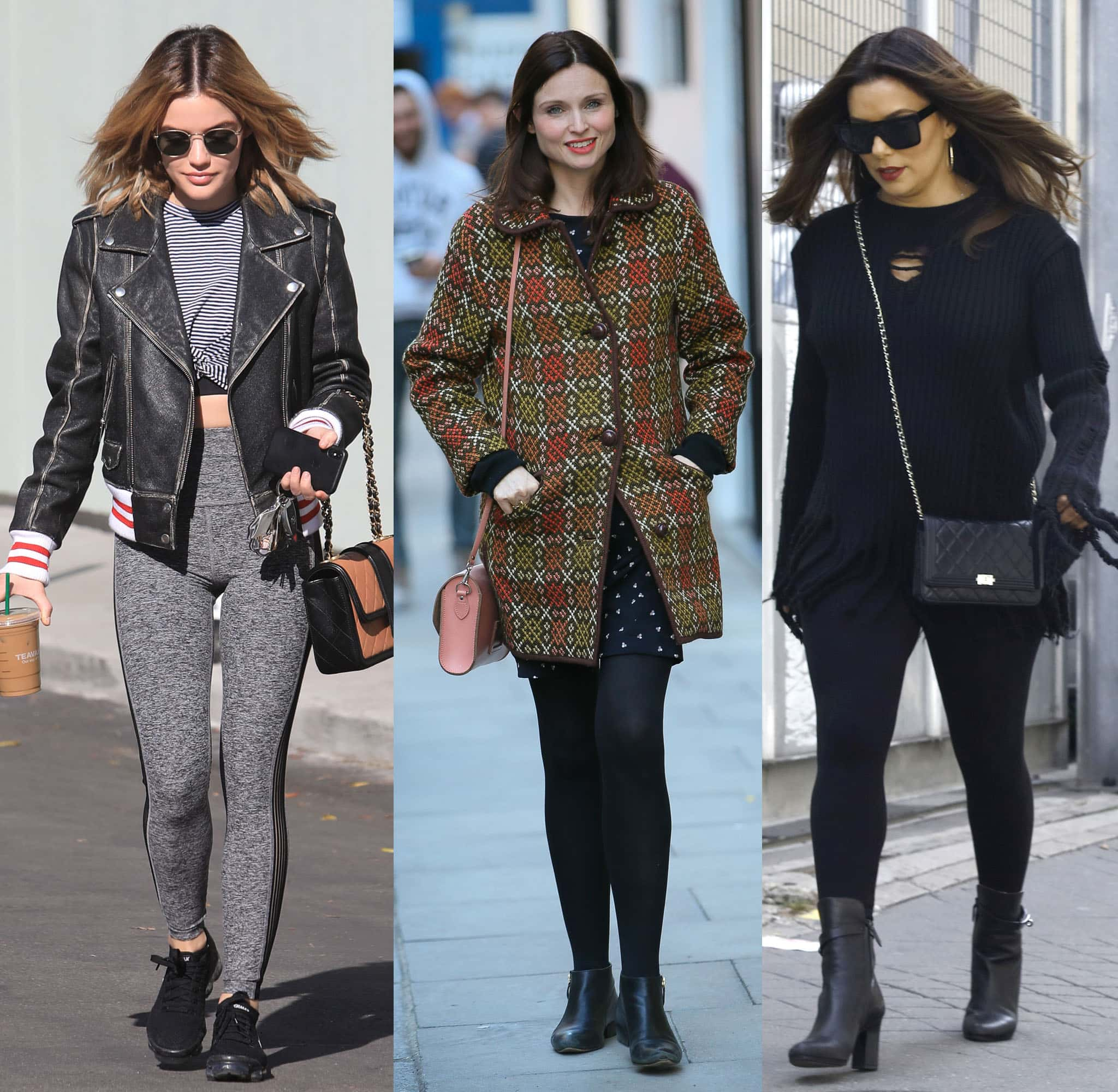 Image Source: yournextshoes.com
Here are some styling tips to help you pair shoes with leggings:
Balance the length: Wear ankle-length leggings with sneakers, ankle boots, gym shoes, and loafers to avoid bunching. But if you prefer flats or sandals, wear long or split-hem.

Balance the tone: If you wear patterned or printed leggings, opt for solid-coloured shoes and vice versa.

Consider the weather: Closed-toe footwear like ankle and knee-high boots will keep you warm and stylish for winter. But, in warm weather, wear breathable and lightweight options like flat sandals, ballet flats or loafers.

Keep it simple: If you wear a bright or bold patterned dress, keep your leggings and shoes simple. A good option here can be nude pumps, heels or mules.

Add a pop of colour: If your top or dress and leggings are more subtle, you can add a pop by wearing bright-coloured shoes. You can also experiment with animal-printed or funky-printed shoes.
Final Take on Shoes to Wear with Leggings
Leggings are trendy, comfortable and work as a great style piece. Whether you want to wear your comfy leggings to gym sessions, run to the grocery store, or for a more formal function, many shoe styles can work with this versatile wardrobe piece. By choosing the right pair of shoes to pair with your leggings, you can elevate your overall style to the next level.
From sneakers to boots, to heels, to flats, let you taste, weather, and occasion guide to picking the best footwear. Moreover, most of these pieces are shoes you can wear with straight-leg jeans or maxi dresses, so you don't have to go shopping extra to get the perfect match for different wardrobe staples.