What Shoes to Wear With a Maxi Dress: Finding the Perfect Pair
As fashion enthusiasts, we all understand the thrill of donning a beautiful maxi dress and embracing its elegance and comfort. Yet, the true magic of a maxi dress lies not just in its flowing silhouette but in the artful selection of footwear to complement it flawlessly. From casual outings to formal events, the right pair of shoes can elevate your maxi dress ensemble to a new level.
As we embark on this sartorial journey, our brand stands out like a beacon of innovation and comfort – Vessi. Just like a maxi dress effortlessly blends fashion with comfort, our Vessi shoes redefine the boundaries of style and practicality. With their revolutionary waterproof technology, our Vessi shoes ensure you never compromise on fashion, rain or shine. So, whether indulging in a carefree summer stroll or attending an enchanting garden soiree, our Vessi shoes seamlessly merge with your maxi dress ensemble, making a chic and conscientious statement.
In this style guide, we'll find out what shoes to wear with a maxi dress, ensuring you're ready to embrace any occasion with confidence and poise. Read on!
What Shoes to Wear With a Maxi Dress?
1. Flat Sandals
Flat sandals are the perfect companions for a flowy maxi dress, creating a laid-back and effortless look. Whether strolling along the beach or running errands, these comfortable shoes offer a beachy vibe to complement casual maxi dresses.
Image Source: cliqueinc.com
Opt for strappy gladiator sandals for boho dresses or simple leather slides for a minimalist ensemble. With flexible soles and various colours and designs, flat sandals provide the ultimate blend of style and comfort. Embrace the warm weather and pair your favourite maxi dress with these versatile shoes for a chic, relaxed outfit for any casual outing.
2. Sneakers
Maxi dresses and sneakers create a surprisingly chic combination to blend comfort and style effortlessly. Whether running errands, going on a casual outing, or enjoying a warm day, sneakers add a trendy edge to your maxi dress ensemble.
At Vessi, our Everyday Classic Sneakers are the perfect choice for pairing with maxi dresses during everyday wear. With a minimalist design and unbeatable comfort, these sneakers effortlessly match the simplicity and flow of maxi dresses, ensuring you stay stylish and comfortable all day.
When you want to achieve a more relaxed and casual weekend look, Vessi's Weekend Sneakers are the go-to option. With a sportier design and enhanced cushioning, these sneakers are perfect for embracing maxi dresses' leisurely and carefree vibe during casual outings and weekend activities.
3. Heels
Heels and maxi dresses make for a winning combination, adding an elegant and sophisticated touch to your outfit. A wide range of heel styles can complement and elevate your long dress ensemble. To begin with, chunky heels provide stability and comfort, making them chic for various occasions. Alternatively, strappy heels add a touch of glamour and sophistication, perfect for formal events and date nights.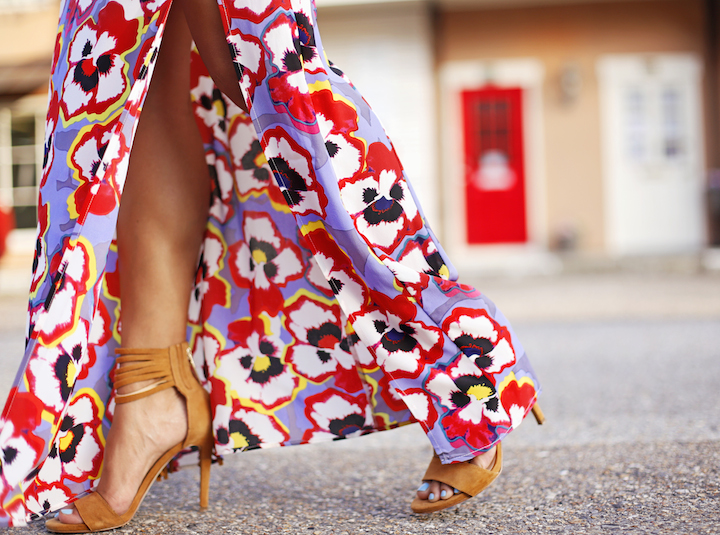 Image Source: hauteofftherack.com
Also, heeled sandals offer a breezy and stylish option for warm weather, while block heels combine style and comfort effortlessly. But wedge heels provide height without sacrificing stability, making them ideal for outdoor events. Plus, pencil and kitten heels offer a classic touch of femininity, allowing you to exude grace and confidence as you wear your heels with a maxi dress.
4. Wedges
Image Source: ladyinviolet.com
Wedges and maxi dresses are like the perfect summer duo! These babies not only add some extra height, but they also give you a flirty and feminine vibe. Whether hitting the beach or going for brunch with your squad, wedges got your back. They're way comfier than stilettos and add a touch of boho chic to your look. So, slip on those cute wedges, rock your flowy maxi dress, and get ready to slay all summer!
5. Tall Boots and Ankle boots
When it comes to pairing boots with maxi dresses, both tall boots and ankle boots are a total win! Ankle boots, combat boots, and suede ankle boots bring a cool and edgy vibe to your long dress outfit. On the other hand, knee-high boots and cowboy boots add a touch of Western charm and elevate your style game.
Image Source: static1.squarespace.com
For a sleek and timeless look, try our Vessi Chelsea Boots. These waterproof boots feature a classic Chelsea design with elastic side panels for easy slip-on and off. Embrace the ankle height for a seamless, flattering look to complement your maxi dress flawlessly.
6. Slides
Slides epitomize effortless style when pairing them with casual maxi dresses. Slip into these comfortable and chic shoes for a relaxed, easygoing look to still exude elegance. Whether you opt for leather slides, embellished designs, or woven textures, slides effortlessly complement the beachy vibe of long dresses.
Image Source: gaborshoes.co.uk
Perfect for warm weather and casual outings, these shoes offer a laid-back charm while still providing a touch of sophistication. Embrace the versatility and comfort of slides, as they become your go-to choice for pairing with maxi dresses on any casual occasion.
7. Espadrilles with Maxi Dresses
Espadrilles exude a bohemian and beachy charm to perfectly complements maxi dresses. These classic summer shoes, characterized by their jute-wrapped soles, add a touch of casual elegance to your outfit. Whether you choose espadrille wedges for height or flat espadrilles for comfort, these shoes bring a chic and relaxed vibe to your ensemble.
Image Source: memorandum.com
Embrace the warm weather and pair your flowy maxi dress with espadrilles to achieve a stylish, laid-back look that embodies the summer spirit effortlessly. From beach vacations to casual outings, espadrilles offer the perfect footwear for any maxi dress outfit.
8. Flip Flops
Image Source: ae01.alicdn.com
Flip flops might not be the first thing to come to mind when pairing them with maxi dresses, but trust me; it's a fabulous combo! These comfy and laid-back flat shoes effortlessly match various maxi dress styles. From flowy and bohemian to casual and chic, flip-flops add a relaxed and carefree vibe to your outfit. Embrace the warm weather, slip on those flip-flops, and get ready to rock your maxi dress in style and comfort!
9. Ballet Flats
Ballet flats are the perfect go-to shoes for pairing with maxi dresses. Their classic and elegant design effortlessly complements the flowing silhouette of long dresses, making them one of the best shoes for maxi dress outfits.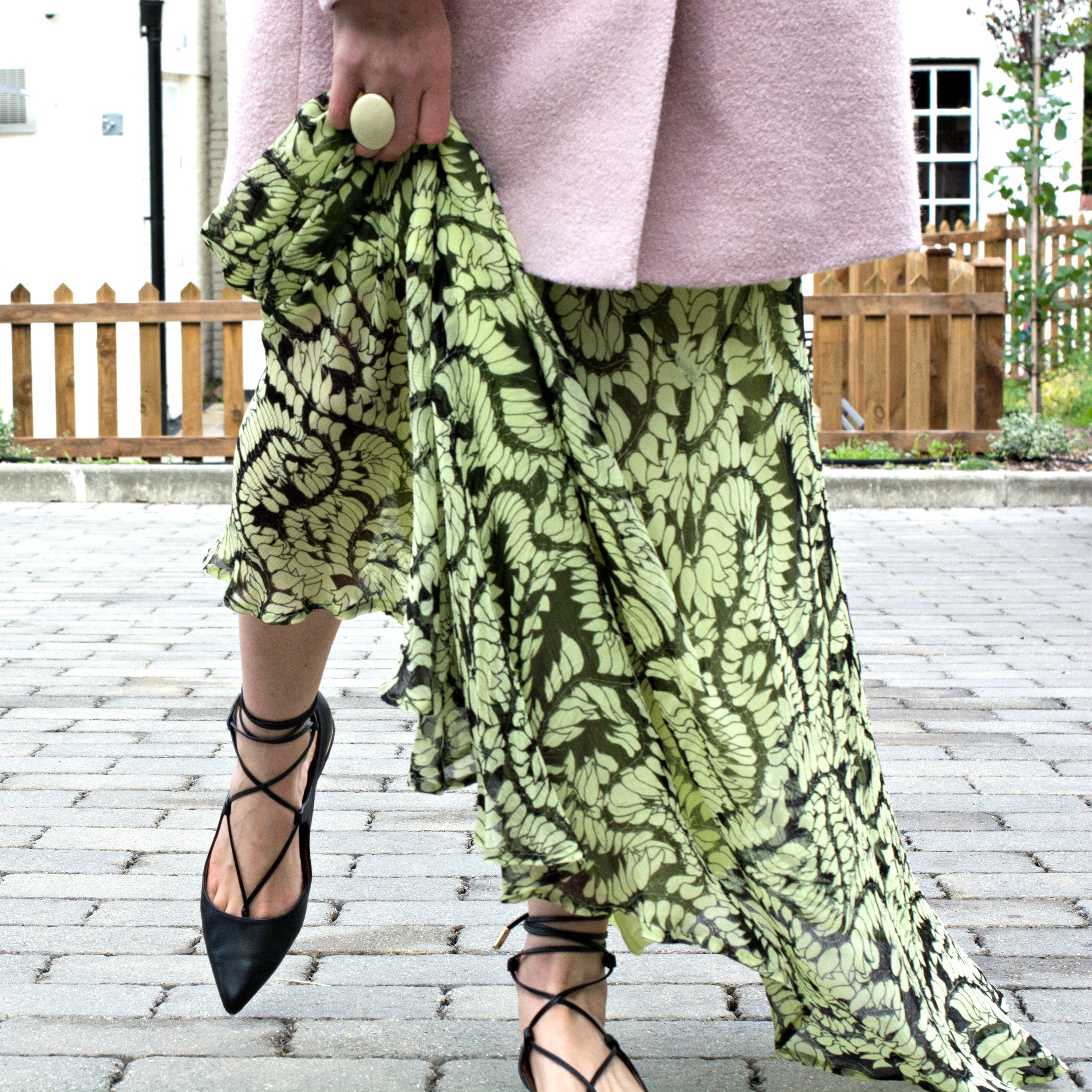 Image Source: michelle-tyler.com
Whether attending a special occasion or simply wearing maxi dresses for everyday comfort, ballet flats offer a versatile and chic option. Embrace the ease of slipping into these comfortable and stylish flats, allowing you to exude grace and sophistication while effortlessly rocking your favourite maxi dress styles. With ballet flats, you'll always feel fabulous and ready to take on the day!
10. Platform Shoe
Platform shoes are a fashion-forward and fun choice to wear with maxi dresses. These trendy shoes add extra height and drama to your outfit, elevating your style game to new heights. With their raised soles, platform shoes create a striking contrast with the flowing silhouette of maxi dresses, making them a bold and eye-catching combination.
Image Source: instyle.com
Whether you opt for platform sandals, sneakers, or boots, these statement shoes effortlessly complement various maxi dress styles, allowing you to embrace your style while exuding confidence and flair. So, step into the world of fashion-forward choices and rock those platform shoes with your favourite maxi dresses for a show-stopping look!
Styling Tips and Dos and Don'ts for Pairing Shoes with a Maxi Dress
Image Source: blogspot.com
Maxi dresses offer a versatile and chic option for various occasions, but finding the right shoes to complement this flowing garment can be exciting and challenging. To help you make a fashion-forward statement, we've compiled a list of styling tips to ensure you find the perfect shoes to wear with a maxi dress.
Match the occasion: Consider the event or occasion when choosing your footwear. Opt for comfortable flat sandals, flip flops, or chic espadrilles to exude a beachy vibe for casual outings or warm weather. On the other hand, for formal occasions or weddings, elevate your style with strappy heels, elegant pumps, or classic pairs of peep-toe shoes.

Strive for personal style: While fashion trends can inspire, always prioritize your style when selecting shoes for your maxi dress outfit. Trust your instincts and go with what makes you feel confident and comfortable.

Consider the weather: Closed-toe shoes like suede ankle boots or knee-high boots will keep you warm and stylish for winter. In contrast, in warm weather, opt for breathable and lightweight options like flat sandals or ballet flats.

Balance the length: When wearing a long maxi dress, heels can help balance the length and prevent the dress from dragging on the ground. However, if you prefer a flat shoe style, adjust the dress hemline to the correct height.

Be mindful of proportions: If you're on the shorter side, choose shoes to create the illusion of longer legs. Nude or beige heels, for example, can elongate your silhouette when paired with a maxi dress.

Add a pop of colour: Don't be scared to experiment with different colours! Consider pairing a black maxi dress with bold and vibrant shoes to add a playful touch to your outfit.

Flexible soles for comfort: Opt for shoes with flexible soles, especially if you plan to wear your maxi dress for an extended period. This will help you stay comfortable and mobile throughout the day.
Final Words on Shoes to Wear with Maxi Dresses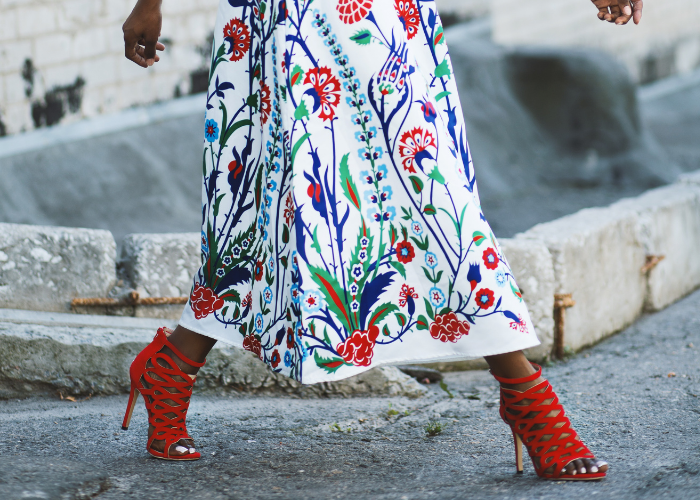 Image Source: rieker.co.uk
The maxi dress is undoubtedly a versatile and flattering wardrobe piece that can effortlessly take you from day to night and casual to formal events. By carefully selecting the right pair of shoes to accompany your maxi dress, you can elevate your overall look and create a style which is uniquely yours.
Whether you opt for strappy sandals, wedge heels, classic pumps, sneakers, ankle boots, flat sandals, or statement heels, let your taste and the occasion guide you in choosing the perfect footwear. Embrace the art of pairing shoes with maxi dresses, and you'll unlock a world of endless style possibilities, ensuring you always look and feel fabulous.