A Step in Style: What Shoes to Wear With Bootcut Jeans
Bootcut jeans are a timeless classic that has resurged as a must-have item in every wardrobe. What with all the high-end fashion looks you could achieve with a bootcut jeans' flattering fit and silhouette? If you imagine a polished ensemble, a bohemian vibe, or any style in between, getting the right shoe completes your bootcut jeans' iconic look.
Like bootcut jeans, which come in various styles to complement your lifestyle, Vessi offers timeless, waterproof shoe options to match any occasion. Whether you like shoes for everyday walking on high street catwalks or in the park, our lightweight shoe collection gives comfort and confidence to match your style. Choose an everyday shoe from our different designs to upgrade your shoe game.
Come along as we explore different styling ideas and determine what shoes to wear with bootcut jeans to create an outstanding and comfortable look.
What Shoes to Wear With Bootcut Jeans
1. Ankle Boots
Image Credits: jolynneshane.com
When paired with bootcut jeans, ankle boots give you a balanced, contemporary look, and suits any style preference. Choose ankle boots which hit slightly above the hem to seamlessly transition from the jeans to the shoe. You can also consider ankle boots with a low collar for pairing with ankle-length bootcut jeans.
A slim-fitting ankle boot allows the flared end of the jeans to drape smoothly over the shoe and maintain a harmonious silhouette. Consider a slightly-heeled ankle boot for a polished and sophisticated look and flat ankle boots for a more casual and comfortable vibe. Choose a similar ankle boot colour for a monochromatic look or a contrasting colour to draw attention to the bootcut jeans.
2. Sneakers
Image Credits: elegantgene.com
Pairing bootcut jeans with sneakers is the ultimate blend of comfort and style. It's the ideal style for weekend walks around town or an outing at the park. You can choose between low-profile, canvas or platform sneakers to suit your style.
Image Credits: vessi.com
At Vessi, our Women's Weekend sneakers have a rugged yet refined exterior which complements the flared hem of your bootcut jeans. The fitted ankle design of the shoe prevents the jeans from bunching up when you are walking, creating a clean transition line between the hem and the shoe. The solid colour options allow you to personalize the look without overwhelming the simplicity of the sneakers and bootcut jeans.
The Women's Everyday Classic sneaker is also a good choice if you want a lightweight, waterproof sneaker to go with your bootcut jeans. Its rocker sole design helps raise your heel and elongate your leg line for a more streamlined yet comfortable look. The pointed-toe detail enhances balance with the flared end of the jeans, and the colour options elevate your style with a dash of modern finesse.
3. Pointy Toe Boots
Image Credits: purewow.com
Pointy-toe boots extend the line of your leg to create a sleek and elongated silhouette. This shoe design also complements the flare of the bootcut jeans. The slim look of the boots adds a touch of sophistication and helps to create visual balance with the wide-leg jeans' hem. A pointy-toe boot with a heel adds a refined lift for an elegant look, while a flat-heeled pointy-toe boot showcases a more grounded and approachable vibe.
The combination of bootcut jeans and pointy-toe boots perfectly balances comfort and sophistication and transitions from casual outings to semi-formal occasions effortlessly. You can match the colour of the boot with your bootcut jeans to create an elegant, sartorial look. Embrace pointy-toe boots with intricate details like stitching, zippers or buckles to achieve a boho-chic vibe.
4. Strappy Sandals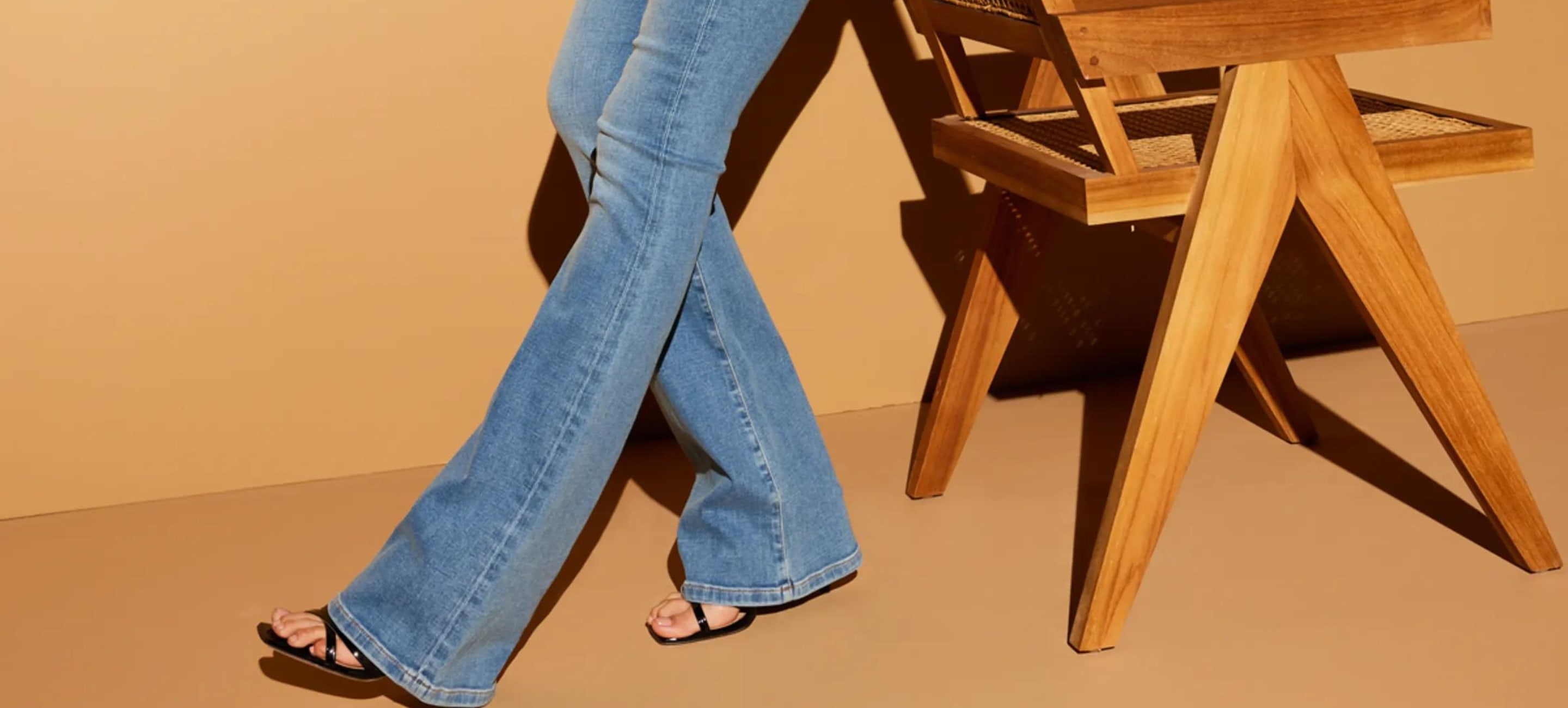 Image Credits: neimanmarcus.com
Combining bootcut jeans and strappy sandals creates a fashion-forward ensemble bridging the gap between a casual look and chic sophistication. The structured line of the flared jeans cascades over the thin straps of the sandal to create a refreshing and playful look. The strategic placement of the straps allows your feet to become a part of the overall aesthetic.
Pair your bootcut jeans with flat strappy sandals for a carefree walk along the beach in the evening. Heeled strappy sandals and bootcut jeans are ideal for going out on a shopping spree over the weekend. The combination also transitions easily to a more sophisticated look for an evening dinner date.
5. High Heels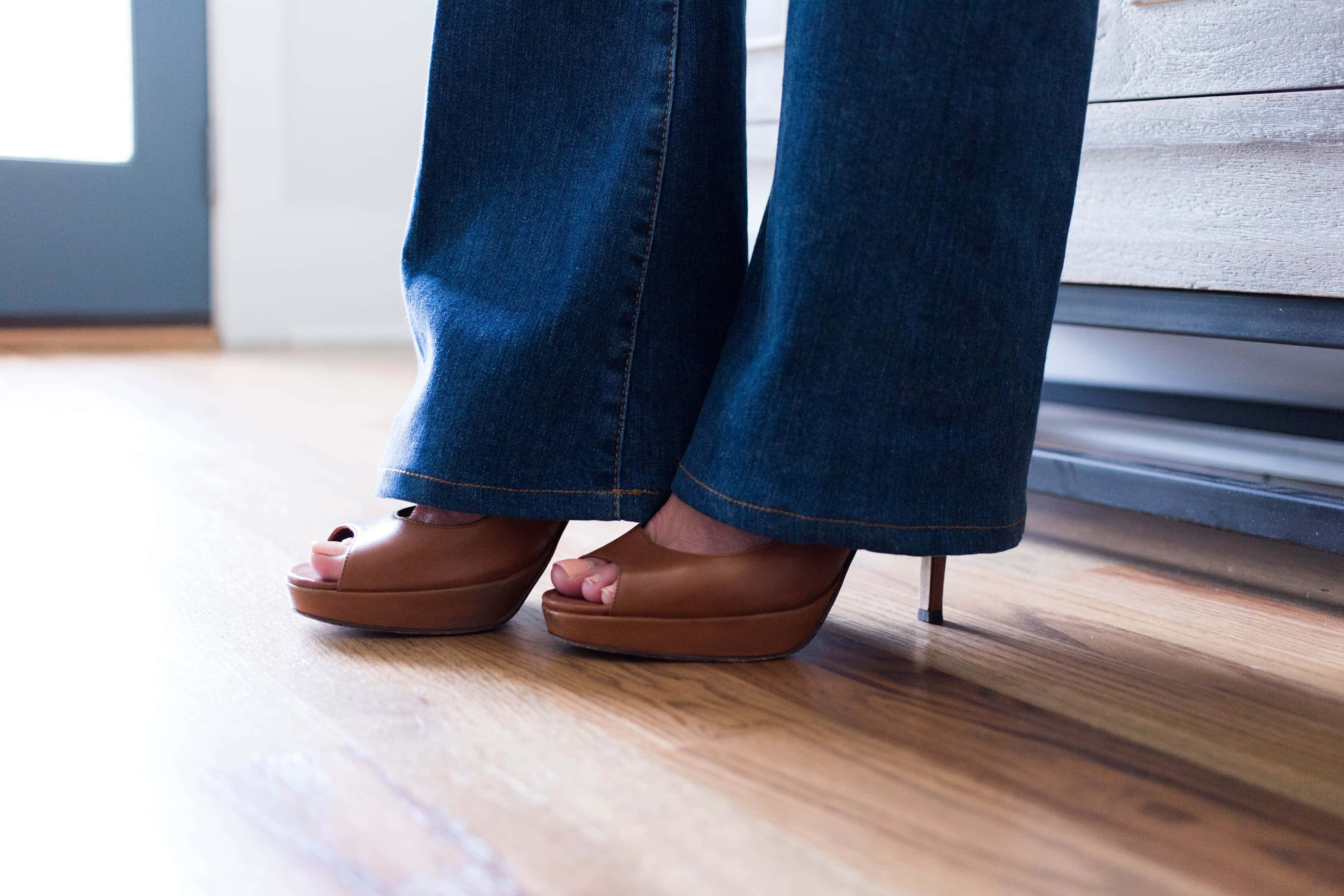 Image Credits: tinaadamsconsulting.com
If you are heading for a stylish brunch with friends, a casual Friday at the office or a romantic date, the bootcut jeans and high heels combo has you covered. High heels provide an extra lift which accentuates your legs and naturally influences your posture and gait. This combo gives you a poised stride and oozes elegance and confidence.
High heels balance the wide-leg opening of the bootcut jeans, creating a harmonious and figure-flattering proportion. This versatile style helps you achieve a contemporary look by matching the colour of the heels with your favourite denim. You can also opt for contrasting high-heel colours to add a pop of adventure to the ensemble.
6. Pointy Toe Flats
Image Credits: piv-phuket.com
Bootcut jeans and pointy-toe flats create a captivating fusion of elegance and comfort. Like pairing pointy-toe flats with skinny jeans or straight-leg jeans exudes an air of relaxed confidence, pointy-toe flats and bootcut jeans exude a sense of grace and fluidity. Navigate through different occasions with this look, from casual daytime brunch to laid-back evenings with friends.
Pointy-toe flats and bootcut jeans are an excellent canvas for personalization. You can opt for a polished, contemporary by wearing bootcut jeans with dark-coloured pointy-toe flats. Choose bright-coloured pointy-toe flats to wear with bootcut jeans for an intriguing look and showcase your relaxed, stylish edge.
7. Cowboy Boots
Image Credits: themomedit.com
Wearing bootcut jeans outfits with cowboy boots creates a rugged and stylish ensemble with a quintessential Western flair. The flair of the bootcut jeans aligns beautifully with the bold design and stacked heel of the cowboy boots. The embossed leather, intricate stitching and other decorative elements of the cowboy boots add texture to your bootcut jeans outfit.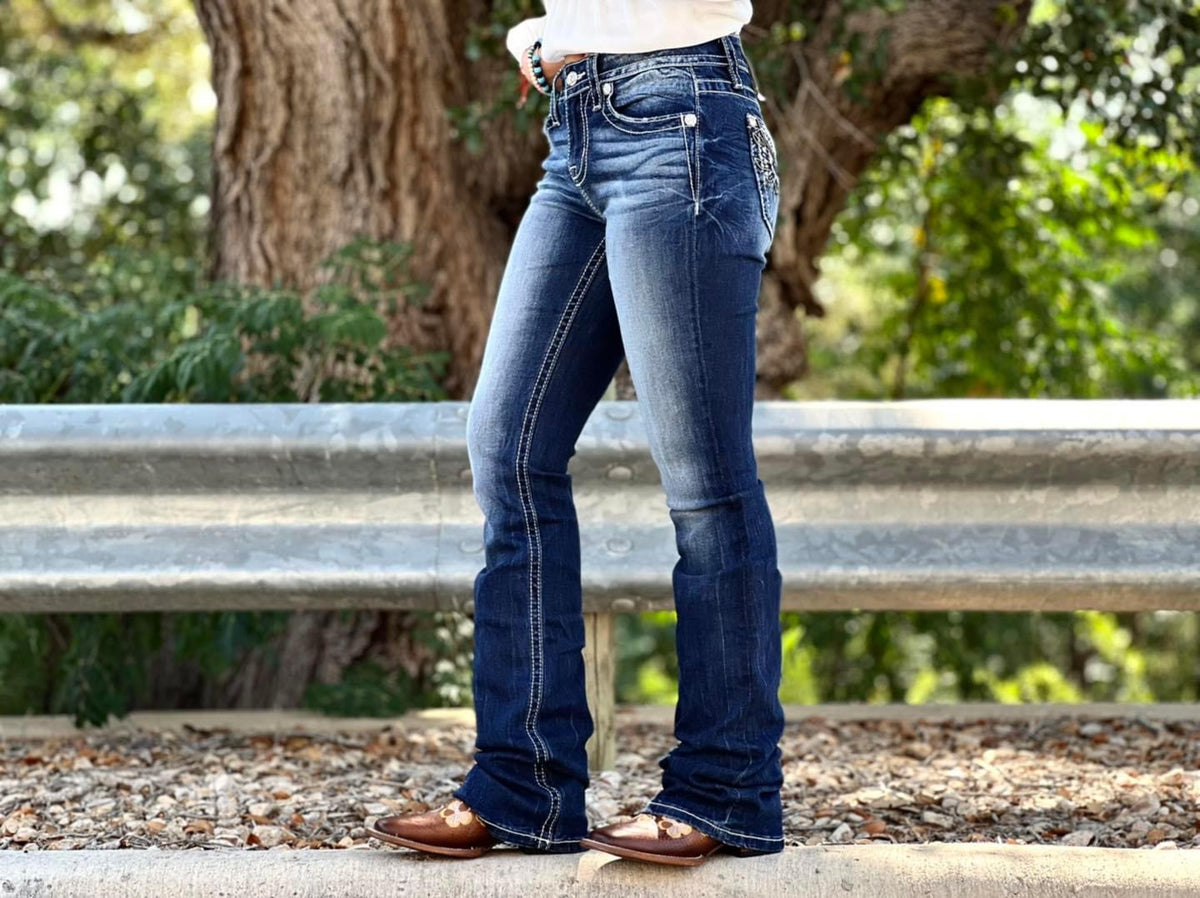 Image Credits: texasbootranch.net
Draw attention to your cowboy boots by pairing them with ankle-length flare jeans for a playful and adventurous look. Longer bootcut jeans have a longer inseam which covers the cowboy boot shaft for a more relaxed and casual look. Whether going for a casual outing, a night out in town or a country-inspired event, the cowboy boot and bootcut jeans combo lets you channel your inner cowboy while looking modern and outstanding.
8. Chelsea Boots

Image Credits: selwyndonia.nl
Chelsea boots are a versatile shoe choice to wear with bootcut jeans. Our Vessi Women's Weekend Chelsea boot has a fitted ankle which allows the wide leg opening of the boot-cut jeans to drape over it for a relaxed, well-proportioned, and seamless look. You can also showcase the clean lines on the side of these western-inspired booties by wearing bootcut jeans with an open slit flared hem.
Image Credits: ca.vessi.com
Chelsea boots quickly adapt to your style personality. Vessi Chelsea boots are a practical choice for the wet seasons as they are waterproof and add a layer of warmth for your comfort. Choose a colour which complements your style. A neutral or black pair of Chelsea boots complements the colour of your bootcut jeans for a polished look, while a lighter shade showcases a relaxed and approachable personality.
9. Combat Boots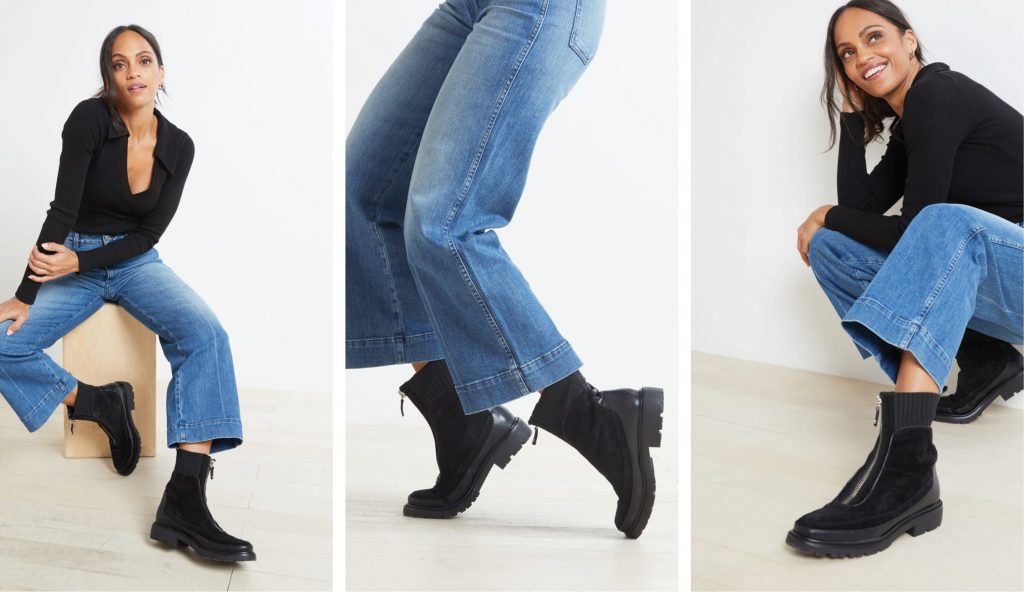 Image Credits: withheart.evereve.com
The rugged charm of combat boots intertwined with the timeless allure of bootcut jeans speaks confidence out loud and showcases style brimming with a daring attitude and confidence. The elegant flare of the bootcut jeans contrasts with the combat boots' chunky sole and lace-up detailing. You can pair combat boots with ankle-length bootcut jeans outfits to draw attention to the lace-up front of the boot.
Combat boots come in various colours and styles. Choose classic black combat boots to pair with either dark wash or light wash jeans. You can also make a bolder statement by wearing combat boots in white, brown, or designs with bold straps and buckles.
10. Flip Flops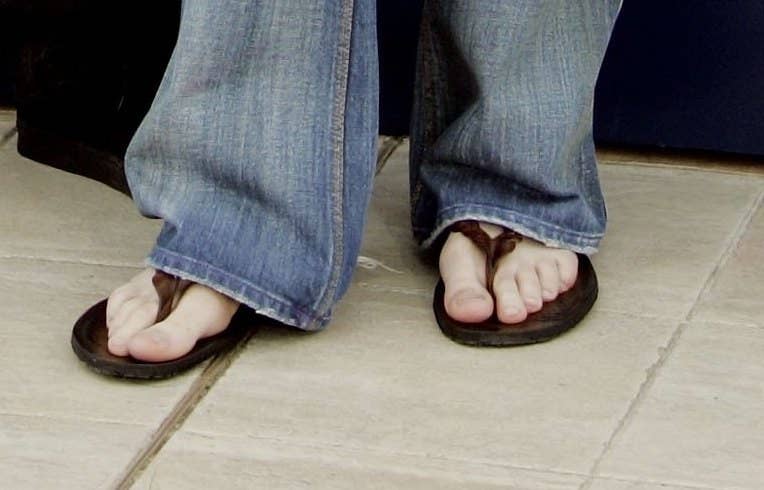 Image Credits: buzzfeed.com
Flip flops are a relaxed and comfortable shoe choice to wear with bootcut jeans. They exude a carefree yet elegant charm while boasting comfort in both elements. Whether you are going out for a casual hangout or running errands, flip-flops are the go-to choice where ease and comfort are priorities.
The flip-flop and bootcut jeans combo are easy to achieve as they both have open designs for a minimalistic approach. Choose a patterned or printed flip-flop to give your bootcut jeans outfits a sense of adventure. If you want to create a boho-chic vibe, go for flip-flops with woven details or embellishments like beads or tassels.
Tips for Getting the Right Shoes to Wear with Bootcut Jeans
1. Go for Balanced Proportions
Image Credits:indigobluesandco.com
When choosing a shoe to wear with bootcut jeans, look for styles offering a streamlined transition from the flared jeans end to the shoe. Go for shoes with an open or complementary ankle design to complete the flare and bootcut jeans outfit. Consider shoes with a defined toe design, like a pointed toe, square toe, or almond toe which appear to elongate the leg line to create a balanced silhouette.
2. Choose the Right Heel Height for the Occasion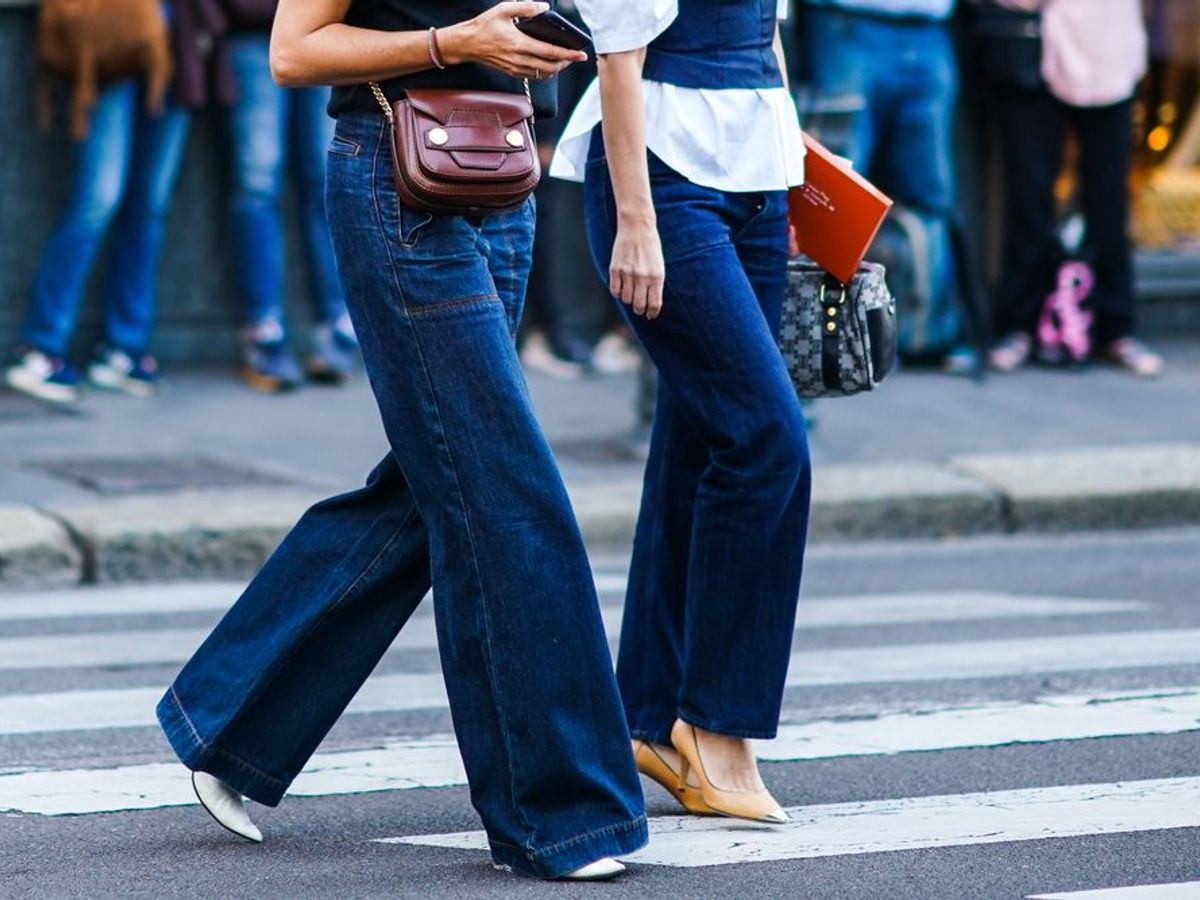 Image Credits: lifestyleasia.com
Your heel height makes all the difference when pairing a shoe with bootcut jeans. Higher heels like stilettos or platform heels lengthen the leg line to create a sophisticated and elegant look. Low heels or flat shoes paired with bootcut jeans make for a relaxed and casual look.
3. Consider the Bootcut Width
The bootcut opening determines the shoes you can pair with your jeans. A slight flare offers more flexibility with shoe styles. Avoid pairing bulky shoe styles with bootcut jeans with a pronounced bootcut opening, as they can overwhelm the silhouette.
4. Showcase Your Hem
The beauty of bootcut jeans outfits lies in the universally flattering fit and wide hem design. Opt for shoe designs which complement this design. Avoid shoe designs requiring you to tuck in the hem.
5. Style Versatility
Bootcut jeans are adaptable, allowing you to achieve different looks with just one perfect pair of jeans. Consider your style and go for shoes with the most versatile style options for bootcut jeans. Feel free to experiment with various shoe styles for different occasions.
In conclusion
There are many possibilities in the search for shoes to pair with bootcut jeans. The blend of intricate shoe design styles with the subtle flare of bootcut jeans is an invitation to showcase your taste and personality with every step you make. Trust your instincts and choose shoes that make you feel comfortable, confident, and stylish.