What Colour Socks Go with Brown Shoes? 15 Picks
Although socks may seem like an inconsequential part of your look, especially when you are flying out of the house and barely have enough time for breakfast, they have the power to make or break your outfit. This is why today we're looking at what colour socks pair with brown shoes.
You can have the best brown shoes on, but if you choose the wrong socks, you run the risk of ruining your entire outfit. Before we dive into the specific colour socks that pair well with brown shoes, let's first understand brown as a colour.
Understanding the Sock Colour and Its Relationship to Brown
It's important we establish brown's relationship to other colours on the colour wheel to allow you to properly pair it and let your amazing style shine through. The colour wheel comprises primary colours and secondary colours. The primary colours are red, blue, and yellow, while the secondary ones are green, orange, and purple. Brown is created by mixing the primary colours and is considered neutral.
Because it is a neutral colour, you can comfortably pair it with a number of colours, including other neutrals and bold colours. Another critical fact to note about brown is it has reddish, yellowish, and grayish undertones. Understanding this will allow you to pair your outfit correctly. Remember, you should aim to match your socks with your pants, not your shoes.
So, although we are discussing what colour socks to pair with brown shoes, you should pay more attention to the colour and pattern of your pants when choosing the socks to wear. Still, we are going to give you several choices to choose from below to ensure you are spoilt for choice.
What Colour Socks Pair Great with Brown Shoes?
1. Black socks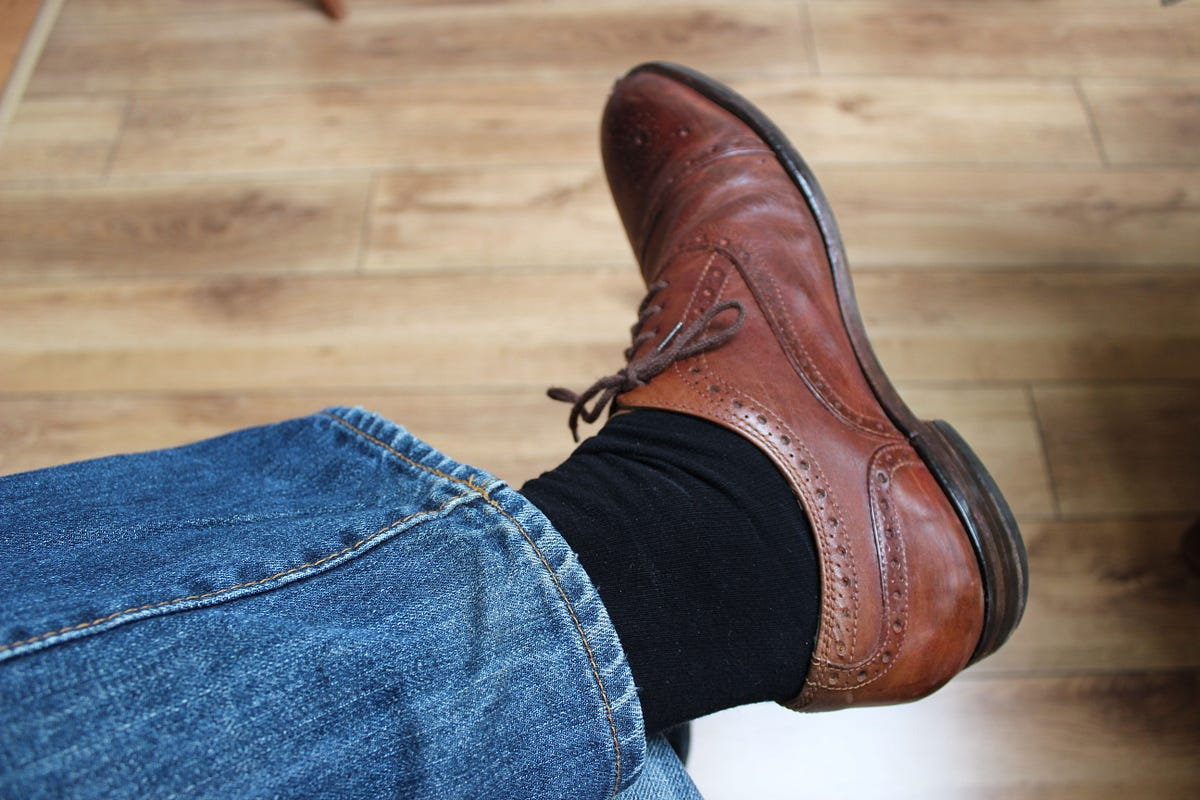 Image Source: hoodmwr.com
It's no surprise black socks are at the top of our list because black goes with almost anything. Also, black is a neutral colour like brown, which makes black socks one of the best choices to pair with brown shoes.
This classic combination is a fool-proof choice and gives your outfit an elegant and formal feel. The contrast with the brown makes this pairing the perfect look for formal settings such as black-tie events, weddings, and business meetings.
2. Grey socks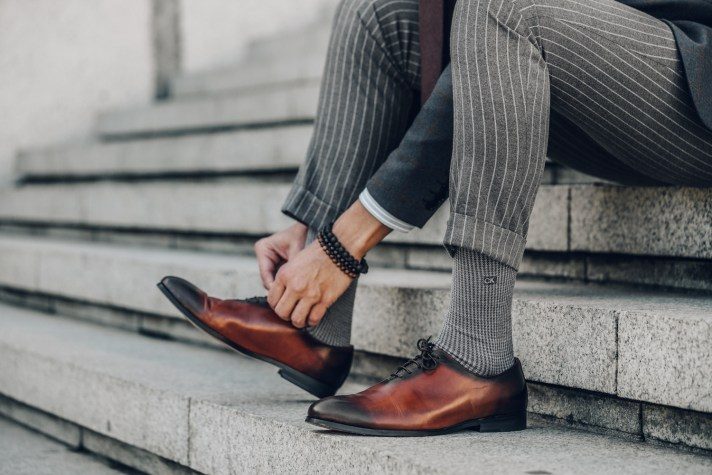 Image Source: hoodmwr.com
Our second choice is another neutral colour. This colour pairs well with brown shoes without the formality of black socks. Grey socks complement brown shoes very well and allow you to give off a dressed-up or dressed-down look.
If you are planning to go from a formal space to an informal one, or vice versa, pairing your brown shoes with grey socks is the way to go. Although we wouldn't recommend regularly pairing grey socks with light brown shoes, medium-to-dark brown shoes go great with grey socks.
3. Brown socks
Image Source: londonsockcompany.com
You probably didn't think we would cover brown socks in this piece, but we would be remiss to leave them out. In fact, the fun part about pairing brown shoes with brown socks is you can experiment with various shades of brown.
Pairing brown socks with brown shoes gives you a harmonious and coordinated look. In fact, if you want your style to reflect the fact you are an organized individual, say for an interview, brown on brown is a good combination. Plus, this pairing is superb for business casual outfits.
But, we must confess, wearing brown shoes with brown socks works superbly when you create a subtle contrast between your sock and shoe colour.
4. Burgundy socks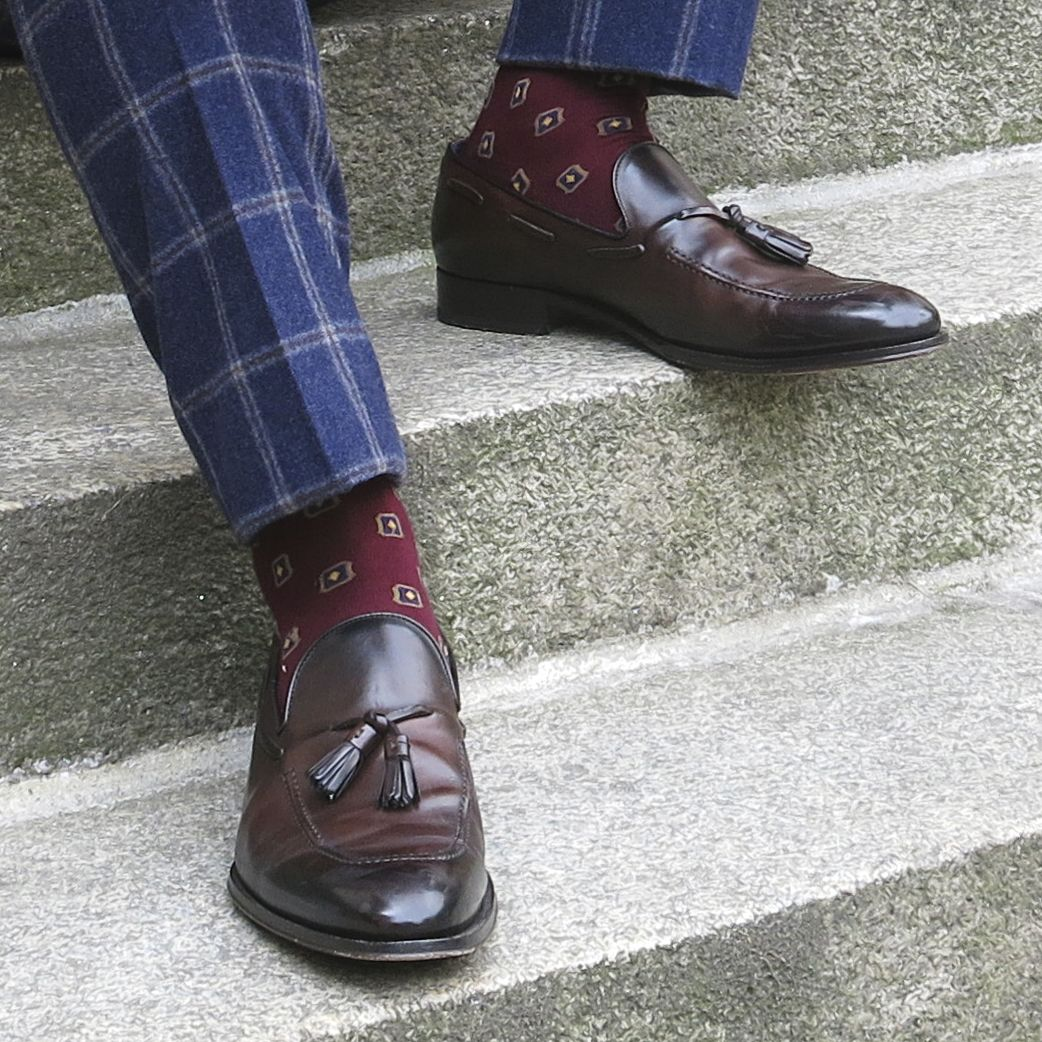 Image Source: hoodmwr.com
We've come from the subtle arena and dove right into the stylish scene with burgundy socks. Burgundy socks paired with brown shoes allow you to make a modern fashion statement.
We recommend wearing this outfit when going for casual occasions. So the next time you want to show off your incredible light brown shoes at your friends' meet-up, pair them with burgundy socks.
5. Navy blue socks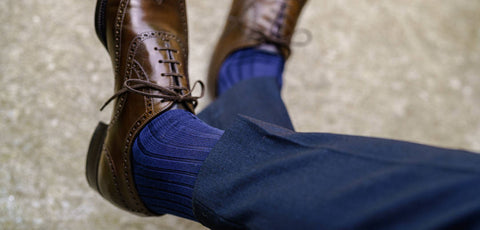 Image Source: hoodmwr.com
Pairing navy blue socks with brown shoes is great when you don't want to overpower the rest of your outfit but still want the pop of colour. You can rock this pairing in both casual and semi-casual settings.
Another grand thing about navy blue socks is they make your outfit look sophisticated without making it look too formal. We recommend rocking this paring with a high-quality blue or grey suit. You will thank us later.
6. Purple socks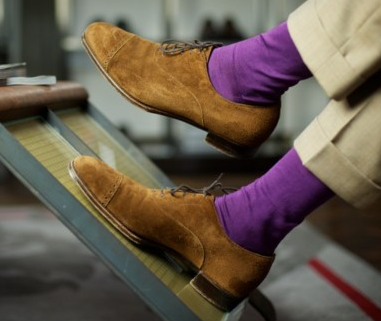 Image Source: hoodmwr.com
Here's another option to make you look sophisticated. Pairing purple socks with brown dress shoes or other brown shoes gives you a powerful yet gentle vibe.
Opt for shades such as a deep eggplant or plum to give you a refined but balanced look. You'll feel this effect more intensely if you wear this combination with a charcoal or grey suit. You'll ooze power and reliability without having to say a single word.
7. Mustard socks
Image Source: hoodmwr.com
We haven't forgotten about you, fall lovers. There's something so soothing about the fall season because it brings warmth into our hearts. Wearing mustard socks with brown shoes gives you this warm feeling any time of the year.
In fact, if you are planning to add some energy to your outfit, wear brown shoes with mustard socks. These socks add a pop of colour and style to your outfit while still maintaining a harmonious appearance.
8. Forest green socks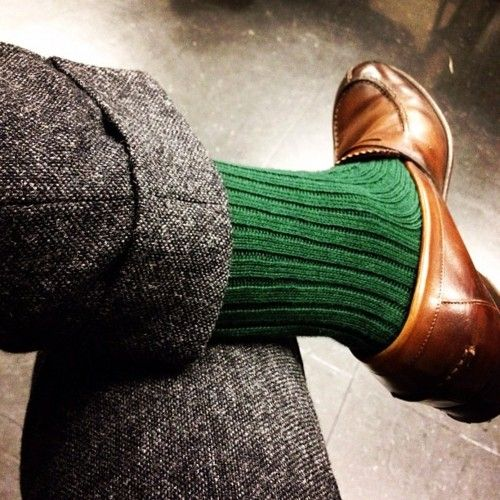 Image Source: hoodmwr.com
Forest green socks are a great option to pair with brown shoes because of the contrast they create. This earthy contrast goes very well with khaki or beige trousers. You can absolutely rock this outfit the next time you're going on an outdoor adventure.
9. Light blue socks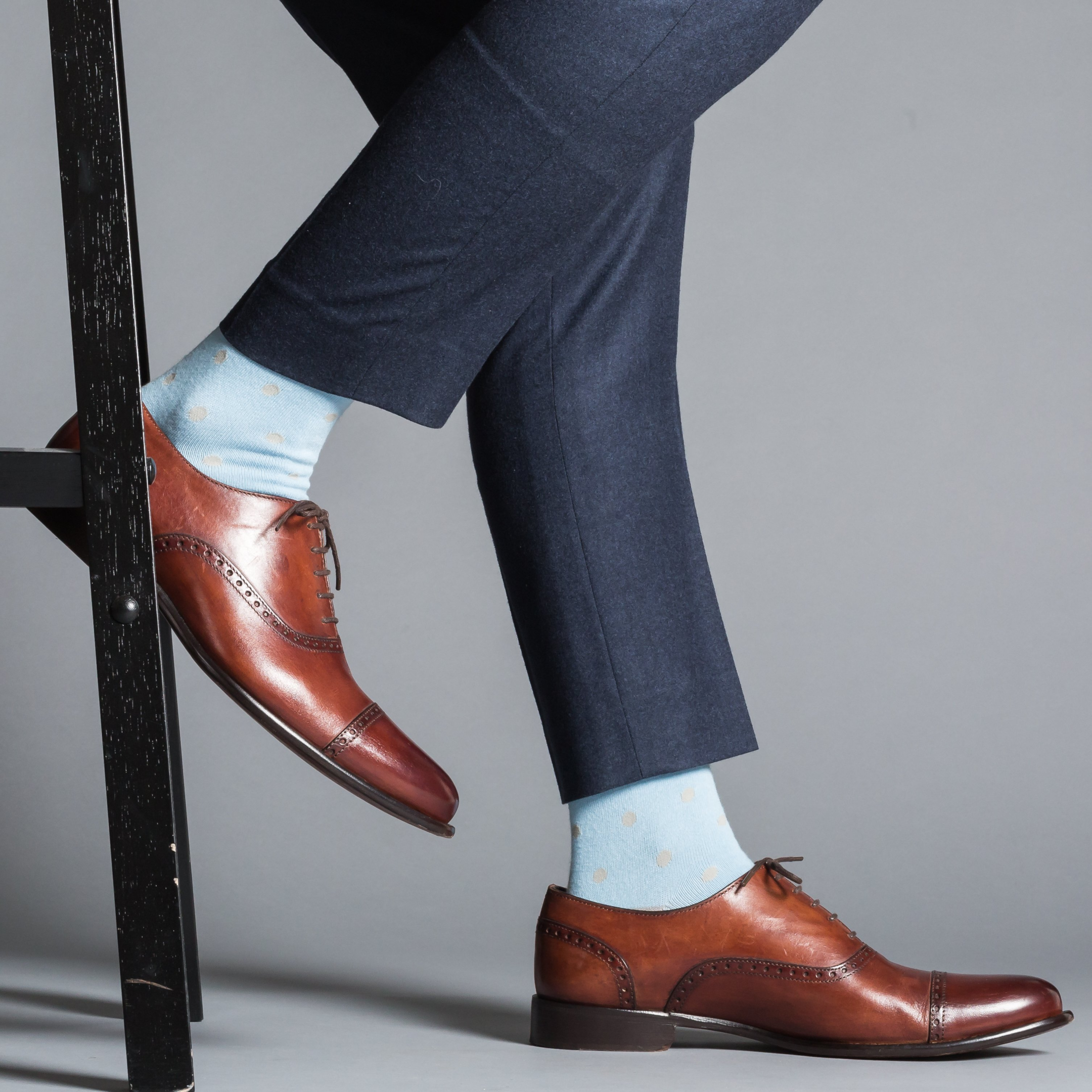 Image Source: hoodmwr.com
Just as the forest green socks above create an earthy contrast when paired with brown shoes, light blue socks create a cool contrast. This combination is perfect when paired with light-coloured pants.
We recommend wearing this pairing during the summer or spring when you want to brighten your outfit. Speaking of summer, here are 4 summer looks for women and 4 for men to keep you looking and feeling your best.
10. Pink socks
Image Source: ninesparis.com
The great thing about pairing brown shoes with pink socks is you can decide whether you want a playful but stylish look or a subdued, elegant one. If you want the former, go for lighter shades of pink. And if you want to bring out the sophisticated side of you, wear socks with darker shades of pink. Plus, this look works great with grey or navy suits.
11. White socks
Image Source: hockerty.com
Our list would not be complete without this colour, which is perfect for casual settings. In fact, pairing white socks with brown shoes works great when dealing with sneakers or loafers.
So, feel free to wear white socks with your favourite pair of sneakers when going for your friend's birthday or the friends' reunion you've been looking forward to.
12. Patterned socks
Image Source: boardroomsocks.com
When it comes to patterned socks, you have a variety to choose from. There are stripes, polka dots, argyle, and many more. Patterned socks are a great way to let your personality shine through while adding some flair to your outfit.
Still, there are two important things to note when pairing these socks with brown shoes. One is you should avoid this combination if you are wearing a striped suit to prevent creating a busy look. The second point is to ensure one of the colours in the patterns complements your brown shoes to create a cohesive look.
13. Beige socks
Image Source: boardroomsocks.com
Tan or beige socks are a great choice, especially when you are wearing pants or trousers of the same colours. This combination creates a seamless and sophisticated look, leaving you stylish and elegant.
In addition to looking fabulous, this pairing elongates the appearance of your legs and is perfect for formal settings such as weddings or meetings.
14. Teal socks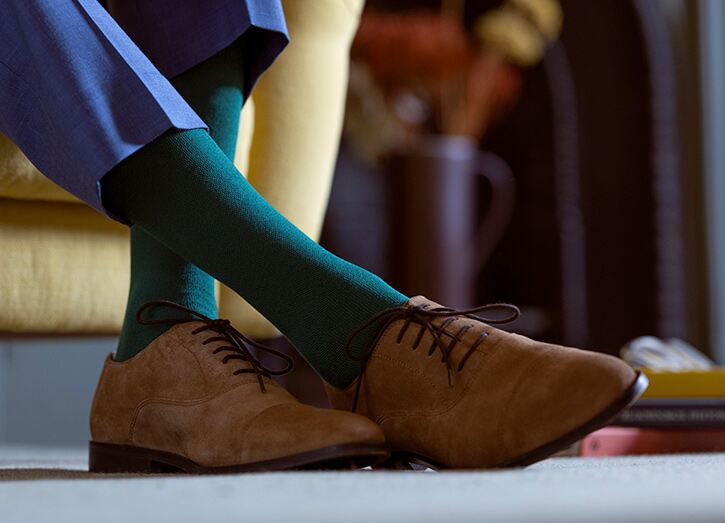 Image Source: sockshop.co.uk
Unlike the beige socks above that are perfect for formal settings, teal socks are great for relaxed events where you want to make a bold fashion statement. A good example would be going out to the bar for drinks with your friends, and you want to look stylish but not too formal.
15. Copper or rust socks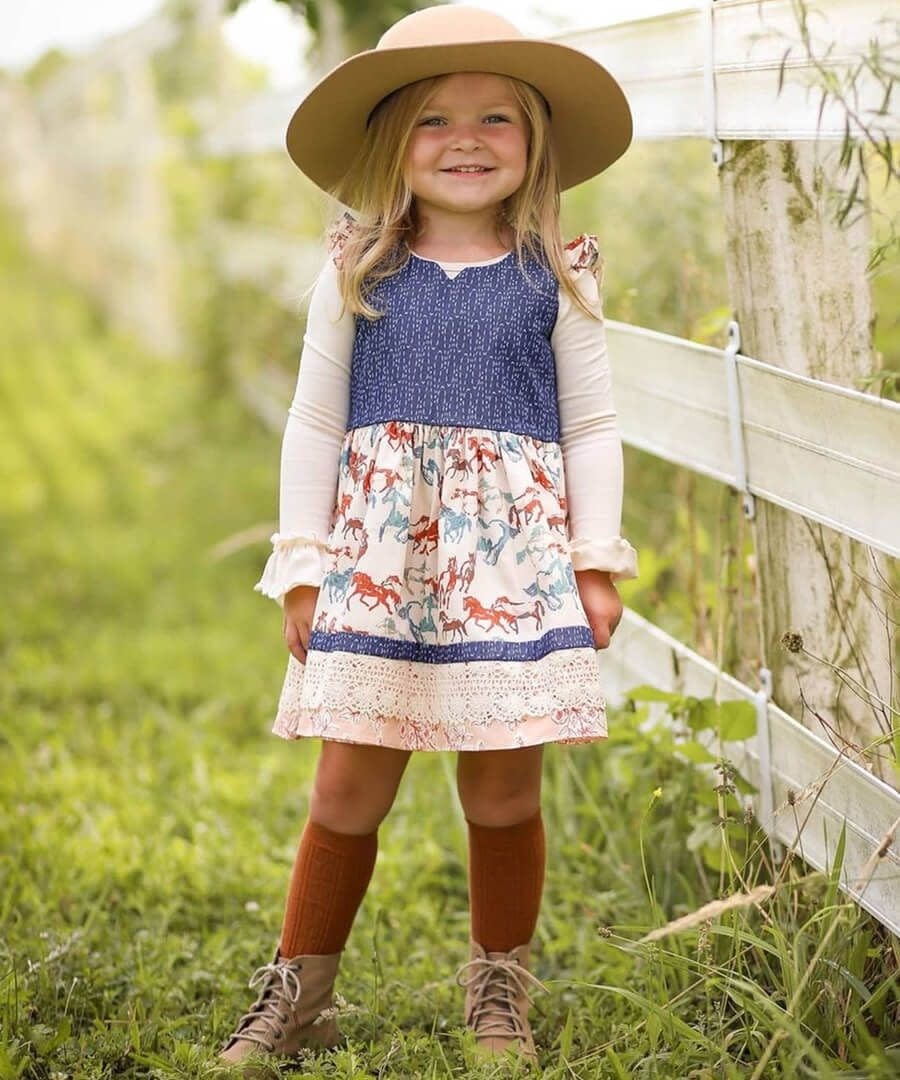 Image Source: ethansclosetccb.com
Finally, we have copper socks. These are great for creating a warm and inviting contrast with your brown shoes. This is another pairing you can rock during the autumn months.
Final Thoughts
Several colours pair great with brown socks. But it's important to consider what style you want to project as well as the occasion or setting you're going into.
Remember, first impressions are lasting, and you always want to make the best one. So, whether you're wearing shoes with leggings or not, you should always consider the colour of your pants to ensure the socks flow seamlessly with them. We recommend choosing your sock colour based on the pants you're wearing and then finding out if they go well with brown shoes.