What to Wear with Hey Dude Shoes for a Stylish Look
We've all been there—standing in front of our closets, staring at a pair of shoes and wondering, "What on earth can I wear with these?" Well, if that pair is your favourite Hey Dude Shoes, you're in for a treat as we will discuss what to wear with Hey Dude shoes! Whether you're a long-time fan of these comfy and stylish kicks or just discovered their charm, you're in good company.
Hey Dudes Shoes have a unique flair which is as versatile as your ever-evolving fashion tastes. So, join me on this fashion journey as we dive into the world of Hey Dude Shoes and explore the countless ways to rock them with confidence and finesse. Whether you're a casual dresser, a boho enthusiast, or a lover of all things chic, there's a Hey Dude look for everyone. Let's get started and unlock the potential of these fantastic shoes together!
The History of Hey Dude Shoes
Hey Dude Shoes started in Italy in 2008 when founder Alessandro Rosano created the most comfortable and lightweight shoes possible. His vision was to combine Italian design with lightweight materials, resulting in footwear feeling like a second skin for your feet.
The breakthrough came with the introduction of Flex & Fold technology, which allowed the shoes to move naturally with your feet, offering ultimate comfort. Initially, the shoes were available for men. Still, the brand quickly expanded to include supportive women's shoes that are comfortable and stylish and a wide range of options, from slip-ons to boots, sneakers, sandals, and platforms.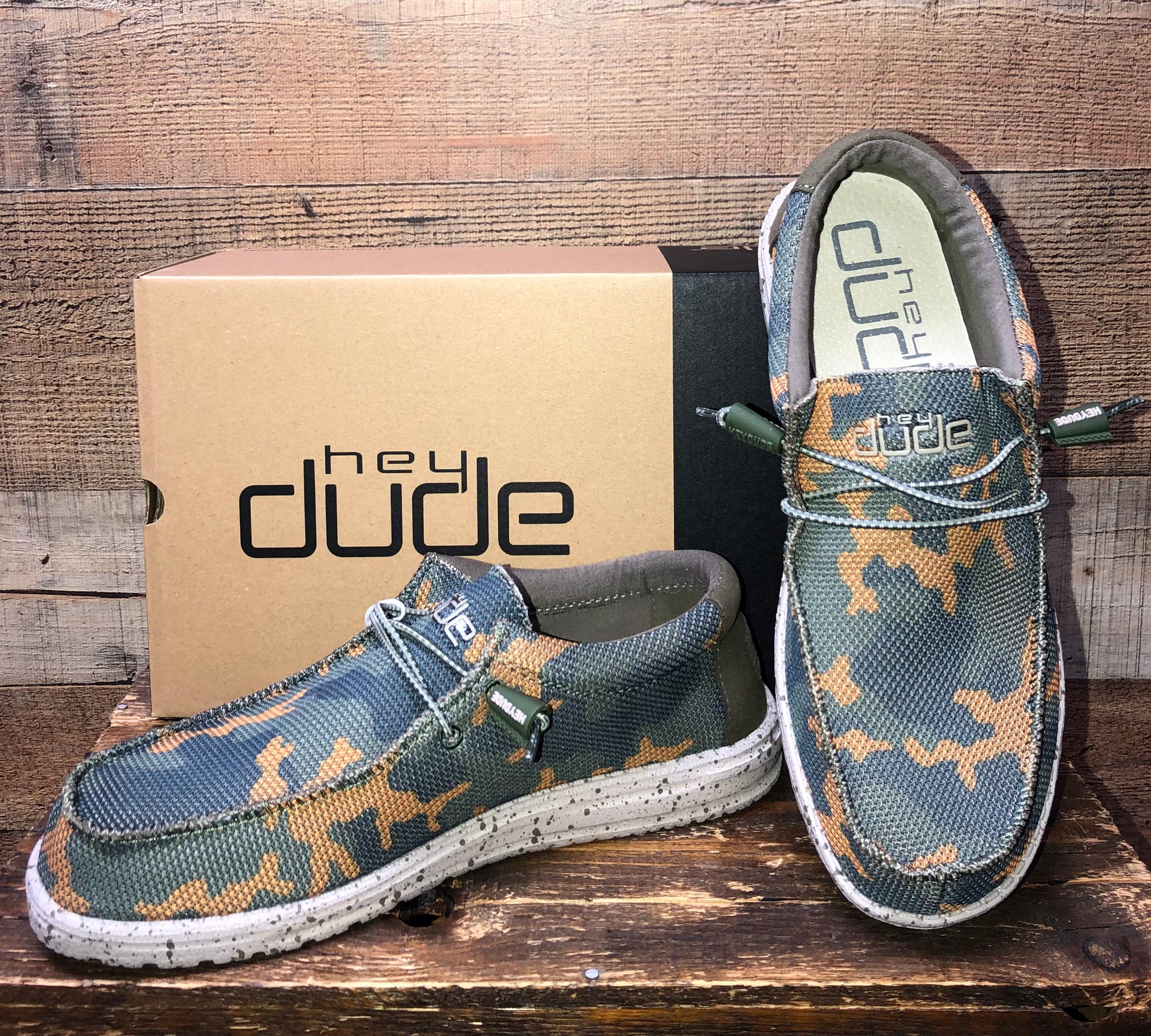 Image Credits: chillicothebootery.com
Hey Dude Shoes disrupted the footwear industry by prioritizing comfort without sacrificing style. Today, they are known globally for their commitment to delivering comfortable and fashionable footwear for various lifestyles.
Outfit Ideas to Match Hey Dude Shoes for Women and Men
1. The classic sneaker look
Hey Dude Shoes for women, particularly the popular Wally and Wendy styles, are reminiscent of winter sneakers for men and women. Their lace-up design and comfortable soles make them perfect for casual days when you want to maintain a sporty yet stylish look. Here's how to nail the classic sneaker look with Hey Dude Shoes:
a. Skinny jeans
Image Credits: pinterest.com
Wear Hey Dude shoes with well-fitted skinny jeans for a chic, everyday look. Roll up the cuffs of your jeans to draw attention to your shoes and add a casual flair.
b. Graphic tee or plain white tee
Image Credits: pinterest.com
Keep it simple with a graphic T-shirt or a plain white T-shirt. This effortless combination exudes a relaxed vibe while maintaining a trendy edge.
c. Denim jacket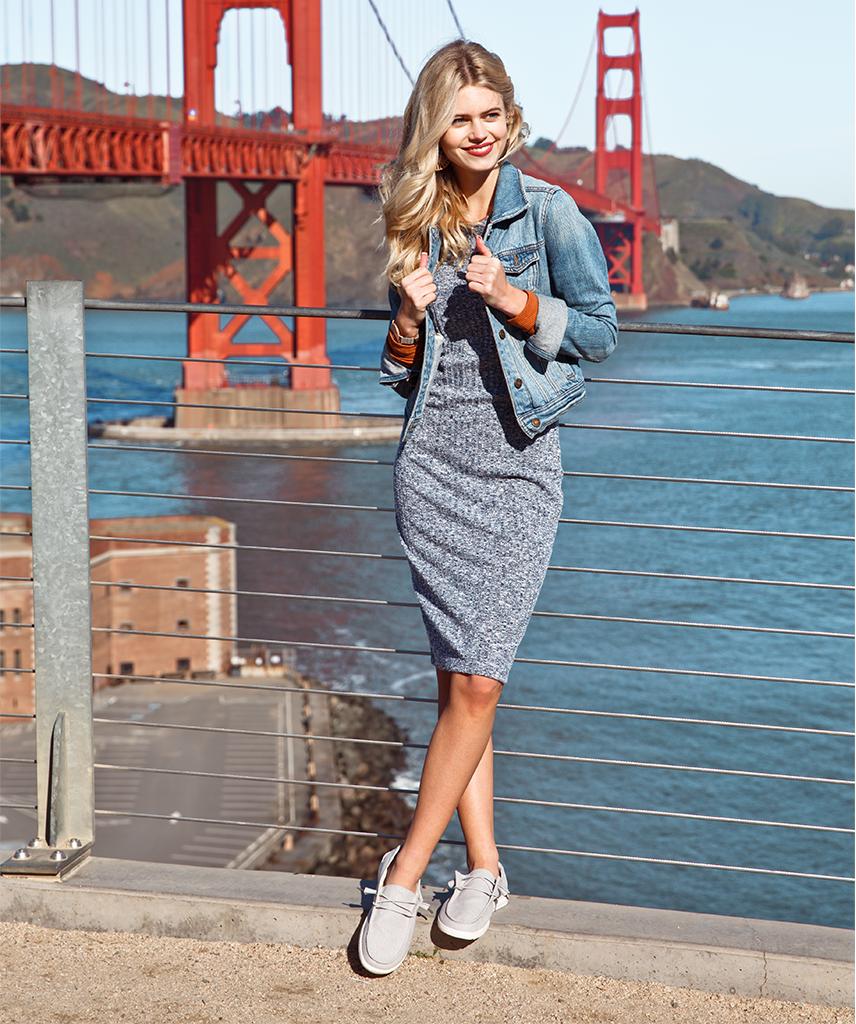 Image Credits: twitter.com
Complete the look with a classic denim jacket for those cooler days. The denim-on-denim style complements the laid-back feel of Hey Dude Shoes perfectly.
2. Effortless boho vibes
Hey Dude Shoes can be your go-to choice for a more bohemian-inspired look. Their soft, breathable fabric and earthy colour options make them an ideal addition to your boho wardrobe. Here's how to achieve those effortless boho vibes:
a. Maxi dress
Image Credits: pinterest.com
Wear Hey Dudes with a flowy maxi dress in a floral or tribal print. Combining casual footwear and a relaxed dress creates a carefree, boho-chic ensemble.
b. Bohemian style
Add some charm with layered necklaces, bangles, and statement rings. After all, the bohemian style helps you embrace a free-spirited, eclectic look.
c. Fringed bag
Complete your boho outfit with a fringed crossbody bag. It adds an extra touch of texture and completes the bohemian look.
3. Nautical and preppy
Hey Dude Shoes can also be styled in a nautical or preppy fashion, perfect for a day at the beach or a weekend brunch by the sea. Here's how to achieve the seaside style:
a. Striped Breton top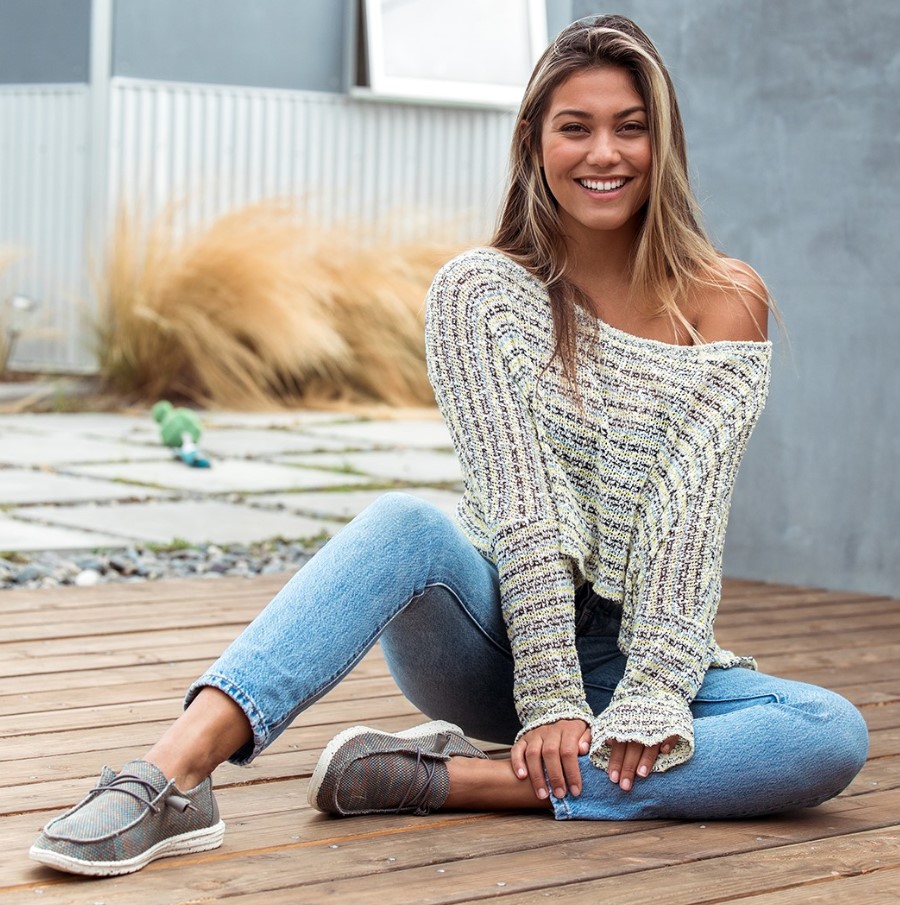 Image Credits: hoodmwr.com
Opt for a classic navy and white striped Breton top and tuck it in a pair of high-waisted shorts or a denim skirt. This timeless combination exudes a nautical charm.
b. Sun hat
Protect yourself from the sun with a stylish sun hat. A wide-brimmed straw hat or a simple baseball cap can add a touch of preppy sophistication.
c. Tote bag
Carry your essentials in a spacious tote bag, preferably in a maritime-inspired design. This not only complements the nautical theme but also provides practicality.
4. Sporty athleisure
Hey Dude Shoes are not just about aesthetics; they also provide unmatched comfort. The Hey Dude slip-on shoes are so comfortable you won't want to wear anything else on your workouts. They are perfect for creating a sporty athleisure look which is both fashionable and functional. Here's how to nail the athleisure style:
a. Leggings
Image Credits: pinterest.com
Opt for a pair of high-quality leggings or yoga pants for flexibility and comfort. Black leggings are versatile and pair exceptionally well with Hey Dude Shoes.
b. Sporty hoodie
Choose a stylish, sporty hoodie to add colour or pattern to your outfit. Hoodies are perfect for achieving a laid-back yet trendy look.
c. Crossbody bag
Complete the sporty ensemble with a crossbody bag, allowing you to move freely while keeping your essentials close at hand.
5. Casual everyday elegance
Sometimes, you want to elevate your everyday style without sacrificing comfort. Hey Dude Shoes offer a seamless fit for an elegant yet casual look. Here's how to rock your casual outfits:
a. Tailored trousers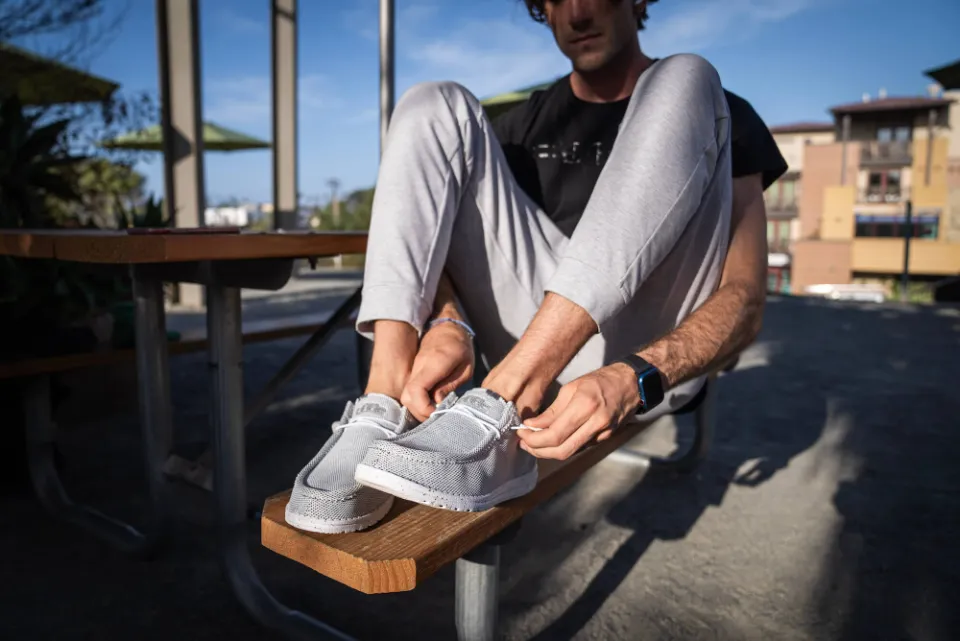 Image Credits: aftersybil.com
Swap your blue jeans for a pair of well-fitted dress pants or tailored trousers in a neutral colour. This instantly elevates your outfit.
b. Blouse
Choose a blouse in a soft fabric and a flattering silhouette. Tuck it into your trousers for a polished appearance.
c. Trench coat
For cooler weather, drape a classic trench coat over your shoulders. This timeless piece adds sophistication to your look.
6. Adventure-ready outfits
Hey Dude Shoes are built for adventure, making them a great choice for outdoor activities. Whether you're hiking, camping, or simply exploring nature, you can pair these shoes with practical yet stylish attires:
a. Outdoor pants
Image Credits: ourfashionpassion.com
Opt for moisture-wicking outdoor, wide-leg, or cargo pants for comfort and functionality. Choose earthy tones to blend in with nature.
b. Performance jacket
Wear a lightweight, waterproof performance jacket to stay dry in unpredictable weather. Look for one with plenty of pockets for added convenience.
c. Backpack
Complete your adventure-ready outfit with a comfortable and functional backpack. Choose one to hold all your essentials for a day in the great outdoors.
7. Summer-ready ensemble
As the temperatures rise, it's time to embrace a breezy, summer-ready look with Hey Dude Shoes. Here's how to keep cool and stylish:
a. Sundress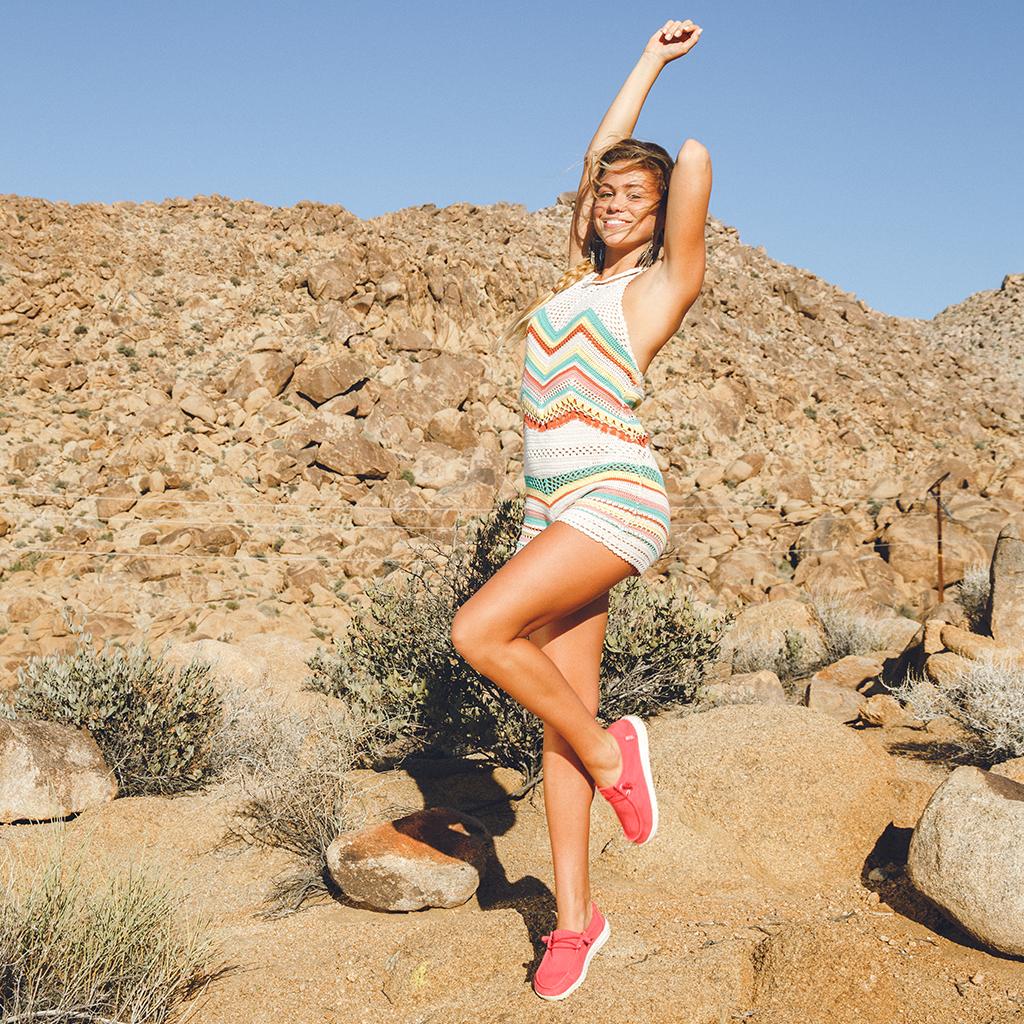 Image Credits: twitter.com
Slip into a sundress in a fun and vibrant print. Sundresses add a statement to summer fashion and pair perfectly with Hey Dude Shoes.
b. Straw hat
Shield yourself from the sun's rays with a stylish straw hat. It adds a touch of glamour while keeping you cool.
c. Sunglasses
Complete your summer ensemble with a pair of chic sunglasses. Not only do they protect your eyes, but they also add a dose of glamour to your look.
Types of Hey Dude Shoes
Hey Dude shoe styles come in varieties to cater to different tastes and occasions. Here are some of the main types of Hey Dude shoes:
1. Wally
Image Credits: pinterest.com
The Wally is the most iconic Hey Dude shoe. It's known for its relaxed, slip-on design with a wide, stretchy upper, providing a snug yet breathable fit. These are perfect for casual outings and are available for both men and women. You can pair them with jeans, chinos, or even shorts.
2. Wendy
Image Credits: glik's.com
The Wendys are the women's version of the Wally. They retain the comfortable slip-on style but with a slightly narrower fit and feminine colour options. Wendys are great for women seeking comfort without compromising on style. They go perfectly with skirts, sundresses, and shorts during warm weather.
3. Karina sneakers
Hey Dude's Karina sneaker collection comes in multiple colour options, making them a trendy choice for those who want a sportier look or to rock socks with sneakers for outdoor experiences.
Image Credits: heydude.com
Karina sneakers are designed with breathable cotton material and feature convenient elastic laces for effortless slipping on and off. Their memory foam insole provides exceptional comfort; Karina combines style with street-smart functionality, making them the go-to sneaker you'll want to wear daily. You can wear them with almost anything, from jeans and joggers to shorts and dresses.
4. Phoenix Basic Knit sandals
Image Credits: heydude.com
The Phoenix Youth slide sandals are vibrant and versatile; they feature a soft textile strap for added comfort. Its grippy footbed ensures your feet stay securely in place, while the EVA outsole provides a lightweight yet robust foundation for all their sunny-day adventures. If you're heading to the pool or the beach, the Phoenix sandals are great for slipping on with your swimsuit and a cover-up.
5. Misty Rise
The Misty Rise collection is crafted with a sturdy woven textile upper and adorned with stylish boho-inspired stitching, elevating them above ordinary cotton options.
Image Credits: heydude.com
The shoes have an airy foam insole, providing additional comfort and an ultralight outsole. Plus, they maintain a traditional loafer's classic, easy-to-wear slip-on design. They go perfectly with skirts, sundresses, and shorts during warm weather.
6. Sunapee
Slide your feet into the laceless and incredibly lightweight Sunapee shoes – your feet will truly appreciate it. The removable foam insoles offer a sensation close to stepping on little pillows.
Image Credits: heydude.com
With their neutral colours and clean lines, these shoes effortlessly complement any outfit you wear. Pair them with your favourite jeans or comfortable khakis.
7. Conway
The Conway Craft shoes feature a lightweight, three-panelled textile upper, perfect for those on the go. They have a flexible outsole for all-day comfort. These shoes also include a breathable upper and an extra-foamy insole, making them your new favourite choice for everyday wear.
Image Credits; heydude.com
During warmer weather, these shoes go well with shorts. Combine them with a classic polo shirt for a relaxed, preppy look perfect for summer outings.
Conclusion
Hey Dude Shoes are not just footwear; they're a fashion statement. They combine comfort, style, and versatility, allowing you to rock various looks suitable for various occasions. From casual everyday wear to outdoor adventures and even beachside brunches, Hey Dude Shoes can be your trusted companion. Following this guide's style tips and outfit suggestions, you can confidently step out in style, showcasing the perfect harmony between fashion and comfort. So, explore the endless possibilities of styling your Hey Dude Shoes and make a fashion statement that's uniquely yours.