What Color Shoes with Grey Pants: Top Picks
Picture this: you're standing in front of your closet, a sea of options before you, and the one item you've settled on is a pair of sleek, well-fitted grey pants. They're versatile, comfortable, and the cornerstone of many outfits. But as you hold them up, you ponder a common fashion question: What colour shoes go with grey pants?
It's a question that has probably crossed the minds of many style-conscious individuals who want to pair contrasting shoes with outfits. After all, the right pair of shoes can elevate your look, while the wrong choice can leave you feeling fashionably adrift. Fear not, because in this guide, we'll unravel the mysteries of pairing shoes with grey pants, helping you make confident, stylish choices for any occasion. So, whether you're dressing up for a special event or aiming for a casual yet polished look, let's embark on a journey through the world of colour and style, one step at a time.
1. Classic black shoes and grey pants
Black shoes are the best choice for gray suits. When pairing shoes with grey trousers, black is the tried-and-true classic; they exude elegance and pair seamlessly with grey pants.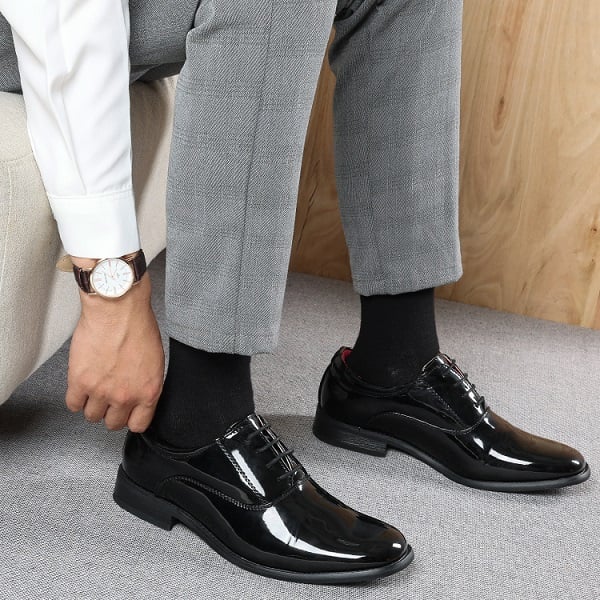 Image Credits: brunomarcshoes.com
When to wear
Black shoes are excellent for formal events, business meetings, or creating a polished and timeless look. Black shoes also work well for evening events like dinners or weddings. Try our Men's Weekend Asphalt black-on-black with grey pants and rock your evening events.
Sock pairing
Opt for black dress socks for formal and semi-formal occasions to maintain a cohesive look. Ensure they are long enough to cover your ankles when sitting or walking.
2. Brown shoes with grey pants
Brown dress shoes offer a warmer alternative to black. They come in various shades, from light tan to deep chocolate. Light brown shoes, such as tan, cognac, or our Men's Weekend oak brown, complement grey pants beautifully.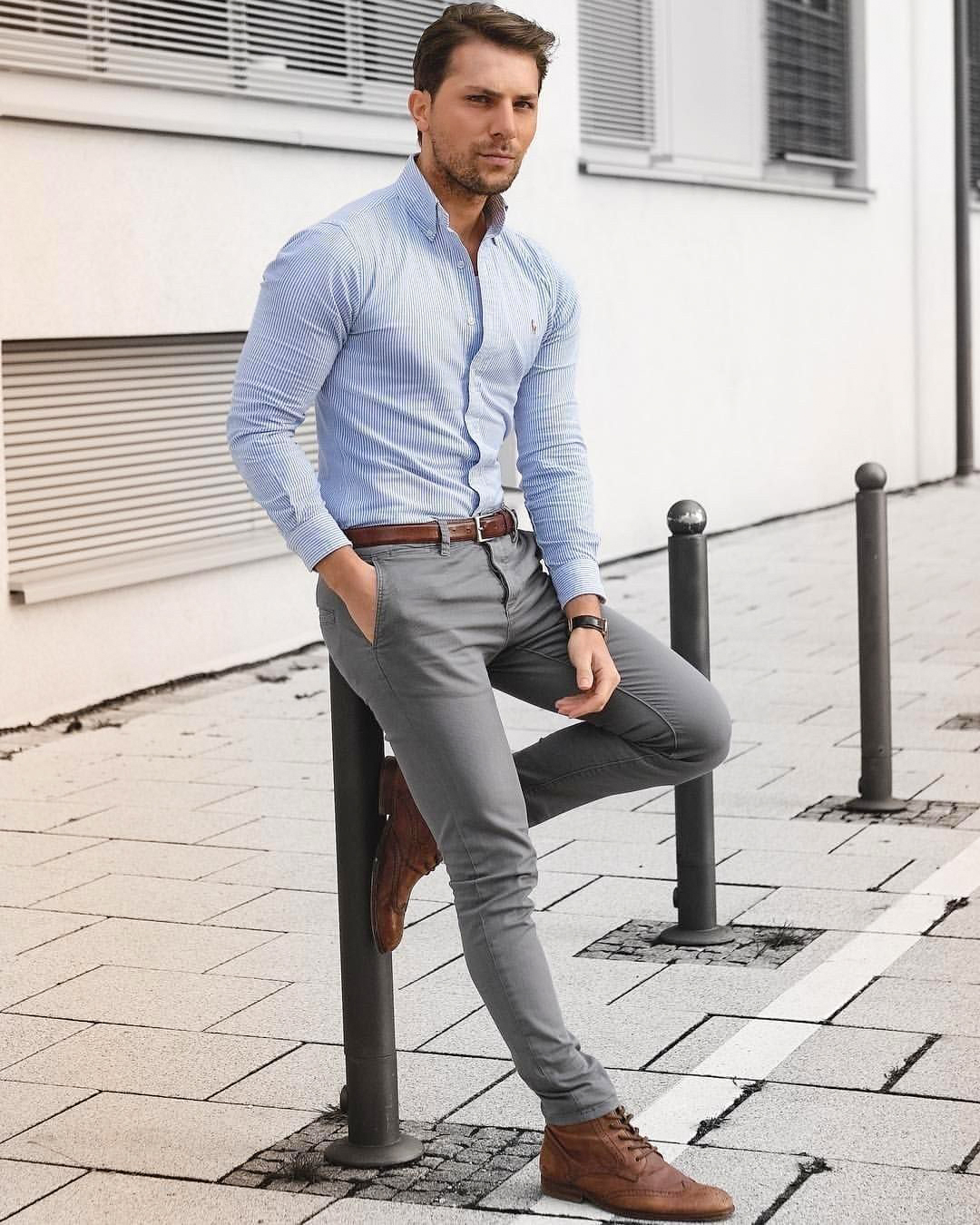 Image Credits: suitsexpert.com
When to wear
Grey pants and brown shoes are perfect for smart casual settings, including brunches, daytime weddings, or casual Fridays at the office.
Sock pairing
If you are wondering what colour socks go with brown shoes, consider earthy tones like beige or light-coloured ones. This harmonious blend will create a balanced and stylish appearance.
3. Navy shoes and gray pants
Navy shoes are a subtle yet elegant choice when paired with grey dress pants. This combination adds a touch of sophistication without being as formal as black.
Image Credits: pinterest.com
When to wear
Navy shoes work wonders for semi-formal events like cocktail parties, theatre outings, or even a date night at a fancy restaurant.
Sock pairing
Navy socks or socks in shades of blue will complete the look. The subtle contrast between the shoes and socks will provide a visually pleasing balance to your ensemble.
4. Burgundy shoes and grey pants
Wear grey pants with burgundy shoes if you'd like to make a statement. This bold combination adds colour to your outfit.
Image Credits: suitexpert.com
When to wear
Burgundy shoes are ideal for creative or fashion-forward environments, such as art gallery openings, stylish parties, or when you want to make a statement.
Sock pairing
Choose socks in complementary colours like deep red or maroon for burgundy shoes. This will tie the outfit together while allowing the shoes to take center stage.
5. Tan or beige shoes with grey pants
For a more relaxed and casual look, tan or beige shoes are an excellent choice with dark gray pants. These light, neutral colours create a laid-back vibe.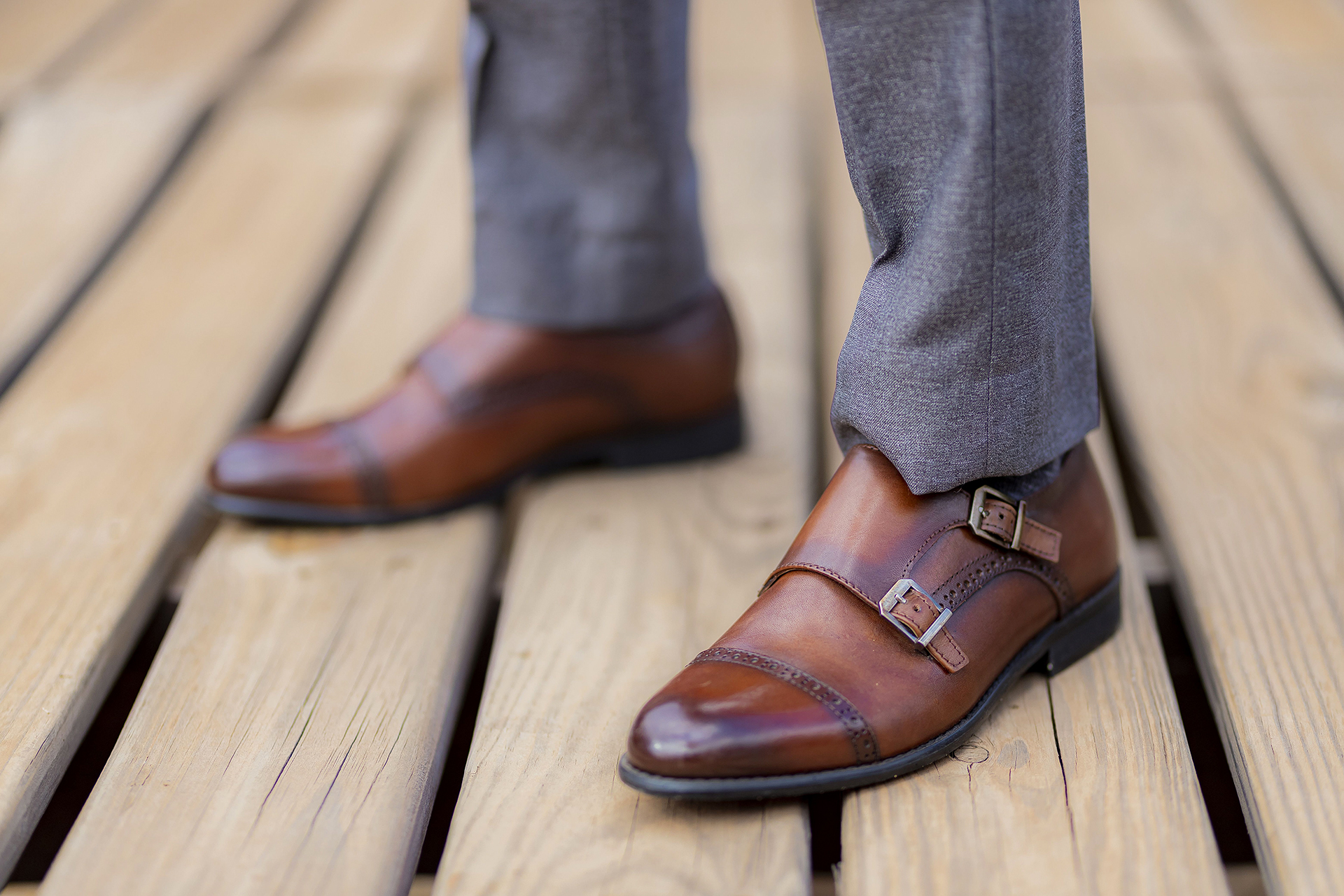 Image Credits: suitexpert.com
When to wear
Tan or beige shoes are perfect for a relaxed and casual look with your grey pants. This combination is ideal for outdoor events, summer gatherings, or a laid-back weekend outing.
Sock pairing
Choose socks that match the shoe colour for a seamless transition from pants to shoes. This will create a clean and effortless appearance.
6. White sneakers and grey pants
In the world of casual fashion, men's white sneakers have become an icon. Pairing white sneakers with grey pants creates a contemporary, relaxed look.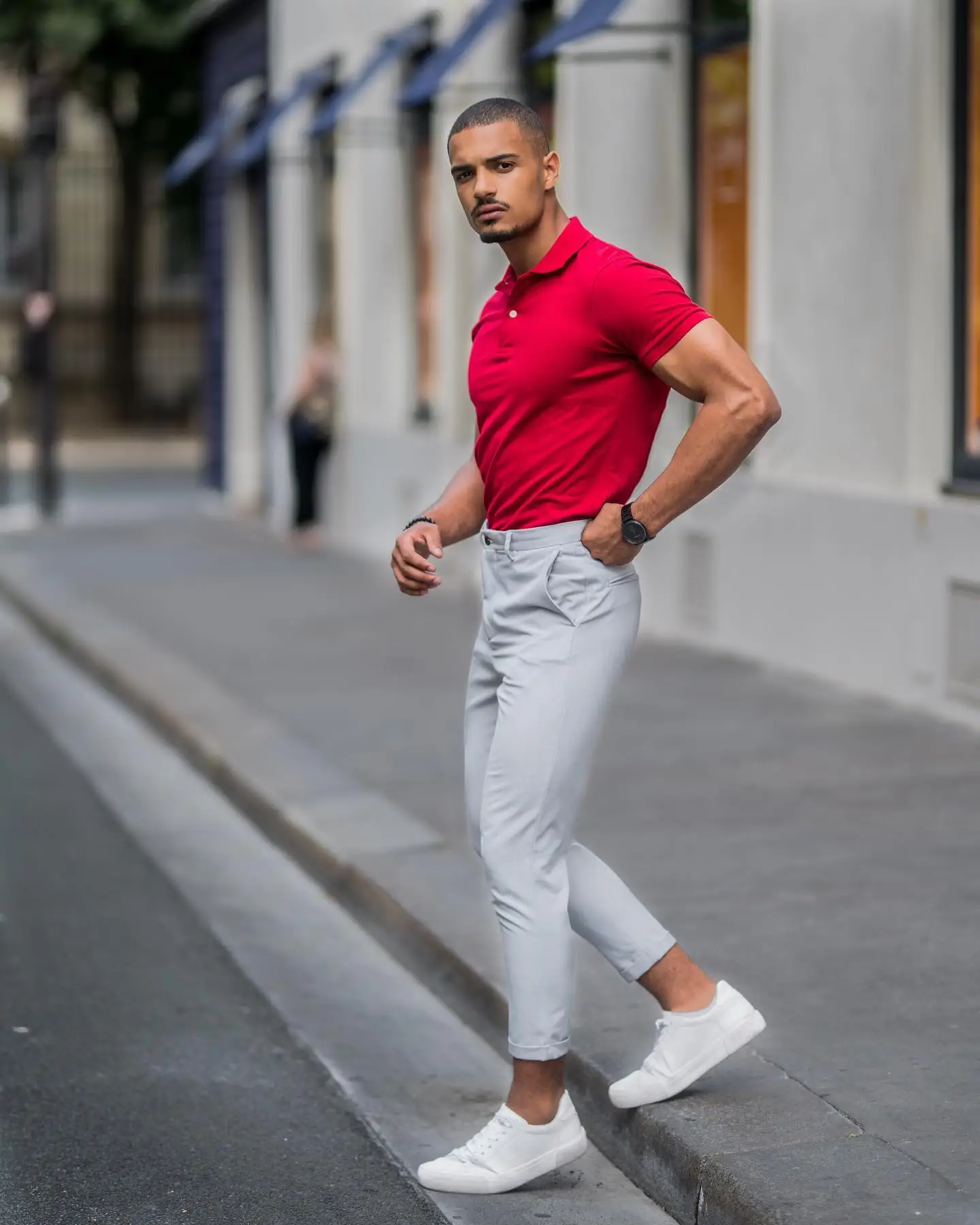 Image Credits: tiptopgents.com
When to wear
Comfortable white sneakers with grey pants suit various casual occasions, including picnics, shopping trips, or hanging out with friends.
Sock pairing
If you are considering socks with sneakers for an outdoor experience, go for low-cut, no-show socks. They offer a clean and sockless appearance while providing comfort and moisture-wicking properties.
7. Gray-on-gray: matching grey shoes and pants
For those with a minimalist aesthetic, consider going all-in with grey-on-grey. Matching our Men's Everyday Sneakers in mist grey with charcoal grey pants can create a sleek, monochromatic, modern, and sophisticated look.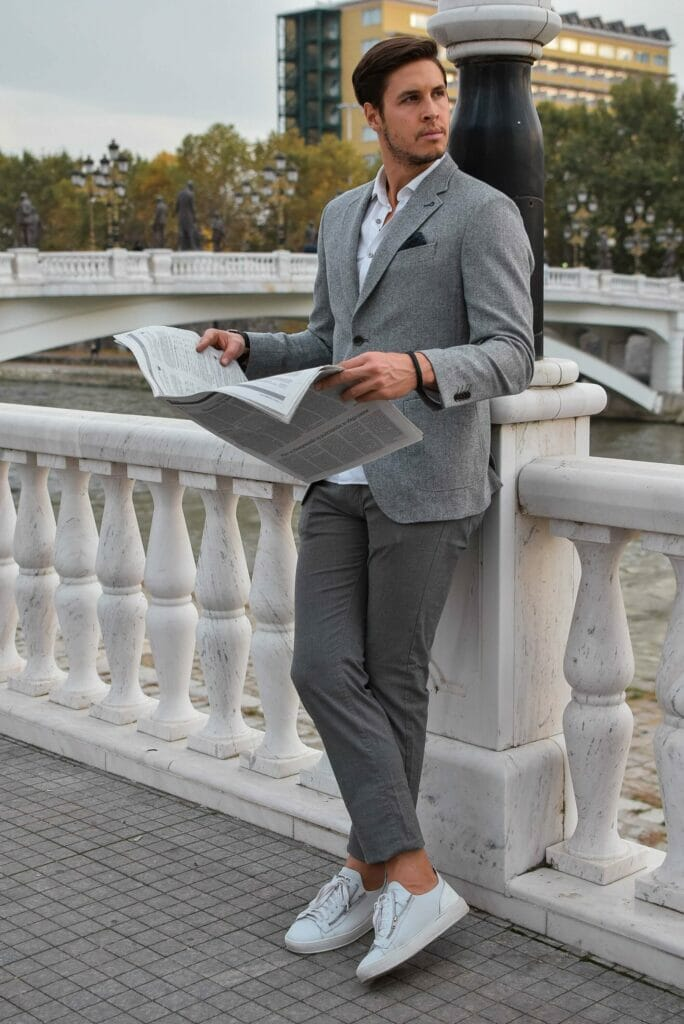 Image Credits: outsons.com
When to wear
Monochromatic outfits like shades of grey shoes with grey pants are suitable for casual and semi-formal events and for expressing your unique sense of style.
Sock pairing
Opt for socks in a shade or two darker or lighter than your grey pants and shoes to create a subtle contrast. This will maintain a cohesive look while adding a touch of sophistication.
What colour shoes go with grey chino pants?
In this section, we will discuss the colour shoes you can wear with grey chino pants.
When pairing shoes with grey chino pants, you have several versatile options to create a stylish and balanced look. The choice of shoe colour can depend on the occasion, your style, and the shade of grey of your chinos.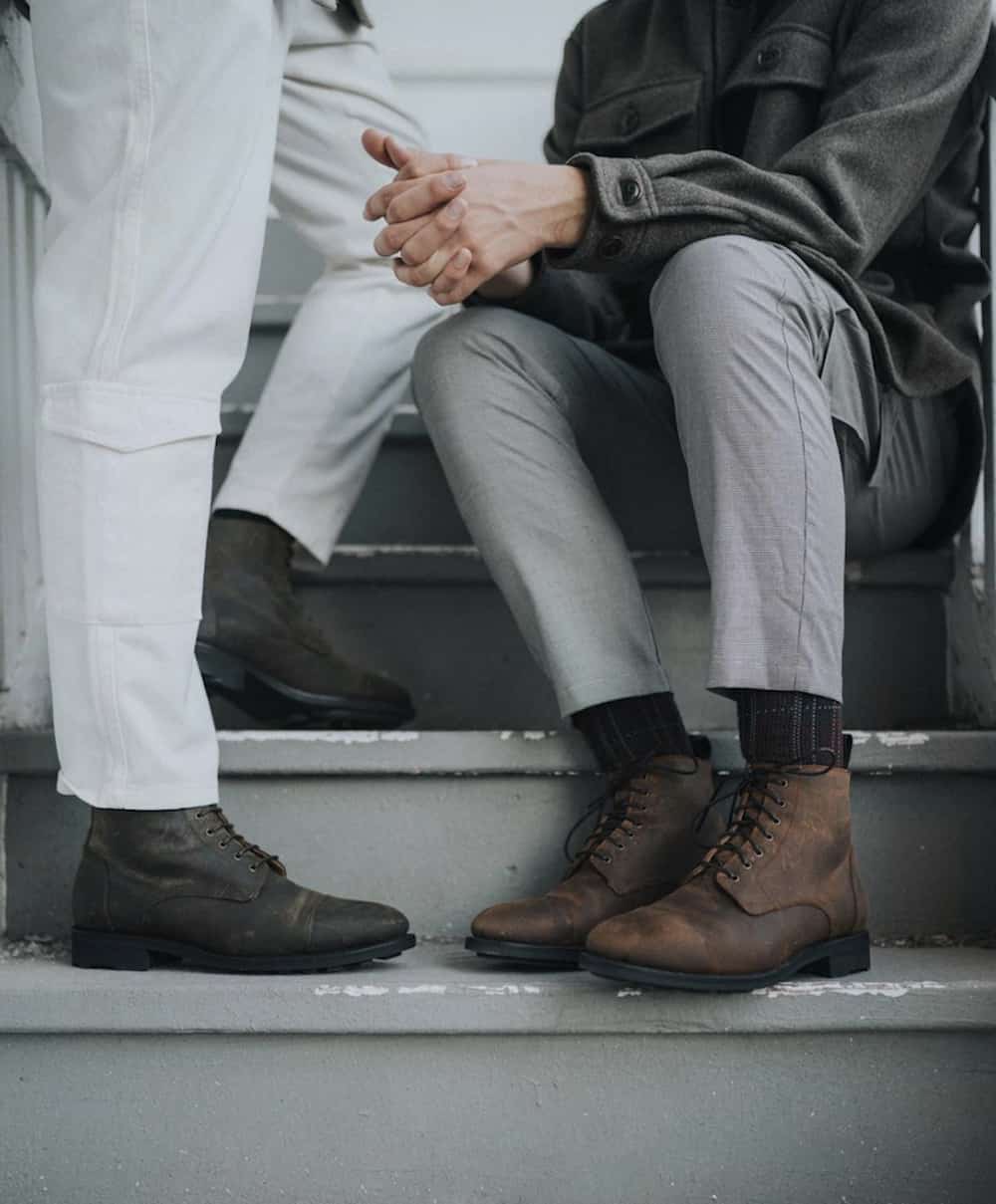 Image Credits: styleyouroccasion.com
For instance, light grey pants pair well with lighter-coloured shoes, while dark grey pants can work with light and dark brown shoes.
Classic brown: A pair of brown shoes, whether light tan, medium brown, or dark chocolate, can complement grey chinos beautifully. Brown offers a warm and timeless contrast to grey.

Navy blue: Navy blue shoes can also work well with grey chinos. Combining a cool neutral and a deep, rich colour can be striking.

Black: Black shoes are a safe and sophisticated choice. They create a sharp, formal look when paired with grey chinos, ideal for business or dressier occasions.

White: White sneakers or casual shoes can add a fresh and clean aesthetic to your outfit. This combo is great for a relaxed, summery vibe.

Burgundy or wine: Consider burgundy or wine-coloured shoes for a touch of colour and contrast. They can add a stylish pop to your grey chinos.

Gray or charcoal: If you want a monochromatic look, go for shoes that are a similar shade of grey or charcoal as your chinos. This creates a sleek, streamlined appearance.

Olive or green: You can opt for olive or green shoes for a unique and trendy look. They can provide a subtle yet stylish contrast with grey.

Suede or loafers: Suede shoes, especially in earthy tones like taupe or sand, can add texture and sophistication to your outfit. Loafers are a comfortable and stylish choice that can work well with grey chinos.
Factors to consider when pairing grey pants with other shoe colours
1. Occasion
The occasion plays a significant role in determining the shoe colour. For formal events or business settings, stick with classic and conservative colours like black or dark brown. For more casual occasions, you can experiment with bolder shoe colours.
2. Shade of grey
Consider the shade of grey in your pants. Light grey pants often pair well with both dark and light-coloured shoes. Dark grey pants typically work best with darker shoe colours.
3. Contrast
Creating contrast in your outfit can make it visually appealing. Light grey pants can be paired with dark-coloured shoes for a striking contrast, while dark grey pants can gel with lighter shoes for balance.
4. Style
The style of the shoes matters. Loafers and dress shoes in black or brown are ideal for formal wear with grey pants. Sneakers, on the other hand, can be paired with grey chinos or casual grey trousers for a relaxed look.
5. Colour harmony
Consider the overall colour harmony of your outfit. Neutral shoe colours like black, brown, and white are safe choices as they go well with various shades of grey. For a more adventurous look, you can experiment with shades like burgundy, navy, or olive green to add a pop of colour.
6. Season
Think about the season when you'll be wearing this combination. Lighter shoe colours like beige or white work well in spring and summer, while darker tones are suitable for fall and winter.
7. Personal style
Your style and preferences also matter. If you enjoy experimenting with fashion and want to make a statement, don't be afraid to try unconventional shoe colours. Just ensure they complement the rest of your outfit.
8. Accessories
Pay attention to other accessories like belts and socks. Coordinating these with your shoes can help tie the whole look together.
9. Confidence
Confidence plays a significant role in pulling off any outfit. If you feel comfortable and confident in your chosen shoe colour with grey pants, it will show in your demeanour and style.
Conclusion
Pairing the right colour shoes with grey pants can enhance your overall appearance and fashion versatility. By understanding when and how to wear each colour combination, along with the appropriate sock pairings, you can confidently step out with style for any occasion. Whether it's the timeless elegance of black shoes, the versatility of brown, or the boldness of burgundy, you now have the knowledge to make informed fashion choices that suit your personality and the event at hand. So, go out with your grey pants and the perfect pair of shoes to complete your look.