Small Space Shoe Storage Ideas To Help Tidy Your House
For most people, shoes are a necessity. Unfortunately, when you live in a small space, it may be a tad challenging to find where to fit all your shoes.
In addition, having shoes taking over the little floor space you might have invites dust and dirt into your home. It also makes said space look smaller and cluttered, and is overall not good for maintaining the quality of your shoes.
So, we've taken it upon ourselves to help you take great care of your shoe collection by finding the best shoe storage ideas for small spaces. These shoe storage hacks will keep your shoes organized and your space clean and decluttered.
From traditional shoe racks to ladders, shoe hangers and baskets, stick around to find the best shoe storage ideas for your small space.
1. Downsize
Image Source: https://www.thespruce.com
Shoes have a way of bringing forward feelings you might have never known where there. If you're anything like the "normal" person, you probably have several pairs of shoes that you haven't worn in a long time. You just keep them for sentimental value.
Before figuring out what shoe storage ideas work best for your space, the first step is to identify the shoes that you actually wear and those that you don't. Doing so helps you have fewer shoes to store, meaning that you will not need much shoe storage space to begin with. In addition, you get to create room for bringing new things into your space.
So, gather all your shoes in one area and sort them out one pair after the other. Start by putting aside all the shoes in poor condition, followed by those that you don't wear but can be donated. Finally, you will be left with the shoes you wear and a rough idea of the size of shoe organizer you will need for storing shoes.
2. Shelf Storage
Image Source: https://www.purewow.com
Gone are the days when shelves were reserved for only books. Instead, shoe shelves offer excellent storage ideas for small spaces, whether you want to store your shoes or towels and other knick-knacks.
For example, a vertical space shoe shelf allows you to store all your shoes according to the ones you wear often. In addition, you can use the top shelf to store boots and other out-of-season shoes.
3. Shoe Drawers
Image Source: https://storables.com
Shoe drawers are an excellent alternative to shoe shelves. These drawers allow you to organize your shoes as you please to keep your space clean and neat. The handle is also convenient for removing and putting back the shoes.
In addition, you can make use of the drawer top to add small decor pieces like plants.
4. Ottoman Storage
Image Source: https://www.extraspace.com
Another option is to change your interior design style to include space-saving furniture like an ottoman. It's a perfect addition to small spaces because not only do you get an extra sitting spot but also a storage solution for your shoes.
Additionally, there are specific ottomans with a built-in shoe rack inside to help you maximize your space. So, if you're looking to hit two birds with one stone, an aesthetically pleasing but functional ottoman will be a great choice.
5. Baskets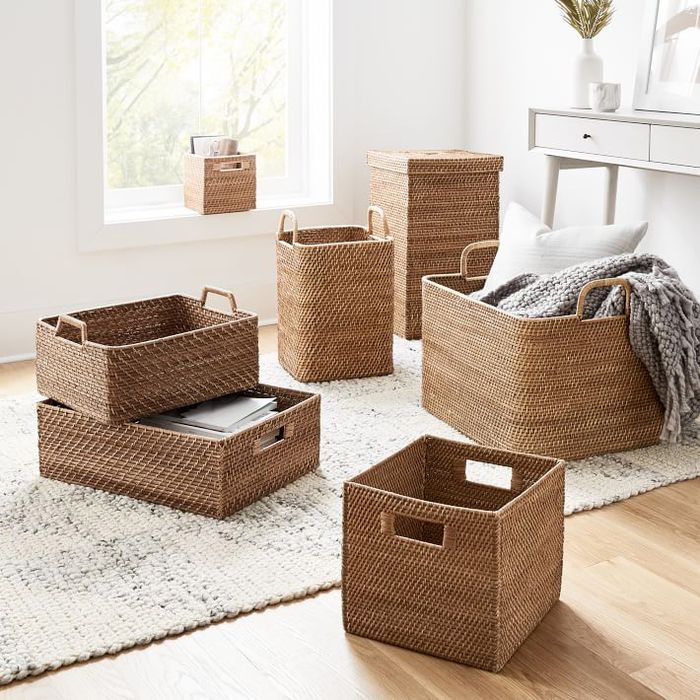 Image Source: https://nymag.com
Baskets offer convenient storage ideas for small spaces. Whether you are looking to store extra washing detergents, produce in your pantry or clothes, baskets blend well with any decor. From a rustic to a classic vibe.
The next time you are short on shoe organization ideas, make use of baskets as DIY shoe storage.
6. Fabric Shoe Rack
Image Source: https://yesimple.com
When finding the best shoe storage ideas for small spaces, you need a shoe storage solution that will be efficient and not take up too much space. There are different materials to consider when it comes to a shoe rack such as wooden, metallic, and fabric.
A fabric shoe rack is lightweight compared to other options like wood and metal. This makes it easier to move from place to place when switching out the layout of your space. Since it is also a sturdy shoe rack option, you can fit all your shoes confidently.
7. Revolving Shoe Rack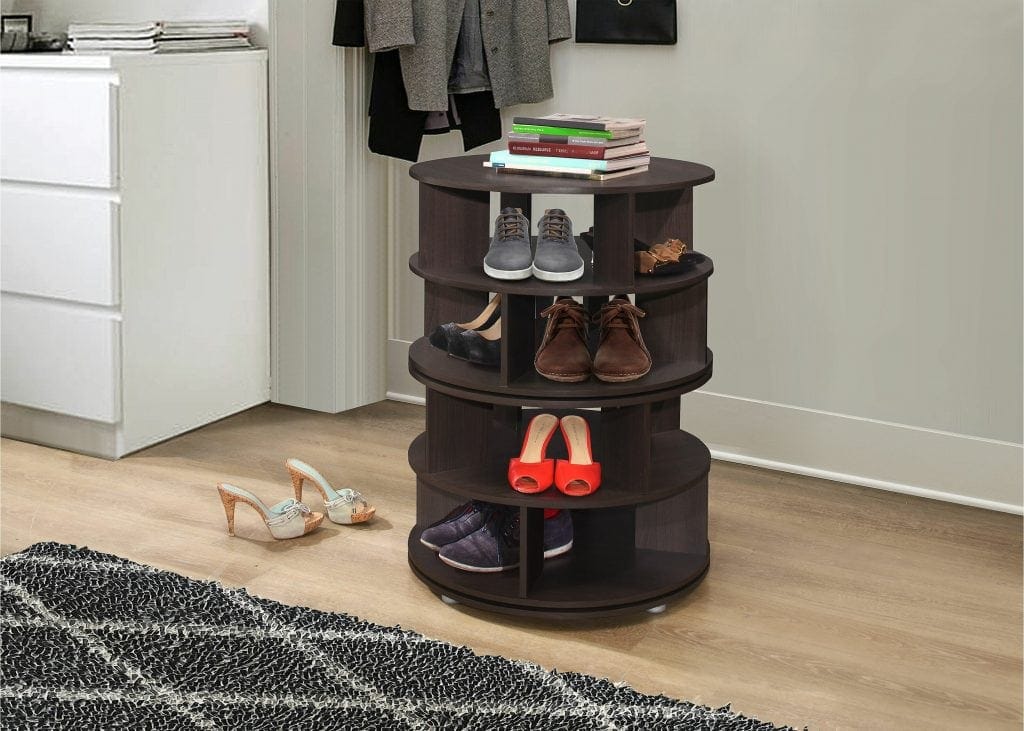 Image Source: https://decoratedlife.com
It gets frustrating when you store shoes only to forget you have them because you can't see them. For this reason, a revolving shoe rack is a DIY shoe storage alternative that ensures all your shoes are in sight.
Think of it as a lazy susan. Tucked in the corner of your small closet or section in your house, a revolving shoe rack features three or more levels to store shoes. As a bonus, it revolves so you can see all your shoes on display. In addition, you can place aesthetically pleasing items on the top level to give it a clean look.
8. Over the Door Rack
Image Source: https://footwearnews.com
When you live in a cramped and small space, you must maximize every square inch. A door shoe rack is a great addition to small spaces as it utilizes the space the door already takes up.
In addition, an over-the-door hanging shoe organizer keeps shoes off your floor. Finally, you could choose to use a bedroom door or closet door for this - or both.
9. DIY A Wooden Shoe Rack
Image Source: https://www.homedit.com
A DIY shoe storage rack could be the organizer you are looking for. Knowing your shoe collection size and the space available in your home, you could DIY a wooden shoe rack to keep your shoes organized. You could fit the shoe rack to take up vertical space that would otherwise be empty.
10. Copper Shoe Rack
Image Source: https://tinypartments.com
Several DIY shoe storage ideas work well for small spaces. A good example of would be something like the towel holder in your bathroom, but as a shoe storage.
A copper shoe rack keeps your shoes above ground and not on the floor to keep your space clean and tidy. In addition, unlike a shoe rack placed directly on the ground you can easily mop, vacuum, or sweep under it.
11. Magazine Holders
Image Source: https://simplelifeofalady.com
Magazine holders offer great shoe storage option, especially for your less bulky shoes like flip flops and sandals. You can place them in a small closet, mudroom, entryway and even outside the house to keep shoes organized.
12. Use the Stairs
Image Source: https://www.shelterness.com
Stairs are an underutilized storage ideas for small spaces. You can use understair storage to place your out of season clothes, hiking gear, games, and even shoes in this case.
While ideally you'd have built in storage when you move in already, if you don't have the option to add it definitely go for it. Having that as an addition means you will not need a shoe rack or shelves for storage.
13. Hang Shoes In Your Closet
Image Source: https://www.extraspace.com
Another storage idea for small spaces is to hang shoes in your closet. Like an over-the-door hanging shoe organizer, you get to utilize the closet space to store shoes.
14. Shoe Hangers
Image Source: https://simplelifeofalady.com
Shoe hangers as shoe storage ideas for small spaces help keep your space organized. To free up some space on your shoe organizer, you could use a shoe hanger to hang some in the closet. Additionally, you could use pegs for flip-flops and flat shoes or wire hangers.
15. Bed Frame Storage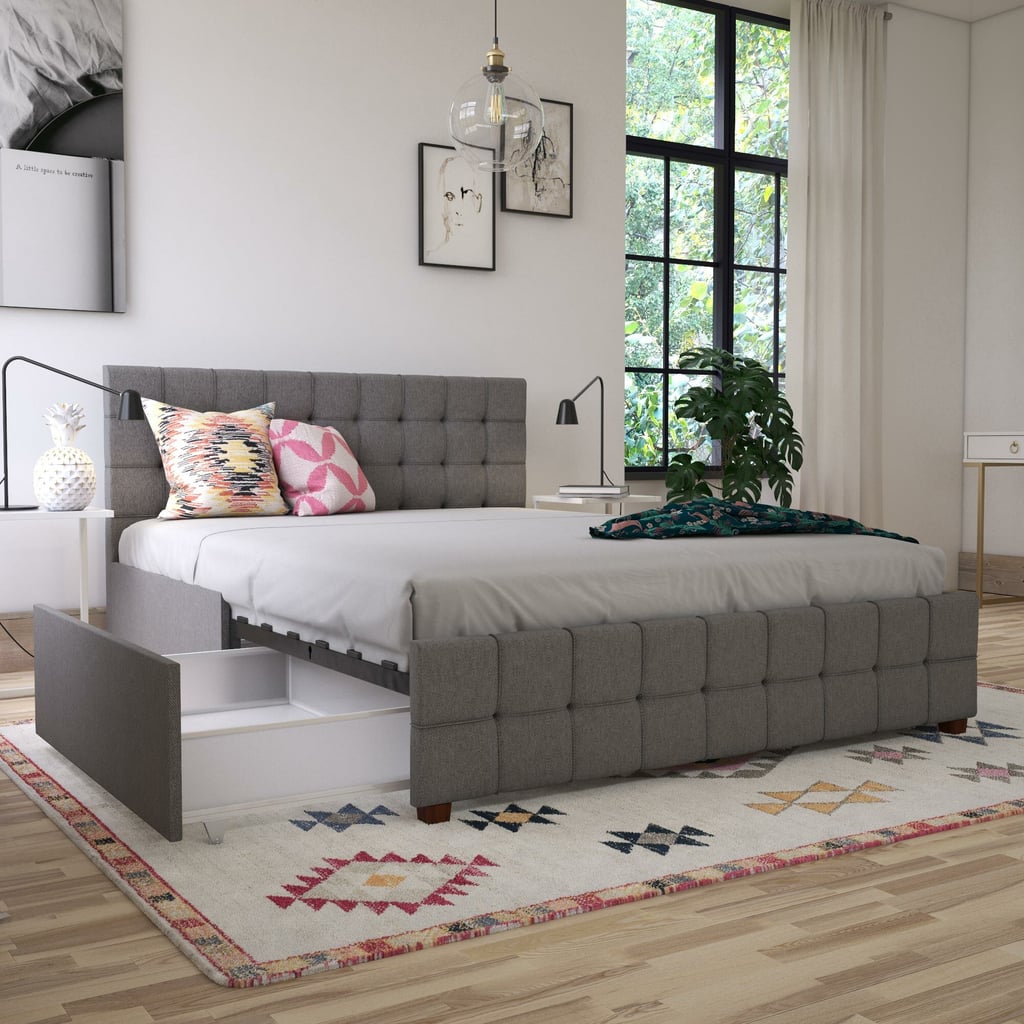 Image Source: https://www.popsugar.com
Getting a bed frame with drawer storage helps to declutter small spaces. You could store your bedding, toys, seasonal clothes and even shoes in the drawers. This investment is necessary if you live in a small apartment with limited space.
Another way to make use of the space underneath the bed is to get a wood rolling tray or sliding shelf or drawer. This DIY storage rack creates more space to tuck away shoes and keep them neat and clean. Unfortunately, when mopping or vacuuming, a sliding drawer poses a challenge to a bed frame with built-in drawers.
16. Bench With Under Storage
Image Source: https://www.homedit.com
Benches with underneath storage offer DIY shoe storage ideas for small spaces, with an aesthetic and functional element to them. This multifunctional furniture piece allows you to use the lower part as a small shoe rack to organize your shoes.
Additionally, you can place the bench on your entryway and sit on it while putting on or removing your shoes.
17. Couch With Cubby Storage
Image Source: https://simplelifeofalady.com
If you're short of DIY shoe storage ideas for small spaces, consider investing in a couch with built-in cubbies underneath. This provides you with extra storage to hide all sorts of things from equipment to clothes and, yeah, you guessed it: shoes.
18. Ladder
Image Source: http://www.home-designing.com
You have probably seen ladders being used to display hanging plants, books and other small knick-knacks. What you might not know is that you can also use a small ladder for shoe storage. This and other shoe organizer ideas double up as shoe storage space and an artsy way of styling your home.
19. PVC Pipes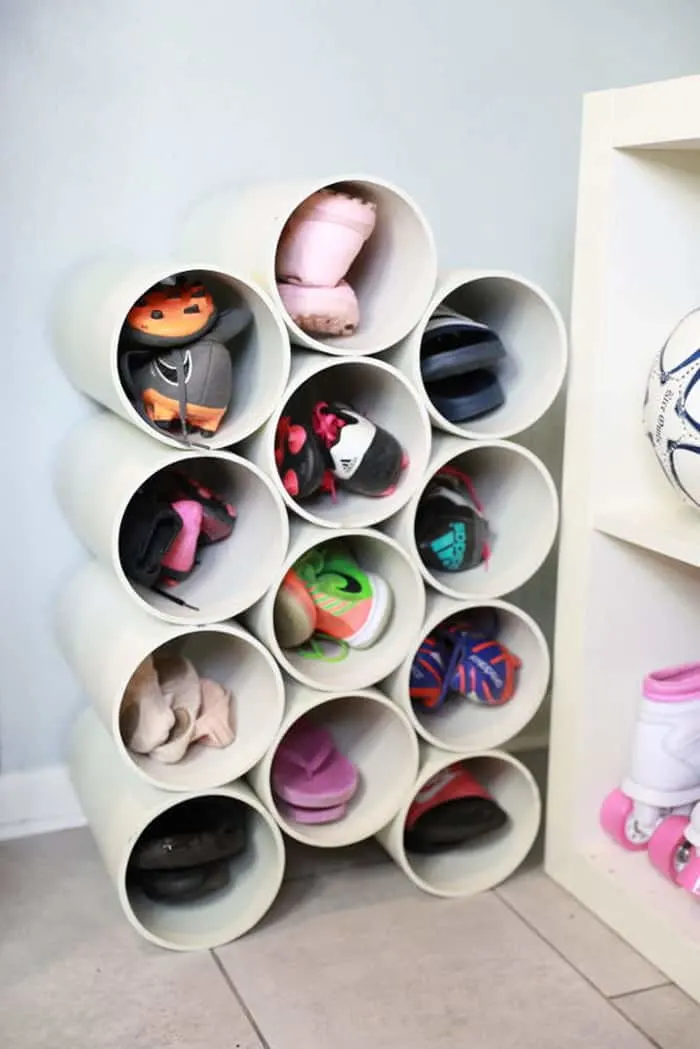 Image Source: https://www.ohohdeco.com
Shoe storage ideas require you to visualize different, almost random things that provide space for your shoes and let you have them on display.
One example for this is repurposing PVC pipes by stacking them together to act as a shoe storage rack.
20. Dresser At The Foot of The Bed
Image Source: https://storables.com
If you wish to create more sitting room in your bedroom and also have a space to store shoes, it might be time to put a dresser or bench at the foot of your bed. This enhances the aesthetics and decor in your room, serves as space for guests to sit on, and acts as a DIY shoe storage alternative.
What Should You Factor In When Choosing A Shoe Storage Solution?
1. Space
It's essential that you first consider the space where the shoes will be living. This could be underneath bed storage, on your entryway under a bench, in an unused corner of the house, in the closet, and so on.
Having carved out the permanent shoe storage space, you can then start looking for storage ideas that work for that small space. This could be a vertical shelf, a shoe rack, tension rods, hangers, and other shoe organizers.
Additionally, ensure that the shoe storage solutions you opt for fit your space. You don't want a big item that makes your apartment feel smaller than it already is.
2. Frequency of use
You also should pay close attention to how often you wear certain shoes. For instance, you could have seasonal shoes, hiking shoes, every day sneakers, and work shoes. Ideally, you want to store your everyday footwear collection where it's more accessible - likr your entryway. As for the seasonal shoes, you could store them in a coat closet or the garage.
Additionally, if you are looking for shoe storage solutions to keep your shoes together, vertical shelves would make an excellent choice. This way, you could store your frequently worn shoes in the middle and seasonal and other shoes on the upper and lower shelves. This is to say that your footwear collection and frequency of use will determine the best shoe storage idea for your space.
3. Cost
Shoe storage options for small spaces can be expensive. While this is not meant to discourage you, it is important to keep in mind how much money you have and how much you are willing to spend on shoe organizers.
It could make sense to buy a new shoe storage organizer regardless of the price, especially if you have no DIY experience or the time to build your own. However, other people might prefer to go the DIY route which is cheaper and also fun.
Ultimately, the idea is to find a shoe storage option that is convenient, functional, affordable, and that fits your space however that looks like for you.
Conclusion
When you live in a small and cramped apartment or house, finding the best shoe storage option may be challenging. However, finding the right solution for your space ensures that your shoes are well stored and your house is not cluttered with shoes on the floor. We hope that this article gives you DIY shoe storage ideas to get your life organized.
Image Source: thespruce.com