Best Orthopedic Slippers For Stylish Women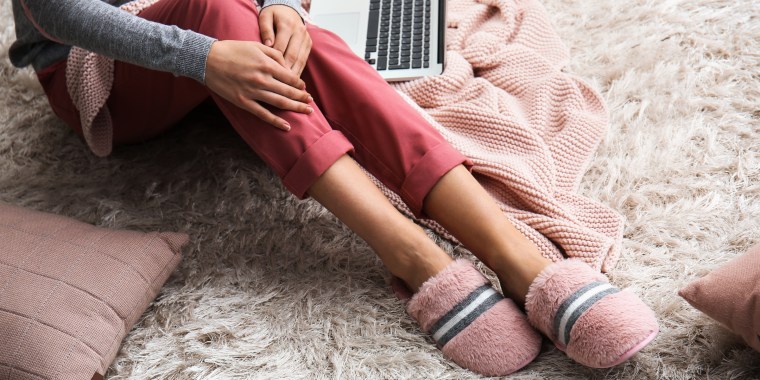 A comfortable pair of slippers should be an essential part of your footwear wardrobe, especially if you want to stay warm from head to toe. Orthopedic slippers for women are often a perfect solution for people with foot conditions or issues. The best part is that they can look fashionable while still providing that maximum comfort and arch support needed for your feet.
Since Orthopedic slippers are primarily meant for indoor purposes, however, you generally would have to also invest in outdoor shoes that will complement them. But, did you know there's another option out there? Vessi shoes, for example, offer a slipper design perfect for both indoors and outdoors. Two shoes for the price of one! Their Sunday slipper offers comfort and style no matter if you're lounging at home or taking the dog for a quick walk. They're designed with thick soles and arch support to help place your feet in their ideal position and still align your body from your feet up. 
Finding the right pair of orthotic slippers however can be tasking. So, to help you choose the best ones, we have a comprehensive guide below that includes a detailed buying guide.
What Are Orthopedic Slippers?
Orthopedic slippers are shoes designed with stable soles and firm heels to provide maximum support for your feet, ankles and legs. Generally, they're meant for seniors or people with diabetes, plantar fasciitis, bursitis, arthritis or any other foot problems.
These types of slippers offer excellent arch support, which you won't typically find in your average pair of slippers. Additionally, they tend to have foam cushioning, a roomy or deep toe box, deep heel cups and great rubber soles for good traction.
When shopping for orthopedic slippers, you should get a pair that works specifically for your needs. So, to start you off we wanted to share what we consider to be one of the best orthopedic women's slippers on the market today. 
Which is the best women's orthopedic slipper?
While there are plenty of options out there for great orthopedic slippers, the ones by Vessi are some of the best. This is because the Sunday Slipper is 100% waterproof thanks to the brand's patented Dyma-wool® technology. The upper vegan wool is made with a material dense enough to prevent water from seeping through while still allowing a good level of breathability. 
The sole is made with a thick rubber that provides great grip on most surfaces and weather. With removable insoles it's perfect for those who wear orthotics as well.
The best part of these slippers however is the collapsible heel. They are designed to be worn indoors and outdoors. So to make slipping them on even easier you can step on the heel, slide them on quickly, and rush out the door in no time. 
Pros
100% waterproof and cozy

Thick padding and soft feel

Extremely comfortable

Removable insoles

Can be worn with or without socks

Can accommodate custom orthotics

Collapsible heels
Cons
Factors to Consider Before Purchasing Orthopedic Slippers For Women
1. Comfort
The very first factor to consider while purchasing any shoe is comfort. When it comes to purchasing the best orthopedic slippers comfort is paramount. Make sure to check out the material used to line the slipper you settle for. Also, ensure that you get a slipper that provides proper support. It will help boost comfortability.
2. Material
It's just as important to look at the material used to craft the shoe you pick. For example, the primary materials used to make slippers are cotton, wool and suede. You need to ensure that the slippers you settle for are made using durable materials that will not tear or wear out too fast. Additionally, it's a great idea to check the material used to make the sole too. This will ensure that you have excellent traction.
3. Arch Support
Be sure to also consider the support that the slipper you purchase will have, especially if you have any foot-related pain. The good news is that most orthopedic slippers will provide you with that extra support. Proper arch support will help reduce the pressure in your heel and the ball of your feet.
It's important to understand that the support you get from the slippers will also support your feet and lay a foundation for your whole body. Proper arch support will help lessen or even prevent pain.
4. Style
The other factor you could consider is the style. Slippers come in different styles, colours, prints and even materials. This means that you'll be able to easily find a style you like. Another thing to consider is that you may find slippers that are designed without a back. They are considerably easy to slip into and out of if that's something you find is important for you.
What are the Advantages of Wearing Orthopedic Slippers?
1. Enhanced circulation
Most foot problems are because of poor blood circulation, making it necessary to wear shoes that can help address this. The good thing is that orthopedic slippers usually have plenty of room to accommodate expanding feel due to circulation issues. As a result, the right shoes will enable you to reduce any nerve-related issues, while at the same time relieving pain.
2. Repairing foot-related issues
If you are wearing uncomfortable shoes, you will most likely suffer from arches or even misalignment issues. The good thing is orthopedic slippers can help reduce, and even heal, foot-related pain. Slippers can help fix alignment problems while at the same time keeping your feet in good shape. All that said, it would be wise to see your doctor if you're in severe pain. Remember that leaving your feet untreated could increase pain or discomfort, and even cause long-term foot problems.
3. Better mobility
The other advantage of wearing orthopedic slippers is that they will provide more stable mobility. You're likely to find yourself with a decrease in your mobility if you suffer from foot-related pain. If you suffer from heel spurs, bunions, plantar fasciitis, flat feet, or hammertoe specifically it's likely you will not be able to move around quickly. Proper slippers can guarantee more stable mobility since they provide great cushioning that makes it easy for you to walk around.
4. Provide support for the feet
Poor foot and arch support can lead to foot issues like plantar fasciitis, flat feet, and many more ailments. Orthopedic shoes are a great idea since they provide extra foot and arch support when compared to non-orthopedic footwear. The right slippers will have excellent cushioning for your entire foot providing you with all the support you need. And with that extra support, you will be able to amend problems like pain and incorrect foot alignment.
Frequently Asked Questions on Orthotic Slippers
1. When should you see a doctor for foot pain?
Whenever you have severe pain, it is recommended that you visit your doctor for treatment. If the pain is preventing you from walking or doing your normal daily tasks, then it also means it's time to see your medical practitioner. Experiencing a foot injury is also cause for booking an appointment with your doctor. Additionally, if your foot is swollen for whatever reason, and that last for several days it would be advisable that you visit a doctor.
2. Are wide-toe box shoes more comfortable?
Yes, shoes with wide-toe boxes tend to be more comfortable since it provides extra room for your feet in case they swell. Even if they don't, a deeper and broader toe box will allow you to spread your toes when needed, reducing the chances of pinching or squeezing.
Image credit: nbcnews.com