The Best Rain Gear - Waterproof and Windproof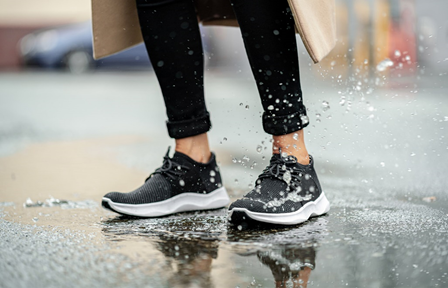 We can all relate and know a thing or two about rain. From those endless months of daily drizzle to heavy downpour-Netflix-and-binge days. With that, we cannot emphasize enough the importance of quality waterproof and breathable rain gear. Not only will the best rain gear keep you dry in the rain, but it'll also act as a windbreaker to retain and insulate your body, keeping you safe and warm.
Whether you're looking for the perfect rain gear for trail running, hiking, or daily use, here are a few of the best choices you have and why you should get them.
Rain Gear Basics
Pre-purchase research is a smart move, so before buying the right gear, you need to know what to look for, to know whether it's the right gear or not.
1. The Best Waterproof Breathable Sneakers
Vessi Full Waterproof Sneakers
Vessi Footwear - Women's Collection
Vessi Footwear - Men's Collection 
With the right waterproof-breathable sneakers, you are literally invincible. You can finally walk in the rain, snow, or mud, like Neo, and conquer the world -or just go for your morning run.
Vessi footwear company really needs no introduction at this point, but we'll do it anyway. Vessi is highly-rated and popularly known for its outstanding, stylish line of full waterproof shoes, and the best part is, they don't compromise on the detail and quality in every one of their products.
Many might wonder whether the waterproof feature will wear out with time and whether it's 'waterproof' or really waterproof. Just so you know that they are out to give you the best, they developed their own patented waterproof Dyma-tex technology. Yes, you won't find any other shoe like this in the world. 
The Dyma-tex membrane is made from polyurethane with pores small enough to block water molecules from entering but large enough to allow heat and moisture from the feet to escape. The Dyma-tex is permanently fused within the shoe upper's knit fabric to keep water out but still allow your feet to breathe. On top of that, literally, they added a water repellent layer that allows sand, dirt, or water to bead right off. Making it much easier to clean your shoes since they won't easily pick dirt.
The shoes are also ultralight at only 6.7 oz, making them perfect for your active life or simply when running errands. And all this was achieved without being cruel to any animal at eco-friendly manufacturing standards. So what better shoes to join your rainwear arsenal?
2. The Best Waterproof Rain/Snow Boots
Bogs Arcata Knit Boot
Women- https://www.amazon.com/BOGS-Womens-Arcata-Knit-Snow/dp/B083B2Y6J5
Men - https://www.amazon.com/BOGS-Arcata-Insulated-Winter-Waterproof/dp/B00QT13Z2O
Whether you're regularly walking on the city sidewalk or just trying to balance off on the slippery subway in the wet season, you need a pair of warm fuzzy waterproof snow boots that could also work great in the rain. Snowboots are particularly useful in places where wet weather or snow is common.
The Bogs Ancarta Knit Boot is a cosier slip-on that will give you maximum traction and, most importantly, keep you dry while you work or run errands. It comes with the convenience of rubber and maximum ankle stability, and a faux fur lining. The Faux fur helps address the issue of warmth giving the Bogs Ancarta Knit Boots a -58° F/-50° C rating.
The native mukluks used fur for warmth, and in the Bogs boot case, the faux fur lining goes all the way to the toes. It has the waterproof ability of an all-rubber boot but with a more snugly fit, traction, and warmth of snow boots. It also has wide channels that release snow and mud for improved traction, even on uneven chunky ice. They also make such great hiking boots.
3. The Best Waterproof Jacket
The North Face Apex Flex GTX 2.0
Women- https://www.amazon.com/North-Face-Insulated-Jacket-Eggplant/dp/B07GRM5LYZ
Men - https://www.amazon.com/North-Face-Apex-Insulated-Jacket/dp/B073KXLCC2
Fashion won't cut it when getting the best rain jackets. If you want to get something a little dapper that can be worn to the office or on night-out, then check for winter coats.
A well-made quality rain jacket should be waterproof, breathable, and with high insulation for warmth. This should help you stay dry in a torrential downpour as you run your errands.
The big question here is whether you'll settle on an all-in-one layered jacket that'll keep you warm and dry but a little bulky to carry around, or go the ultralight rain jacket way that you can layer up with. The latter's benefit is that they're windproof, waterproof, lightweight, yet breathable, and can be stowed in the backpack and whipped out when the rain begins. 
In this section, North Face took the crown. The famous Apex Flex GTX Jacket line is much more streamlined than your regular waterproof rain jackets. At first glance, you'd think it's a snug hoodie, but it conveniently has a tough, durable water repellent three-layer Gore-Tex shell that is also windproof to protect you from the rain. What's more, the soft-knit outer fabric is lusciously soft and feels great on your skin, giving you the cosiness of a hoodie.
It comes with hand pockets that come in handy when you need to keep store away things or keep your hands all warm as you walk. This waterproof rain jacket comes with a wind-proof hood that is helmet-compatible to further ensure that the water is sealed out even when you're riding your motorbike. The fact that the whole rain jacket comes in a waterproof breathable fabric and an adjustable hood is also a big plus.
The Apex Flex has great breathability, and the pit vents aid further cooling. With all these features, we can definitely forgive its heaviness. 
4. The Best Waterproof Rain Pants
Mountain Hardwear Stretch Ozonic
Women - https://www.amazon.com/Mountain-Hardwear-Womens-Stretch-Ozonic/dp/B08QR4G2R7
Men- https://www.amazon.com/Mountain-Hardwear-Mens-Stretch-Ozonic/dp/B08QQYW7ZH
Your adventurous spirit should have you get a trusty pair of rain pants in your rain gear arsenal. They not only keep you dry when it rains, but they'll also act as great windbreakers to help retain that valuable body heat.
You should never have to settle for uncomfortable waistbands or pants that restrict movement with fabric that feels all plastic-ky. There are great options designed with movement, hip-belt compatibility, and comfort in mind.
The most comfortable pair of rain pants rated high by most people is the Mountain Hardwear Stretch Ozonic rain pants. A lightweight pair of rain pants that packs down small and works well when hiking and backpacking. It comes with breathable fabric, zipped pockets, and zippers to add ventilation and help thermoregulate while making the pants much easier to put on and take off.
These rain pants have full-length zippers that allow ventilation, and if you're all about comfort, the Mountain Hardwear Stretch Ozonic Rain pant's soft stretch fabric gives them a relaxed unrestricted movement that's quiet and easy to move in.
5. The Best Waterproof Rain Backpacks
Fengdong 40L Waterproof Backpack
https://www.amazon.com/FE-Active-Waterproof-Activities-Increased/dp/B01LYBFJU4/
Here's a backpack with all the right features a bag should have. It comes with a great pair of shoulder straps, adjustable front buckles, spacious side pockets and can easily function as a dry bag meaning it is waterproof on its own.
It also has great back support, with adjustable straps that can be adjusted to fit well into your body size. This waterproof rain backpack is built from a range of high-quality materials, including a Gore-tex layer construction that ensures that the bag is waterproof and will last you extensively for many years.
The FE Active backpack is ranked high among its competitors. Its breathable, durable, versatile, lightweight, and waterproof structure is worth every penny. It is made of a 5mm thick, breathable marine-grade mesh design, eco-friendly PVC. It features quite a large capacity that is exceptionally lightweight, making it suitable for outdoor activities such as hiking.
The mesh-designed shoulder straps feature extra padding that makes the bag very convenient. The storage is designed with one large compartment and multiple small pockets, helping keep your things well organised.
6. Waterproof Rain Gloves
Carhartt W.P. Waterproof Insulated Glove
Women - https://www.amazon.com/Carhartt-Womens-Waterproof-Glove-Medium/dp/B078YNM86Z
Men - https://www.amazon.com/Carhartt-Waterproof-Insulated-Glove-Black/dp/B005I33OVG
These quality waterproof gloves will protect your hands from natural elements, whether you're actively working during the cold winter or fishing trip during summer. The Carhartt waterproof gloves come in different sizes, materials, and shapes to keep your hands dry as you get the job done.
The gloves are produced with quality durable materials that will not rip even in harsh conditions. They are reinforced on the thumbs, fingers, and even the palms to prevent them from tearing. What's more, the dexterity of the waterproof gloves gives you the flexibility so you can move your knuckles as much as you'd need to.
7. The Best Rain Waterproof Watch
Yamay Waterproof Pedometer
https://www.amazon.com/YAMAY-Waterproof-Pedometer-Smartwatch-Compatible/dp/B07SK1SF81/
Chilly and wet days will need you to consider a functional waterproof watch that will withstand the wet conditions as you commute daily. Yamay waterproof pedometer is a smartwatch that allows you to connect to your Android or iOS phone and do things like read notifications while on the move.
It comes in a waterproof shell that is ideal for people who actively need to work or lead an active lifestyle. It comes in my colours and skin the men and women can choose from
8. The Best Waterproof Rain Umbrella
Repel Umbrella Windproof Double Vented Travel Umbrella with Teflon Coating
https://www.amazon.com/Repel-Windproof-Travel-Umbrella-Coating/dp/B0160HYB8S
The Repel umbrella has an automatic and innovative, one button to open and close design, making it the simplest folding umbrellas to operate, especially while you're on the move. At 29 cm when closed, this lightweight umbrella, weighing 15 ounces, can easily fit into your backpack or briefcase.
It comes with 9 resin-reinforced fibreglass ribs and a double vented windproof canopy that can withstand the strong wind without bending or breaking. The canopy has a Teflon coating, double vented, and waterproof to prevent both the rain and wind from reaching you.
Buying Guide for Waterproof Rain Gear
A. Waterproof
Protection from the rain will need you to go for fully waterproof rain gear. Besides using Gore-tex active fabric, innovative companies like Vessi are taking the lead in developing technology that doesn't let in the water molecules but easily lets out excess heat and sweat when you perspire.
B. Breathability
Not all waterproof materials are breathable. Innovative technology like Dyma-tex is not only fully waterproof, it is breathable and helps keep things airy.
C. Windproof
If you need to be outside when it rains or is snowy, you need all the help to retain your body heat. Waterproof materials should be windproof to help with this.
Frequently Asked Questions on the Best Rain Wear
1. What should I go for? Waterproof or water-resistant?
Technically, water resistance is defined as the capacity to resist water penetration to some degree, but not entirely. If your rain gear is water-resistant, then it can only handle a drizzle.
On the other hand, waterproof means that it's impervious to water, no matter how much time water falls on it. Different fabrics are considered waterproof when they reach a certain level of water resistance.
Unfortunately, companies throw these terms around and make it seem as if they are interchangeable. A waterproof breathable performance level keeps the rain from getting through to your body, even as you move while keeping things airy enough for sweat to be released. If you're active while it rains, this is the kind of gear you should be looking at.
2. Should my gear be windproof or wind-resistant
Basically, any waterproof material should also windproof. Typically, the barrier designed to block out rain should also be able to block the wind. Wind-proof then means that the fabric is waterproof to wind, no matter how long or hard it blows.
Generally, fleece and garments made with Gore-Windstopper are a great place to start. However, many manufacturers have come up with their proprietary versions of these wind-proof fabrics.
Just like in water resistance, there are no hard industry rules that define anything as being wind resistant, but essentially just like water resistance, wind resistance means it won't offer you much protection in a storm.