The Best Cute Comfortable Shoes for Women to Keep Your Feet Cozy
From working a job that requires lots of standing to jet-setting around the world, comfortable shoes are essential in daily life.
Having a pair of shoes that rub, pinch, or cut into your skin can be very annoying - especially when you are working. Plus, when your feet strain too much and you don't wear comfortable shoes you may experience a lot of joint pain or even develop aches.
This is why you should look for cute, comfortable shoes when buying your next pair.
Why Would You Need Cute Comfortable Shoes?
Although you should always look for comfortable shoes, you shouldn't let that take away from your overall style. A cute, stylish pair of shoes that's also comfortable has a lot of benefits:
They prevent foot pain

They keep your feet comfy

They prevent painful blisters

They allow you to be more active throughout the day.
The proper shoe will also enhance your posture, improve blood circulation, and many other benefits. Plus, comfortable walking shoes will keep you from getting exhausted quickly.
Here are Vessi's best cute, comfortable walking shoes for women:
If you're looking for the comfiest shoes out there that are still cute and stylish, then the Everyday Classic Sneaker by Vessi should be top of your list. These shoes are designed to offer you the best in comfort while also giving you durability and style.

Image Source: vessi.com
All Vessi shoes are 100% waterproof, thanks to their patented Dyma-tex® technology. So you won't have to worry about your socks getting damp ever again. The best part about them is that this technology isn't made by using a spray or coating. The waterproofness comes from how the knit is made in the first place. This means you'll never have to reapply anything to ensure they keep working.
Image Source: vessi.com
When it comes to the rest of the shoes, they're cushioned with a smooth lining EVA thick midsole. The outsoles have treads that offer a good grip on all weather conditions, and the shoes also feature a micro-air pocket that allows your feet to stay comfortable year-round.
Pros
100% waterproof.

Vegan.

Extremely comfortable walking sneakers.

EVA cushioning for added comfort.
Cons
No half sizes.

Limited arch support.
The Women's Everyday Move is exactly what the name says - designed for movement. As such, it comes with extra support and enhanced breathability for all-day comfort, making it one of the best walking shoes you can get on the market. Plus, they have a sporty vibe that looks great!

Image Source: vessi.com
The shoe is made for moving. Its advanced VZero2 midsoles not only give you great comfort and support all day long, but they also return energy to your foot with each stride. Expending less energy while moving your feet means you'll get less fatigued, and you get to walk longer.
Its ultralight construction adds to the shoe's superb comfort. It almost feels like walking on clouds. In addition, the outsoles have larger rubber zones for greater resistance to abrasion, as well as a herringbone wave structure that offers extra traction. Altogether, it caps off in the perfect blend of maximum comfort and support.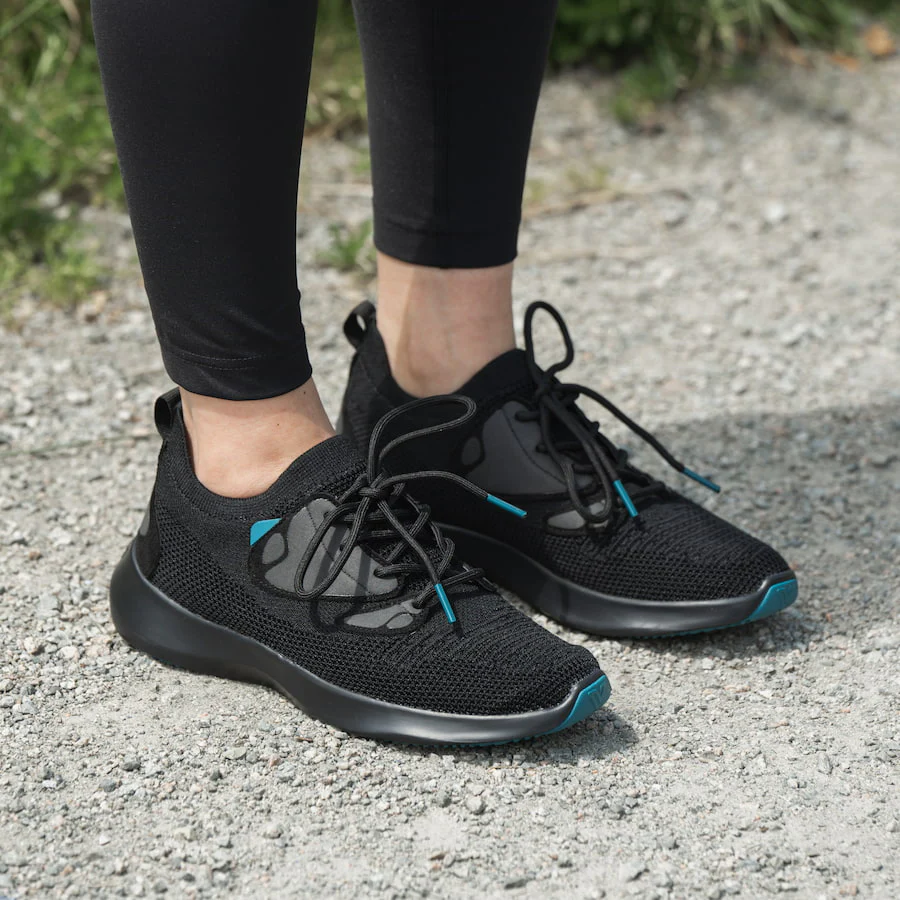 Image Source: vessi.com
Better yet, Everday Move Sneakers feature Vessi's Dyma-tex® tech that keeps the inside of the shoe completely dry. This material has nano-sized pores that are too small for even water molecules to pass through, ensuring your feet and socks never get wet. In addition to the layer's 100% waterproof capability, its highly breathable knit is also designed to allow heat and sweat to escape to maintain maximum dryness.
Just as important, these walking shoes have easy on and off pull tabs so that you can slip in and out easily. And they don't really have a break-in period; they'll be good to go as soon as you slip them on. Furthermore, the shoes are made from vegan materials, hence creature-free.
Pros
100% waterproof.

Breathable knit.

Pull tabs for easy on and off.

Creature-free.
Cons
The Everyday Move Slip-Ons are designed for people who spend long days on their feet. They are perfect for lightweight travel or strolling around town. Built with added support and all-day comfort for more mobility, these slip-on shoes will get you wherever you need to be comfortably.

Image Source: vessi.com
The shoe features a 4-way stretchy knit and a laceless design that gives you flexibility and freedom on the move. It also features a VZero2 midsole that offers great support in all the right spots on your feet. Plus, they come with a pull tab for easy slipping in and out.
The shoe has Dyma-tex® technology, which allows it to keep water out all day. The same technology includes a breathable knit that allows heat and sweat to escape. Therefore, you're assured that your feet remain dry and fresh all day long.
Image Source: vessi.com
Moreover, these cute walking shoes are made from vegan materials, making them creature-free.
Pros
Laceless slip-on walking shoes.

Lightweight.

100% waterproof.

Breathable knit.
Cons
Laceless design might not appeal to everyone.
Despite the name, the Women's Weekend Sneaker is designed to be worn during the week as well. That means it's office-appropriate on Mondays to Fridays, yet still, just as stylish on weekends. In other words, it's an everyday shoe you can dress up or down depending on what the occasion asks for.

Image Source: vessi.com
These stylish walking shoes come with Vessi's patented waterproof knit that ensures your feet stay dry and comfortable so that you can get on with your day. The same knit is highly breathable to let heat and sweat escape. Not only does it keep water out, but it also ensures that your feet stay cool all day.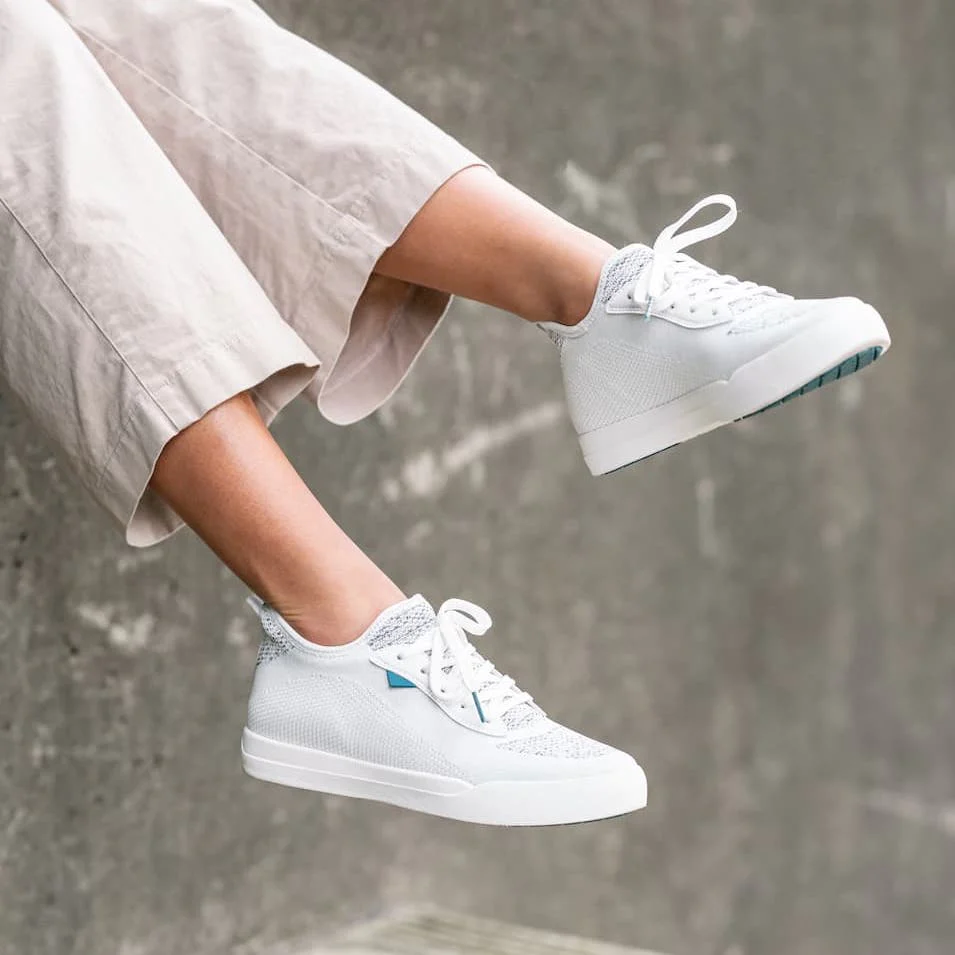 Image Source: vessi.com
The lightweight construction means the Women's Weekend is very gentle and kind to your feet. The shoe is also machine-washable for added convenience when it needs a clean-up. In addition, it's made from vegan materials.
Pros
100% waterproof.

Breathable knit.

Machine washable.

Creature-free.
Cons
Shoes don't get any lighter than the Women's Cityscape Sneaker. These ultra-lightweight shoes are designed for city life and keep you light on your feet while you are at it. That said, they are not just limited to city use but are easily one of the most comfortable walking shoes for getting around anywhere.

Image Source: vessi.com
The shoe features a remarkably light sole with Vessi's signature wave grip that gives you improved traction and stability regardless of the weather. It has antibacterial insoles that ensure things stay fresh. Additionally, the cloud-like support contours to the shape of your feet, keeping them cozy and comfortable all day long.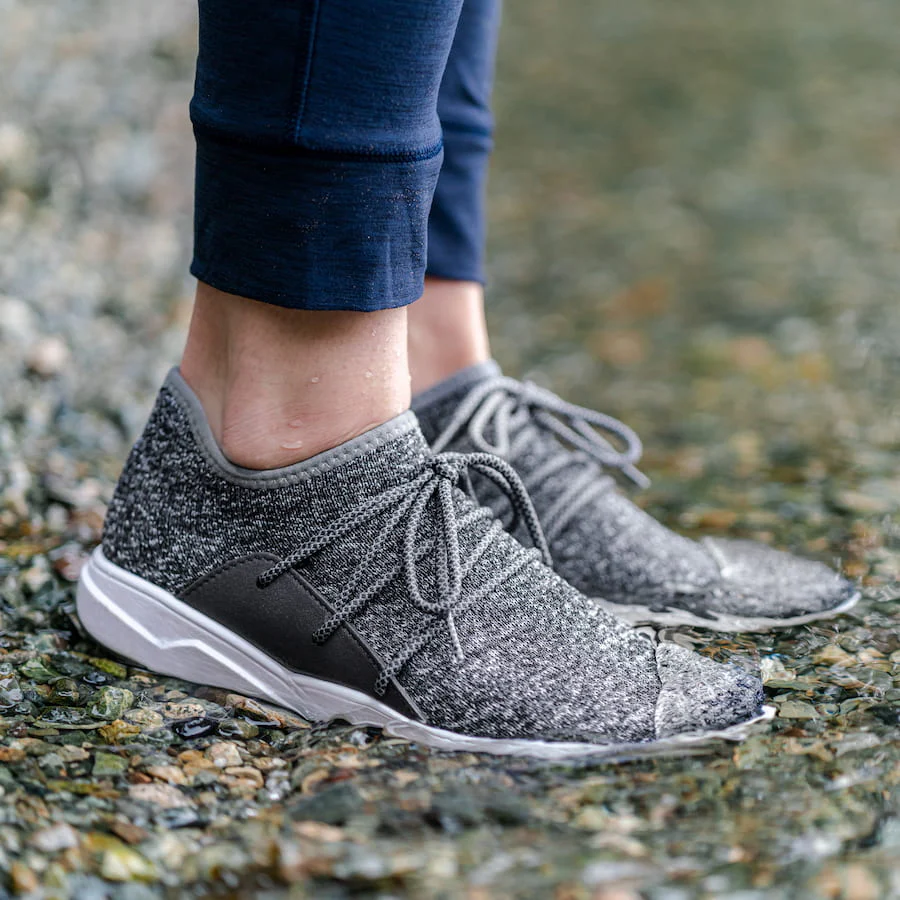 Image Source: vessi.com
This comfortable walking shoe comes with a Dyma-tex® layer for 100% waterproof capacity so that your feet stay dry all day. This includes a breathable knit that allows heat and sweat to escape, keeping your feet comfy throughout the year- warm during winter and cool in the summer. The molded insoles are removable and are anti-microbial helping your feet stay odor free.
Like all other shoes from Vessi, the Women's Cityscape is also made from vegan materials.
Pros
Super lightweight.

100% waterproof.

Breathable knit.

Creature-free.
Cons
The Women's Sunday Slippers are an excellent choice if you're looking for the perfect lounging shoe. They are made for indoor and outdoor use so you can wear them around the house, during daily errands, and even light adventuring. Whether you're taking a stroll in town, walking your dog, or walking on morning dew if you're out camping, these slippers keep you warm, comfy, and dry.

Image Source: vessi.com
These shoes are the first-ever to feature the game-changing Dyma-wool®. This is a 100% waterproof, vegan wool that keeps your feet dry and is also super cozy. The wool insole material is just as warm and fuzzy as you would expect, giving you the ultimate feeling of walking on clouds as soon as you slip into them.
Image Source: vessi.com
These Sunday Slippers are genuinely designed to give you ultimate comfort as you go about your day-to-day activities. They have a collapsible heel that brings out the best of both worlds. You can lock them in for a tight fit when you're on the move or slip them on when the occasion calls for a more chilled-out and casual fit.
Pros
Waterproof, vegan wool material

Super cozy

Collapsible heel
Cons
The Weekend Chelsea is the ultimate winter shoe. It offers the perfect balance between a Chelsea boot's versatility and the superior comfort of a classic sneaker. Weekend Chelseas are designed to thrive on rainy and snowy days making them the best-value walking shoes.

Image Source: vessi.com
They feature a 4-way stretchy knit that hugs your feet snugly to give you a great range of motion with maximum comfort. The high traction rubber soles ensure that you always have a solid grip with every stride. Plus, the ultralight construction means you'll barely feel the shoe on the go.
Image Source: vessi.com
It also comes with Dyma-tex® technology to guarantee 100% waterproof capability so that you can adventure freely come rain or shine. The knit is also exceptionally breathable to ensure your feet stay completely dry and fresh. To cap it off, they have vegan leather pull-tabs that help you slip in and out easily and conveniently, which is pretty nifty on wet winter days.
Pros
Super comfy

Snug fit

100% waterproof

Vegan leather pull-tabs
Cons
Factors to Consider Before Buying the Best Cute Comfortable Shoes
1. Fit
Before buying shoes, you should first look into how they fit. It's pretty well known that shoe brands make different shoe sizes based on their own design. This is because there's no universal standard they have to follow. So, the first thing you want to do is ensure the shoes conform to the shape of your feet and properly fit in terms of length and width.
You can check this by comparing the widest part of your foot against the largest part of the shoe to see if they're the same size. If they aren't and the shoe isn't stretchy, then it's best to choose another pair.
2. Material
When shopping for the best shoes that are cute and comfortable, you will notice that they come in different materials like leather and mesh. The material also determines how well the shoes can perform when it comes to comfort.
For example, picking something made from butter-soft leather means it will adapt to your foot over time, creating a custom fit. Mesh uppers, on the other hand, might be the best option for breathability, while leather is usually the best when it comes to quality.
Another thing to note about material is that most of the time, shoes come with a rubber sole that keeps your feet comfortable all day. It's an important feature when it comes to stylish shoes that you shouldn't overlook!
3. Features
While the two points we made above are quite important, there are special features that will help you find the perfect shoe for you.
Here are some that you should consider when searching for the comfiest shoes:
a). Foam Insole
The idea of the insole is to provide you with a padded surface for your feet. The best kinds of insoles are made from memory foam since they mould to the shape of your feet. This means you get maximum support and great comfort.
b). Padded Lining
The shoe padding level should be good enough to prevent your feet from rubbing without affecting how they move.
If you prefer flats shoes, choose a design with paddling on the sides and around the ankle. For heels, make sure that you go for a pair with both padding on the heel and toes since that type of shoe can make you vulnerable to blisters.
4. Breathability
When looking for the perfect shoe that's cute and comfortable, always make sure that the shoe is made from a breathable material. The benefit of this is that your feet will stay dry and prevent them from getting hot and sweaty.
Breathability is also key in keeping potential unwanted odors away from your cute shoes. Try to find something with moisture control made from a mesh material. An option with micropores that are tiny enough to allow moisture out and not let external water get in your shoes would also work.
Frequently Asked Questions on the Best Cute, Comfortable Shoes
1. How do shoes impact your health?
Wearing the wrong type of shoes can increase the risk of developing injuries and foot conditions like bunions, plantar fasciitis and corns. So when choosing a pair of shoes for everyday life, work, or even when packing shoes for your next trip, always make sure you're picking a pair with proper comfort and quality.
2. Are running shoes also good for walking?
It would depend on the type of running you're doing. Normally, each shoe style is designed for that specific activity, and they come with features that are specific to those needs. That said, you can normally wear your running shoes for walks.
Even with that, it's always helpful to differentiate the two shoe types. A walking shoe usually offers more flex at the footbed, which helps propel you forward. Running shoes are less flexible since they have extra cushioning at the forefoot and heel to keep your foot from twisting while you run.