How to Clean Cork Shoes without Damaging the Soles
Cleaning makes shoes durable and gets rid of mildew smell. But, with cork shoes, using the wrong cleaning method can cause damage. Completing the process successfully is no ordinary feat, and most people end up messing things up. Here is a step-by-step guide on how to clean cork shoes without damaging them.
How to Clean Cork Shoes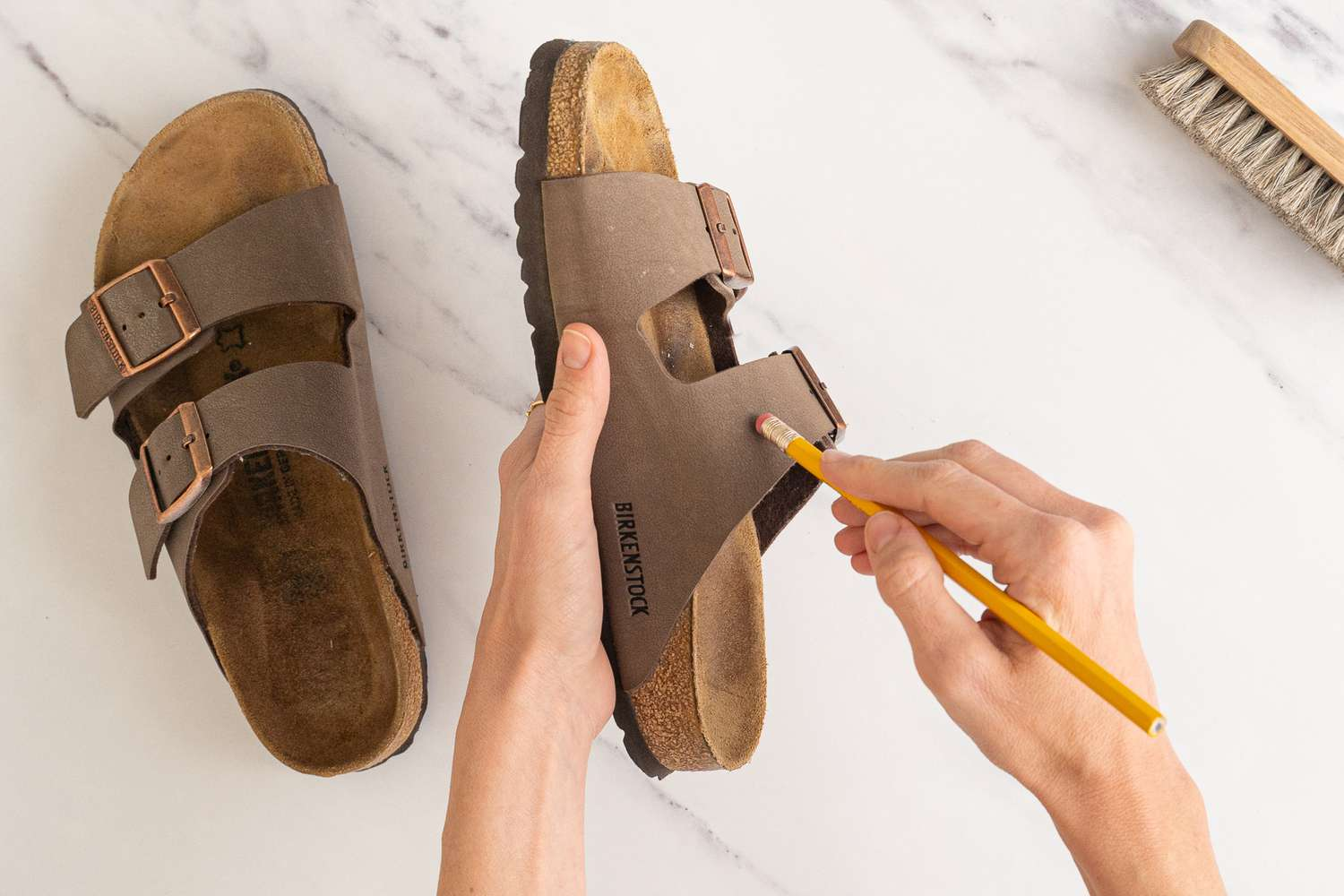 Image Source: thespruce.com
Cork shoes are natural antifungals and will protect your feet against athlete's foot or fungal toes. And the shoes are hydrophobic and tend to keep moisture away unless washed with water. Still, cork shoes are not waterproof, as would be said of our Vessi Weekends, and will eventually absorb water when exposed to it for long periods. The cork material risks growing mould and mildew if not left to dry properly, especially for closed shoes.
Here are the things you will need to clean the cork shoes properly;
Warm water

Clean cloth

Baking soda

Cork sealant

Toothbrush

White vinegar

Non-toxic detergent
Once you have all these items, here are the steps to follow when cleaning cork shoes:
Method 1: Using baking soda
Baking soda is great for dissolving dirt and grease in water very quickly. For this reason, it is an excellent choice for cleaning cork shoes, which we do recommend washing without using too much water. Baking soda is a great deodorizer that keeps the shoes fresh after every wash. With a touch of a few drops of essential oils, baking soda is our first choice for cleaning cork shoes.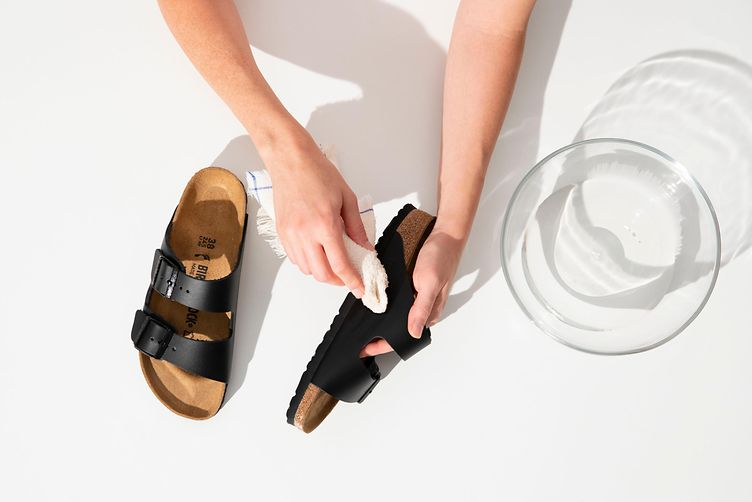 Image Source: birkenstock.com
Mix two tablespoons of clean water with one tablespoon of baking soda to make a thin paste.

Using a dry cloth, remove dust and any loose dirt from the cork soles' surface.

Dip the brush into the mixture to get the paste on it. The toothbrush should be coated and not dripping to avoid getting the shoes too wet during the cleaning process.

Using a gentle, circular motion, scrub the entire shoe surface to get rid of tough dirt. Remember, do not use too much force when scrubbing the footwear to avoid damaging the cork shoes.

Dip a clean cloth in lukewarm water and wring it until it is just moist. Using a clean cloth, wipe any residue and stains from the surface of the shoes.

Set out the shoes to air dry. Avoid placing the shoes or sandals in direct sunlight as the extreme heat might get them damaged. The shoes should rest in a dry place.

To end up with clean, odourless, comfortable shoes, place the cork shoes in a freezer to get rid of any odours. By putting the shoes in a freezer, you are killing any bacteria left behind without the need to use harsh chemicals on the shoes.

After the shoes have sat in the freezer overnight, remove them and apply a cork-sealer. The cork sealant protects the clean cork sandals or shoes from dirt, water, dust, and odours, making them last longer with each application.
Method 2: Using vinegar
Vinegar is acidic in nature, making it a good option for dissolving grease, dirt, grime, or tough mineral deposits. Vinegar is too strong for bacteria, reducing the chances of getting a bad odour after wearing shoes. Here are the steps best suited to clean cork shoes using vinegar.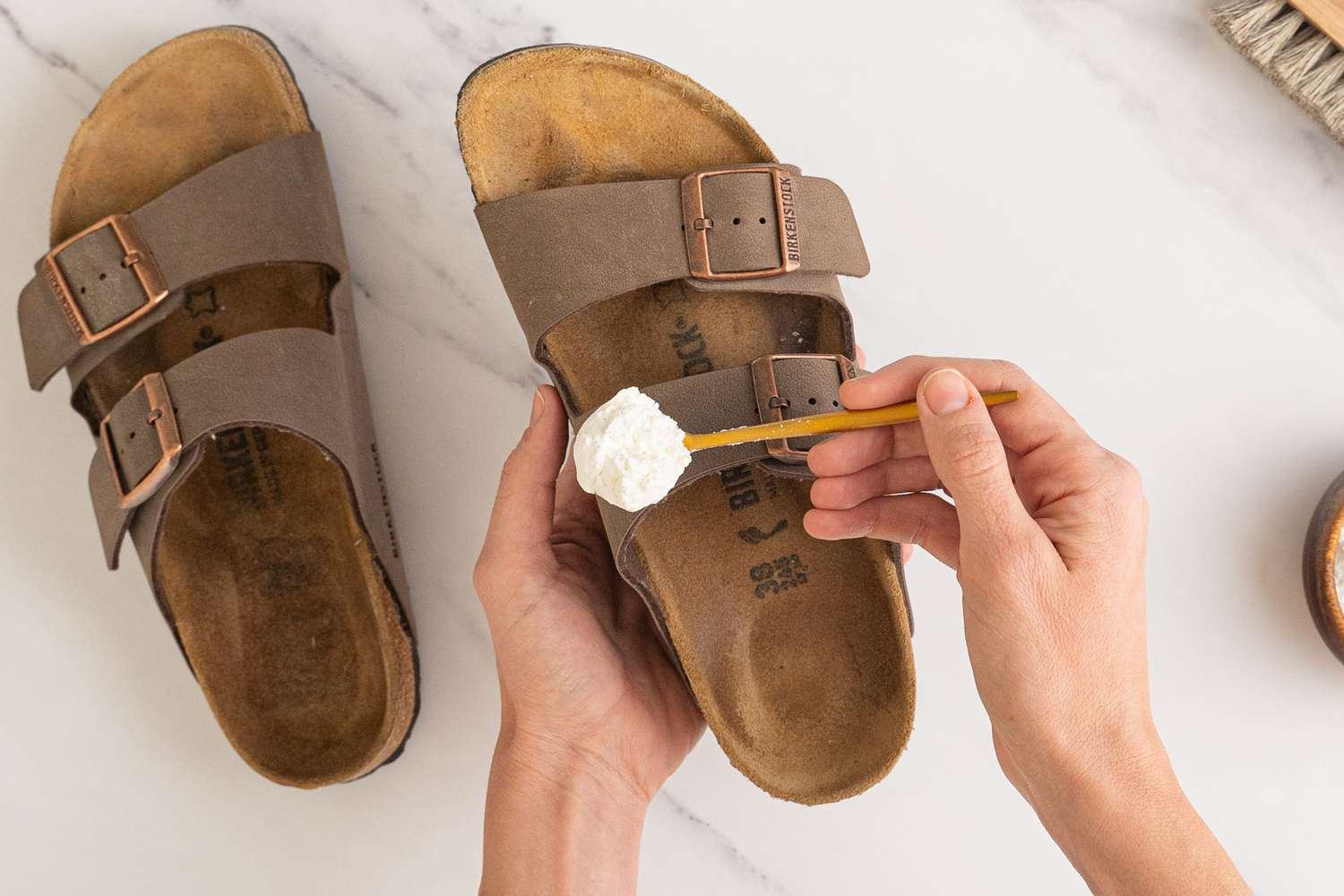 Image Source: thespruce.com
Using a half-litre of warm water, mix five drops of non-toxic mild detergent and half a cup of white vinegar.

Use a dry piece of cloth to remove dirt and dust from the shoes.

Dip a soft bristle brush into the mixture and use it to gently scrub off the dirt off the surface of the shoe. Ensure the brush is not dripping wet, and apply a thin layer of the cleaning solution.

Dip a piece of clean cloth in lukewarm water and use it to wipe off the cleaning solution from the surface of the shoe.

Air dry the shoes in the shade to dry the shoes without damaging them.

If you suspect the shoes might have been smelly before, you can place them in a freezer overnight. Since we are dealing with cork shoes, ensure the shoes are in an airtight bag to avoid any contact with water or moisture.

Apply cork sealant on the shoes to keep dust and dirt at bay. Also, the sealant protects the shoes from water, making them durable.
Please Note: Since this second method involves more water than the first, try as much as possible to use a damp cloth, not a wet one, especially on the cork footbed. Cork material is sensitive to water, so always use a small amount of vinegar or baking powder solution.
Final Thoughts
We love cork shoes as they are stylish, unique, and versatile. But, they are quite limiting because they fail at the slightest contact with a lot of water, which rids us of the freedom to clean the cork shoes with a lot of water or the satisfaction we get from jumping in puddles and braving the river banks. Also, we wouldn't want to get caught in the rain with cork sandals, which is why our Vessi shoes always work for any weather or activity, as they are waterproof.