What Shoes to Wear with Linen Pants: Stylish Tips
In the realm of fashion, we cannot overstate the importance of the right pair of shoes – especially when it comes to the art of pairing them with the ever-stylish linen pants. The journey to the perfect ensemble involves a delicate dance of personal style, occasion appropriateness, and the desired level of formality.
Our Vessi shoes are the ultimate game-changers in the world of style and comfort. With their waterproof marvel and unbeatable comfort, these shoes seamlessly align with the elegance of linen pants. Their contemporary designs complement the streamlined silhouette effortlessly, offering a versatile and undeniably chic combination.
From timeless sneakers to cutting-edge athletic footwear, Vessi shoes cater to all preferences. Whether you seek a casual allure or aim to elevate your look, trust in the authenticity of Vessi Shoes to provide the utmost in style and practicality.
So, let's embark on a journey through the diverse shoe styles to flawlessly pair with linen pants, ensuring you stride forth with confidence and style.
What Shoes to Wear with Linen Pants
1. Sneakers
Wearing sneakers with linen pants creates a comfortable and casual look perfect for everyday wear. From classic canvas sneakers to trendy slip-on styles, sneakers are a timeless and versatile option. Whether you opt for light-coloured pants or even linen shorts, sneakers add a touch of laid-back charm to your ensemble. For a summer style, consider pairing your linen pants with white canvas sneakers – a popular summer shoe that never goes out of style.
Image Source: goodlifeclothing.com
Take our Vessi collection, for instance. Our Everyday Classic Sneakers are the epitome of versatility, effortlessly harmonizing with the simplicity of linen pants. With their minimalist design, these sneakers offer timeless aesthetics and comfort for all-day wear, ensuring you stay stylishly cozy.
For those laid-back weekends, our Vessi Weekend Sneakers are the answer. These sneakers boast a sportier look and enhanced cushioning, perfectly suited for leisurely activities and casual outings. And when the city calls, turn to our Vessi Cityscape Sneakers. Designed with a water-resistant and breathable material, these sneakers easily navigate unpredictable weather. The urban sophistication of Cityscape Sneakers complements your linen pants outfit, ensuring you stride through the city streets in style, come rain or shine.
2. Sandals
Wearing linen pants with sandals conjures a relaxed, effortlessly chic ensemble. Opt for flat sandals for a laid-back, casual look to exude summer style. Block-heeled sandals are a timeless and versatile option for those seeking a slight heel, adding a touch of elegance to your linen pants outfit.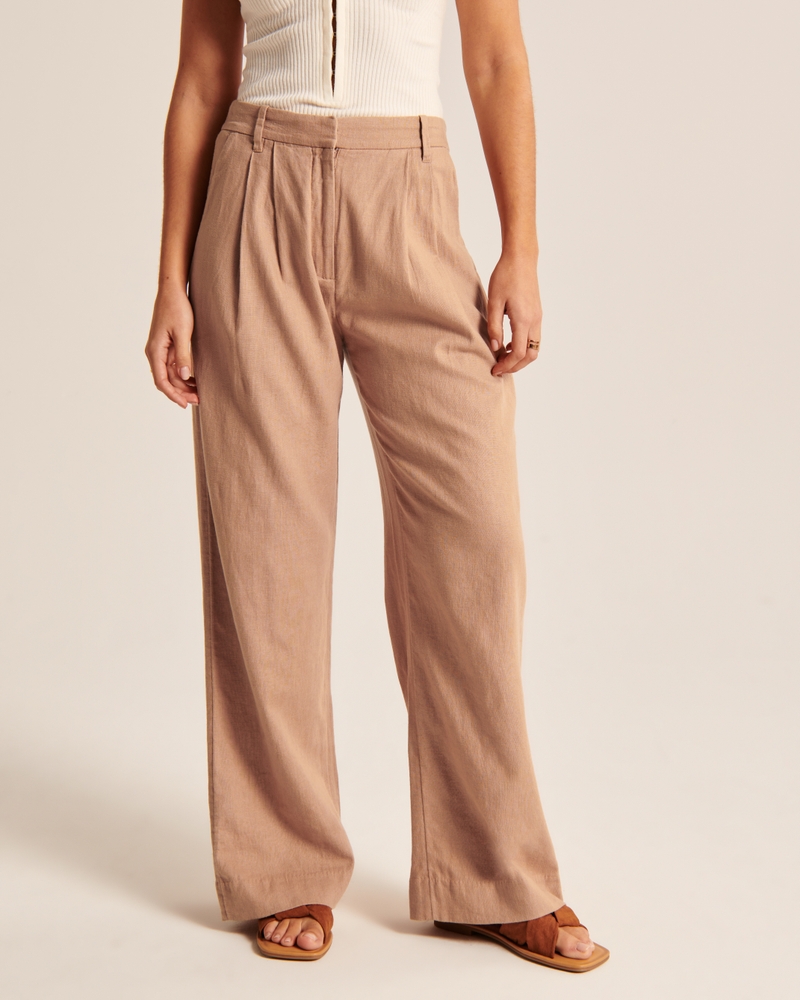 Image Source: abercrombie.com
Combining linen pants with sandals produces the ultimate balance of comfort and fashion, suitable for everyday wear or a night out on the town. Remember, the key is choosing sandals to complement your style while avoiding fashion faux pas. Embrace the freedom to express your individuality with the perfect sandals for your summer wardrobe. The best bit is both men and women can wear sandals with linen pants and still pull off a great look.
3. Ballet flats
Image Source: static01.nyt.com
Ballet flats complement linen pants, whether cropped, wide-leg, or white linen trousers. Their flat, slip-on style adds to the casual, relaxed vibe, perfect for warm weather or casual outfits. From beige to darker shades, ballet flats are versatile and suitable for dressier occasions and everyday wear.
4. Platform shoe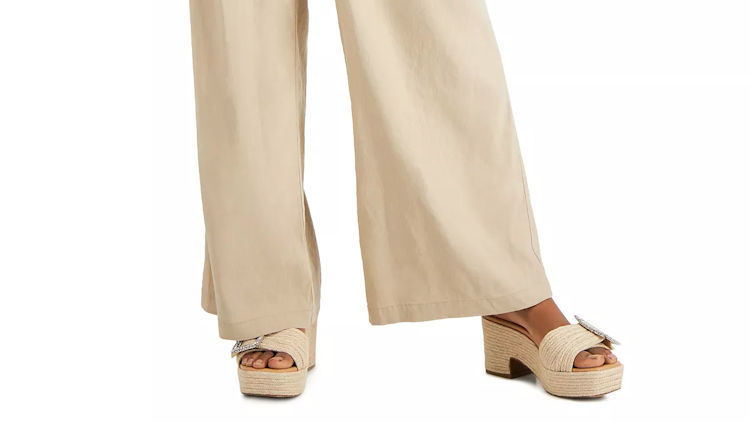 Image Source: luxurytravelmagazine.com
Elevate your linen pants game with platform shoes. Whether wearing wide-leg or white linen pants, platform shoes add a stylish edge to your ensemble. These versatile shoes provide height and style while maintaining a casual, relaxed vibe, perfect for warm weather and dressier occasions. Skip the formal shoes and let platform shoes be your go-to choice, offering a fashion-forward and comfortable option to complement your linen clothing flawlessly.
5. Block heels
Wearing linen pants with block heels creates an effortlessly chic ensemble. The combination of relaxed linen pants and the slight heel of block heels strikes a perfect balance between style and comfort. Light-coloured pants pair elegantly with block heels, giving your look a touch of sophistication.
Image Source: memorandum.com
Combining the casual vibe of linen pants with the structured appeal of block heels results in a versatile pairing suitable for casual and dressier occasions; whether aiming for a casual look with a polo shirt or dressing up with a denim jacket, block heels enhance your style while exuding timeless elegance.
6. Loafers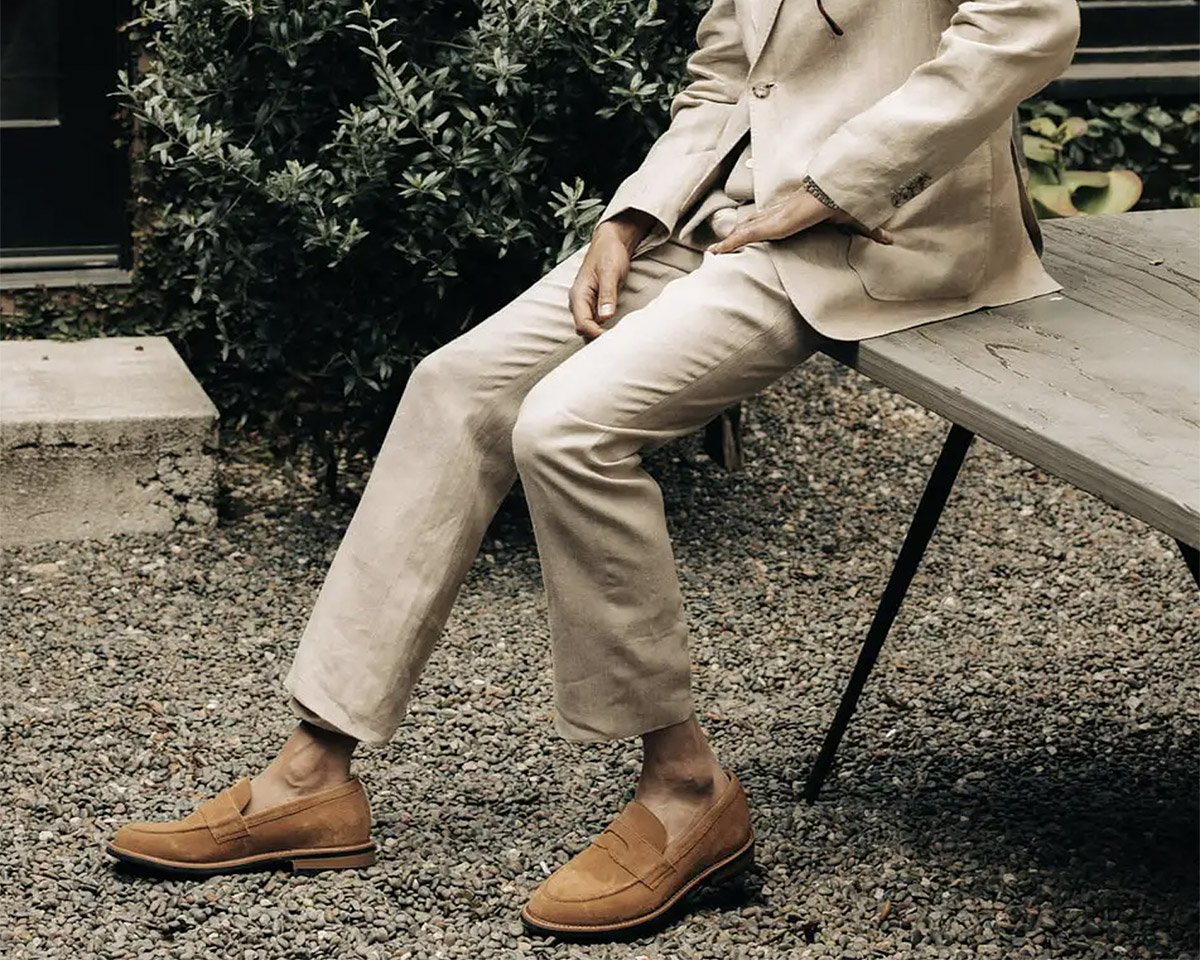 Image Source: werd.com
Linen pants meet their match with loafers. These slip-on shoes balance comfort and style, making them perfect for various occasions. Loafers provide a sophisticated touch to any outfit, whether you're going for a casual outing or a slightly dressier event. Their versatility shines through when paired with linen pants, creating a polished ensemble that's both chic and relaxed.
7. Classic Oxford shoes
Image Source: ke.jumia.is
Pairing classic Oxford shoes with linen pants elevates your look. Whether cropped linen pants or wide-leg styles, Oxfords bring a touch of sophistication. These versatile shoes balance a casual and relaxed vibe, perfect for warm weather and dressier occasions. Opt for this timeless shoe style to exude elegance while maintaining comfort and style in your linen pants ensemble.
8. Boots 
Wearing linen pants with ankle and Chelsea boots is another popular fashion option. The balance of casual and chic makes them ideal for a wide range of styles. Whether it's cropped or wide-leg linen pants, these boots bring a touch of versatility, fitting both casual and dressier occasions.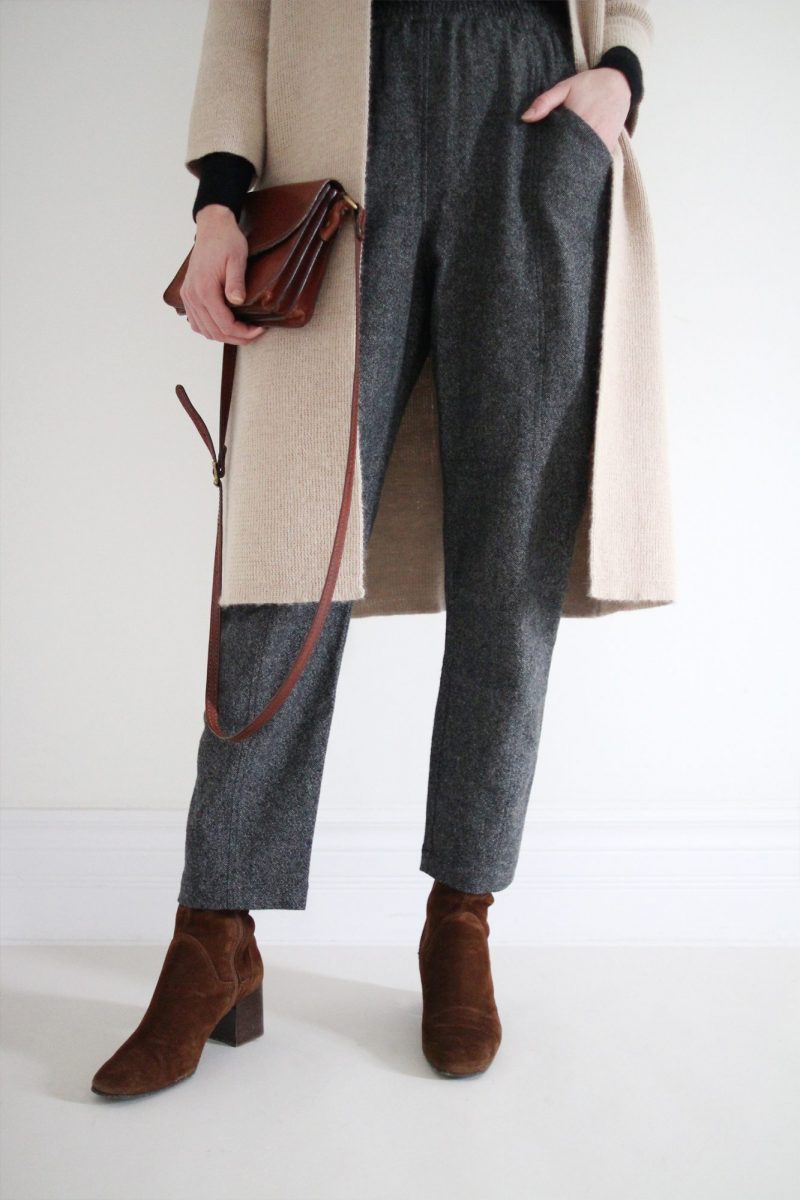 Image Source: stylebee.ca
Ankle boots offer comfort and style, perfect for cooler weather, while Chelsea boots give a polished look with a hint of edge. Embrace their adaptability and let these boots enhance your linen pants ensemble for an effortlessly cool and fashion-forward vibe.
Choose a pair like our Vessi Chelsea Boots. These boots offer a refined and classic style that harmonizes perfectly with the streamlined shape of linen pants. In addition to being waterproof, these boots include a traditional Chelsea boot shape with elastic side panels and a pull tab for simple putting on and taking off.
9. Boat shoes
Slip into boat shoes with your linen pants for a nautical touch to your ensemble. Whether white or beige linen pants, these shoes add a unique charm to capture the essence of warm weather and casual style.
Image Source: apetogentleman.com
Boat shoes balance casual and polished, making them an unexpected yet fitting choice for laid-back outings and more refined occasions. Embrace their versatility to create a fashion-forward, relaxed vibe to set your linen pants ensemble apart.
10. Peep toe shoes
Image Source: oceedee.com
Peep-toe shoes and linen pants – a fusion of casual allure and modern style. White or beige linen pants find a match in these unique shoes, creating an ensemble to thrive in warm weather. These shoes balance casual and dressier, making them perfect for relaxed outings and more polished events. With their playful design, peep-toe shoes exude versatility, enhancing the relaxed charm of linen pants while adding a touch of individuality to your outfit. Embrace the unexpected and let your style shine through this distinct pairing.
Tips for Finding the Best Shoes for Your Linen Pants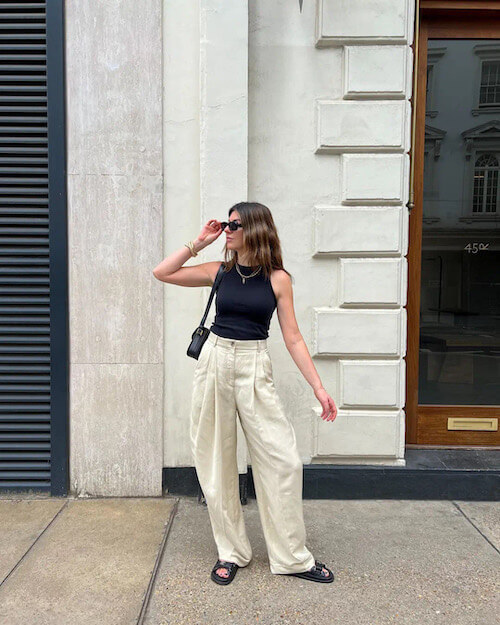 Image Source: girlsharestips.com
Discovering the ideal shoes to pair with your linen pants is about nailing a perfect balance of style and comfort. Here are some simple tips to guide you on your quest for the best footwear:
Match your style: Whether you wear linen pants casually or dress them up, choose shoe styles to resonate with your style. Ballet flats for a timeless look, slip-on sneakers for a laid-back vibe, or pointed-toe heels for a touch of elegance – the choice is yours.

Consider the occasion: Think about where you'll wear your linen pants. Flat shoes, like ballet flats or slip-on sneakers, are perfect for casual outings, while pointed-toe heels or dressier shoes are great for more formal events.

Colour coordination: Opt for neutral shades to complement your linen pants when in doubt. Dark brown, black, or nude shoes are versatile choices with various linen colours.

Embrace versatility: Look for versatile shoes you can dress up or down. Chunky sandals and trendy sneakers effortlessly transition from casual to more put-together outfits.

Temperature-friendly: For hot weather, consider breathable options like sandals or flip-flops. If you're aiming for ankle boots or closed-toe shoes, ensure they're comfortable and won't cause discomfort in warm temperatures.

Experiment with trends: Don't be afraid to try trendy sneakers or unique shoe designs to add a modern twist to your linen pants ensemble.

Prioritize comfort: The best shoes to style linen pants should provide comfort all day. Opt for cushioned insoles and a good fit to ensure you're not sacrificing comfort for style.

Mix and match: Experiment with different combinations. Try ballet flats with rolled-up linen pants and a button-up shirt for a classic look. Or pair slip-on sneakers with linen shorts and a casual top for a laid-back summer outfit.

Ankle cuffs: If you wear ankle-length linen pants, choose shoes that won't clash with the hem. Ankle cuff sandals or low-top sneakers work well to maintain a clean and stylish line.

Avoid fashion faux pas: Avoid wearing overly formal shoes or high heels with casual linen pants. Also, ensure your shoes don't overpower your linen pants, especially in colour and style.
Final Take on What Shoes to Wear with Linen Pants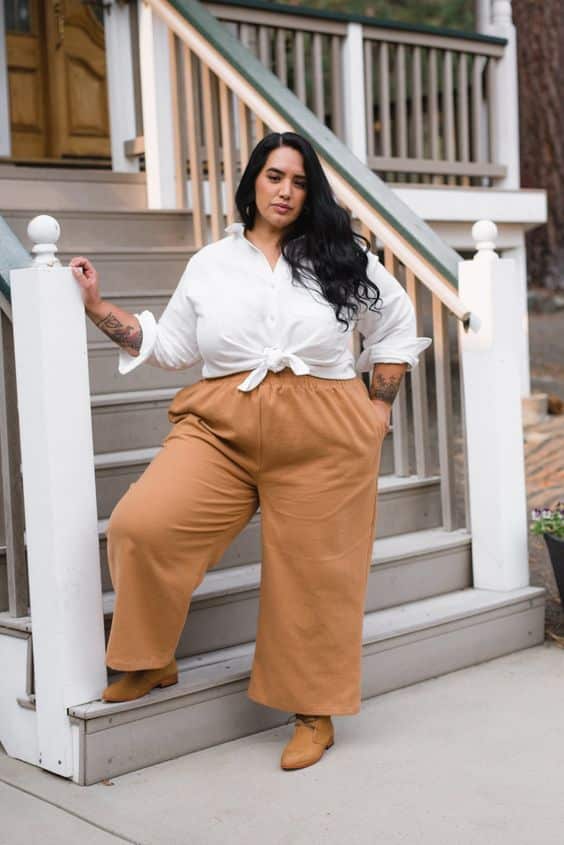 Image Source: outfittrends.com
Selecting the perfect shoes to complement your linen pants is about striking the right balance. Choose shoe styles to match your style, coordinate with your outfit's colours, and suit the occasion. Whether you opt for versatile ballet flats, casual slip-on sneakers, or elegant pointed-toe heels, ensure your choice aligns with comfort and fashion for a polished and confident look.