Best Shoes For Tennis Players For Everyday Use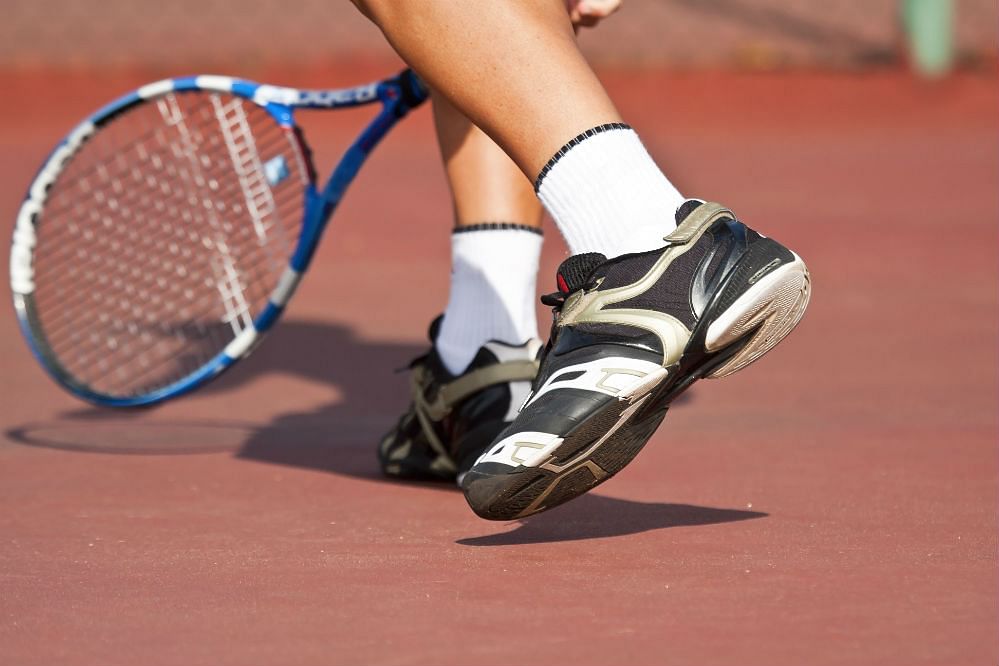 Tennis shoes are an essential part of any tennis player's gear, and it pays when you invest in the right pair. Choosing the right pair of shoes for your weekly tennis games can be vital when it comes to peak performance. This is because one of the most important distinctions when it comes to tennis shoes specifically is their treads.

Apart from their treads there are several other features that a good tennis shoe should have. Read on to understand more about the best shoes for tennis players.
Why Purchase a Tennis Shoe?
Like with any sporting activity you may need a shoe with specific features to ensure you can perform at your peak. Tennis shoe are no different.

It's important to start by noting that tennis shoes cannot (and should not) be replaced with walking or running shoes. This is because when you start changing directions when wearing other types of shoes you run the risk of hurting your feet. Even though these other pairs may have a good grip, they may actually lack the support and structure of a tennis shoe. On top of that, tennis shoes have lateral support on both the inside and outside of the shoe, which other kinds of shoes don't tend to have.
Whether you're looking for the most durable, stable, and lightweight option or the best all-around, we have compiled a list that will help you navigate the buying process.
Our goal is to help you make the right purchase decision for your feet to ensure comfort and ease for your tennis game.
1. Vessi Everyday Shoes
Vessi shoes always take the crown when it comes to being some of the best shoe manufacturers out there. This is because not only are they eco-friendly but they're also pretty sustainable - unlike most shoes in the market.
Vessi Everyday shoes feature removable insoles so you can customize the arch support however works best for you. Proper arch support will help distribute pressure to your arches when playing tennis, which is key to play safely.
The Everyday shoe also offers maximum breathability to prevent odours or sweaty feet. In addition, the durable shoe is super comfortable and has a cushioned sole for extra support. They are also very lightweight, meaning you will hardly get weighed down during your tennis match. Vessi Everyday shoes are also 100% waterproof, meaning you don't have to worry about dampness during cold and rainy seasons.
One thing to note is that the Vessi Everyday shoe isn't recommended for advanced tennis athletes. But it's a great option for Vessi fans who also play tennis as a hobby. Thanks to its versatility and comfort, it can also be worn as everyday wear and when headed to a pro tennis match.
Pros
Great arch support

Breathable mesh knit

Suitable for everyday wear

Lightweight and comfortable

100% waterproof

Removable antibacterial innersole

Can accommodate orthotics

EVA cushioning.
Cons
Might not be warm enough for cold seasons
2. Nike Air Zoom Vapor Pro Tennis Shoe
NikeCourt Air Zoom Vapor Pro Shoe is one of the best tennis footwear options for both men and women. If you're looking for a lightweight tennis shoe option then this updated version Nike's old Vapor X model should be top of your list.
Used by multiple professional tennis players, the Nike Air Zoom all-court tennis shoe has unmatched responsiveness making it suitable for advanced players. In addition, it has a redesigned upper that features several layers to enhance breathability and comfort.
NikeCourt Air Zoom Vapor Pro Tennis Shoes features an inner layer that wraps around your feet in a glove-like fit, and an outer layer that adds durability and support. The shoe's midsole and outsole use Zoom technology for additional cushion, so it's the perfect shoe for tennis players looking for versatility and lightweightness. But, this also means that the sole will not be the most durable.
Pros
Lightweight

Great for use in any court surface

Low profile

Responsive sole

Breathable and comfortable
Cons
It features a little toe guard

Not the most durable

May need a break-in period
3. Asics Gel Resolution 8
Asics Gel Resolution 8 are among the best women's tennis shoes, and men's, for comfort and durability. These shoes feature a patented gel cushioning technology on both heel and midfoot areas in order to increases stability and comfort on impact while maintaining perfect responsiveness. It also comes with a cushion throughout the shoe and a tongue that prevents debris from getting in, making it great for clay court tennis players.
These shoes also come with a synthetic sole that wraps around the toe and on the shoe's side for added durability, and it's one of the most stable and supportive shoes on the market.
However, it may take a while to break them in, and they're not as breathable as some of the competitors. Still, the well-designed upper usually offers a great combination of support, comfort, and stability.
Pros
Superb comfort

Stable and supportive

Durable

High abrasion rubber sole

6-month outsole warranty
Cons
Not suitable for wide feet

Not as breathable as others
4. K-Swiss Hypercourt Express Tennis Shoe
The K-Swiss Hypercourt Express Shoe is a great shoe for tennis, and even though it doesn't seem to be that popular in the tennis world. It offers excellent value for your money thanks to the boosted cushioning and comfort levels. The flexible synthetic upper gives the shoe a secure yet flexible fit, allowing you to navigate the court quickly.
This collection also has a wider toe box, making it great for those who need a wider fit. They also offer great toe protection and durability even while using lightweight materials. However, it does lack support on the outside, meaning it will not be suitable for players who run and cut quickly.
Pros
Lightweight and super responsive

Perfect tennis women's shoes for wider feet

Needs little time to break-in

Great toe protection
Cons
Lacks full support

Not ideal for women with narrow feet
5. Adidas Stella Court Barricade Tennis Shoe
The Adidas Stella Court is among the best tennis shoes for women looking for a comfortable yet high-performance and lightweight option. Like other tennis shoes from the top brands, Stella Court tennis shoes are a great combination of performance, comfort and style. In addition, they feature an upper mesh material that gives your feet a sock-like fit and helps add support, comfort, and responsiveness.
These shoes are some of the best options when it comes to playing thanks to the sole technology that guarantees excellent cushioning without sacrificing performance. However, even though it offers maximum comfort as a lightweight shoe, it does not offer enough outside support and lacks extra durability. As a result, it may not be the best fit for tennis players who quickly move around the tennis court since they may wear the shoes out quickly.
Pros
Secure and sock-like fit

Lightweight

Breathable upper

Comfort

Great performance
Cons
Not as stable as other shoes in the same range
Types of Tennis Shoes for Different Court Surfaces
Even though most players seem to prefer hard courts, it's essential to know that different shoes perform differently depending on the surface.
Some of these court surfaces include:
a) Hard courts
A tennis shoe for a hard court will focus on durability and comfort. These types of tennis shoes need to have non-marking soles to protect the court from any scuff marks. Luckily, most tennis shoes are made for these courts because they are the most popular surface to play on.
In addition, hard court tennis shoes can also be used on clay courts and grass courts, even though there are other better designs for those types of surfaces.
b) Clay court
Clay court tennis shoes will require some unique features to help maximize their performance on this type of surface. For starters, a herringbone tread pattern on the outsole generally provides a good surface grip. This tread pattern also helps in releasing clay efficiently, ensuring the shoe maintains maximum traction.
However, clay court footwear doesn't need a lot of stability and cushioning on the sole. It also tends to use mesh sparingly or may feature a tighter mesh than hard court shoes for tennis. This is to prevent the clay from getting into your shoe through the shoe's upper.
c) Grass court
Grass courts are the least popular of the bunch when it comes to court surfaces. They're known for being pretty slippery so you'll need flat soles with tiny studs or pimples to maximize traction. That said, make sure you're getting something with less intense studs to avoid damaging the courts.
It's worth noting that grass-court tennis shoes tend to be hard to find because of their low demand. But, if you can find the right shoe for you then it's worth the investment.
Factors to Consider When Shopping For The Best Tennis Shoes
When buying tennis shoes there are a variety of things you should take into account. For example, the type of grip the shoe offers, how it holds your foot, and of course the court type.
All these things will determine your stability and confidence when playing.
Here are a few other things you should consider before making your purchase:
1. Stability
When playing tennis, abrupt or sharp movements are very common, whether it's a side-to-side movement hitting groundstrokes or coming forward to approach the net to volley. With all these movements, you will need stability and the shoe you pick should have enough rigidity to handle the quick start and stop movements on the tennis court.
Many shoes feature a rigid plastic insert called a shank in the sole's middle, increasing stability and preventing twisting. Also, the shoe's upper often gives stability, and you will need to have your foot locked in to avoid sliding forward when making movements. This is why a shoe's lacing system also plays a big role in stability.
2. Comfort
Tennis shoes are stiffer than most shoe types because they need to support a wide range of motion. Despite that, some new shoes may be more comfortable than others.
When shopping for the best men's tennis shoes, or women's tennis shoes, look for options with a generous midsole. The insole should also offer additional support which you can always replace if you need extra comfort.
3. Weight
A shoe's weight is directly proportional with how fast you are when wearing them. Where a lightweight shoe will help you go faster, a heavy shoe will slow you down.
However, keep in mind that the size of the shoe will also affect its weight, so keep this in mind when looking for the right pair for you.
4. Durability
Most players enjoy playing the sport on hard courts, and so their shoes must be durable enough to stand up to the beating. The shoe's durability is determined by the outsole, which is in constant contact with the tennis court. But it doesn't mean it is the only part that should be durable.
The toe cap and heel counter are other areas that may come in contact with the court, and therefore you should also check how durable they are. This will ensure you get the most service out of your shoe.
5. Arch Support
Different shoes offer different arch support levels. The kind level for your foot shape and needs can help alleviate pain. Most tennis shoes usually offer moderate to low-end arch support, which may be enough for most players.
However, if extra arch support is needed then you should look for options that have removable insoles. That way you can replace them with a custom insert.
6. Ventilation
Ventilation is an essential factor to consider, especially if playing in hot weather. Ventilation is needed to prevent blisters and keep your feet dry.
Additionally, keep in mind that your shoe's colour can determine how hot your feet get as well. Lighter colours reflect the sun while dark colours absorb the heat causing your feet to get warm.
7. Level of skill
Generally, the more expensive a shoe for tennis is the more features it packs - and the more it can cater to advanced players.
How skilled you are should also determine the type of shoe you opt for. Beginners on the other hand may opt for a less expensive shoe. It will still offer reliability but won't have all the unnecessary (and more expensive) bells and whistles professional models offer.
8. Traction
A tennis shoe outsole is directly responsible for the amount of traction it will offer. Most players will appreciate an excellent grip, especially on hard courts.
The outsole texture, material and pattern usually contribute to a player's traction when moving around the court. And as we mentioned before as well, the court surface may also make a huge difference.
Frequently Asked Questions About The Best Shoes for Tennis Players
1. What other shoe brands offer good options that you haven't mentioned?
Some of the other women's and men's tennis shoes brands include New Balance, Diadora, Nike Air Zoom Vapor Cage, and Asics Court. All are excellent alternatives to the models we mentioned above.
2. Is speed or stability more important in a tennis shoe?
When purchasing shoes for tennis, you can be lucky and find a shoe that offers the best both worlds. But if you have to choose one the best will be whichever offers the most stability. This is because no matter your playing style and movement, you will be guaranteed safety when changing direction.
Image Source: https://alltennisgear.com/