The Best Waterproof Running Shoes for Men and Women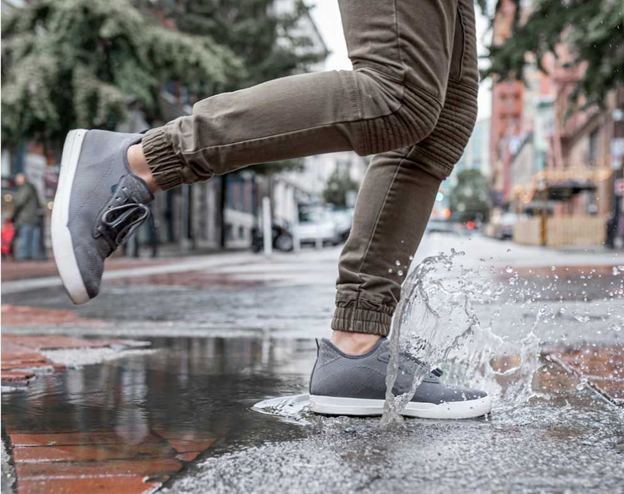 Regular morning or evening runs mean that you will get caught up in the rain once in a while. Waterproof running shoes are the difference between your feet getting soaked wet within 5 minutes versus staying dry all the way home.
Some running trail routes will have small puddles and water streams, and missing your step shouldn't mean miserably running in wet feet and soaked shoes the rest of the way. The waterproof lining in your running shoes is a must-have at this point. They will keep your feet dry for longer. Regular running shoes are made of an open-mesh footwear fabric, so you probably want to ditch those.
Other than protecting your feet from wetness, waterproof footwear should have thermal insulation to keep your feet all toasty and warm even during your winter runs. The upper acts as the perfect wind-blockers to keep the inside of your shoes warm and dry during cold, wet months. If trail running routes are off-road, then you should get waterproof trail running shoes.
The Best Waterproof Running Shoes With Cushioning
1. Vessi Everyday Waterproof Sneakers
Women's - https://vessi.com/collections/womens-everyday-sneakers/products/womens-everyday-marine-blue
Men's - https://vessi.com/collections/mens-everyday-sneakers/products/mens-everyday-midnight-black
The perfect pair of waterproof shoes should be versatile enough to go running in, hiking, or cycling in. But what if you had the option of a stylish, functional pair of running shoes that could easily pair up with your denim pants and still look perfect to go to the restaurant in or even meet your friends later at the bar.
That's exactly what Vessi waterproof sneakers offer. Vessi is the new market leader in the footwear industry that is out to provide the most comfortable, functional, and versatile sneakers. They use an innovative patented waterproof technology to give you top-performance shoes built to withstand extreme conditions all year round.
Vessi waterproof shoes made it top of the list of the best waterproof running shoes, and here's why. Vessi waterproof shoes feature a patented Dyma-tex material to give you full waterproof shoes made from a lightweight knit fabric. To assure you the waterproof feature will not wear off with time, they integrate the Dyma-tex membrane directly into the knit material instead of using the regular hydrophobic coating that many brands use for their 'waterproof' shoes.
The shoe construction makes it completely impervious to water but still breathable and light enough to let out sweat, making them perfectly suitable even during summer. The knit fabric also has layers of engineered material to give these waterproof shoes an adaptive stretch for a comfortable, snug feel when you wear them.
That makes them perfect for people with narrow or wide feet. Vessi footwear also integrates moisture-wicking, antibacterial insoles, so no more stinky feet. And the fact that they are removable and replaceable is convenient if you need to use orthotic insoles.
For maximum stability and balance, the sneakers have a slip-free Herringbone grip with engraved channels to zone out water and give you better traction in the rain or snow.
Under their Everyday waterproof sneaker collection, they offer a clean, trendy, stylish and functional pair of running shoes that gives you that athletic feel and is perfectly convertible for your daily routine. Is there anything more perfect?
The Everyday sneakers feature extra arch support with cushioned soles to keep your feet comfortable all day, every day, all through the year. The Vessi Everyday sneakers are perfect for any lifestyle, whether active or not.
Also worth noting, Vessi footwear is 100% vegan and eco-friendly since they can leave a lower carbon footprint, 600% less energy, in their manufacturing process.
Pros:
A decent looking pair that are comfortable even on first wear, so they don't need breaking in
The patented waterproof technology 100% waterproof
They're extremely light
They're stylish and versatile enough for everyday use
They are built to last even in the harshest weather conditions
The fabric is easy to clean
They are globally accessible
They have an eco-friendly sustainable manufacturing process that is vegan-friendly
Cons
When you wear the shoe a little too tight, the laces can dig in
2. Salomon X Ultra 3 GTX Running Shoes
Women's - https://www.amazon.com/Salomon-Womens-Ultra-Trail-Running/dp/B072PPXZMV/
Men's -https://www.amazon.com/Salomon-Mens-Ultra-Hiking-Black/dp/B071ZBGHX2/
A low-top trail running shoe that will handle everything you throw at it, even in the winter conditions. The Salomon X Ultra GTX is light and flexible enough to grip well on any terrain or surface. These waterproof running shoes come with a padded collar and tongue and sculpted insole to provide the support of a trail running shoe and the added protection and comfort of a hiking shoe.
What's more, they make use of Contagrip outsoles. Gill-like rubber cut-out soles that cling to the ground and perform well in soft mud, snow travel and most importantly, doesn't deteriorate even after hiking on granite.
What makes these shoes even more popular is the Gore-tex lining that offers you a waterproof, breathable run with a decent amount of insulation and protection in the wet, cold season. The shoes also come in a reinforced upper, synthetic material to complement the Gore-tex lining and protect the breathable mesh fabric from wearing out.
Salomon's unique Quicklace system and the relatively high eyelet on the shoe will have the laces snug evenly around your foot compared to the traditional laces. This helps create a seal around the foot that keeps out dirt and debris.
With all these features, the waterproof running shoe is listed at 1 lb. 10.8 oz. which is incomparably lighter compared to most waterproof trail running shoes.
Pros:
It has a substantial toe cap
It has a lightweight top performance
They are aggressive and flexible, without compromising on traction, comfort, and durability
It has solid toe, heel, and underfoot protection
The Gore-tex provides waterproof protection
There are wide sizes available for both men and women
Cons:
The Gore-tex insulation can get pretty warm, which is not as convenient in the hot, dry climates
The Quicklace system tight grip can get a little uncomfortable with time
3. Vessi Cityscape Waterproof Sneakers
Women's - https://vessi.com/products/womens-cityscape-charcoal-grey
Men's - https://vessi.com/products/mens-cityscape-carbon-blue
With the whole rave on how amazing Vessi stylish sneakers are, it'd make sense why they keep selling out and amassing such long waitlists (23,000-people waiting list!). If history is anything to go by, grabbing one of these early might be in your best interest.
Vessi waterproof shoes maintain that lightweight, trendy athletic look that just doesn't look good; it feels good and functions as it should. Who wouldn't want a couple of those choices in their closet?
Vessi's Cityscape sneakers are the brand's original line of waterproof shoes. This classic original maintains that minimalistic, stylish design that not only works perfectly as your waterproof running shoe but pairs up well with different attires, be it for work or leisure.
As always, Vessi maintains that ultra-lightweight feel (they only weighs 6.7 ounces ), making it a comfortable, completely waterproof, functional running shoe. The Cityscape sneakers still deliver the same breathable, stretchy features with the Dyma-tex membrane directly infused into the knit material.
Like all Vessi footwear, the Cityscaperunning shoes are versatile for use every day. With that said, it's worth noting that the price isn't as ridiculously high as you'd imagine for the benefits and features it offers.
Unlike most running shoe brands that primarily focus on men, Vessi sneakers are unisex, and men's sizes run relatively wider than the women's line. This gives people with wide feet plenty of options.
The Cityscape sneakers also have a breathable four-way stretch knit fabric, an antibacterial insole, a well-cushioned interior, and a durable rubber outsole that provides incredible traction. All these features, coupled with its unmatched waterproof aspect, make it one of the best choices you have as you pick out your waterproof running shoe that's both ideal for winter and summer and all year round.
Pros:
The Cityscape sneakers have an unmatched level of waterproof capability
The patented technology is impervious to water and offers a decent amount of insulation in freezing temperatures
The upper knit fabric is breathable enough to let out sweat
The removable antibacterial insole is perfectly convenient for people who use orthotic insoles and have sweaty feet
The knit fabric is stretchy and adaptive to your feet
Like all Vessi sneakers, the Cityscape sneakers offer a versatile everyday sneaker that you don't just have to use while running
Cons:
The laces tend to dig in if the shoes are worn tight
4. Adidas Outdoor Terrex Swift
Women's - https://www.amazon.com/adidas-outdoor-Womens-Terrex-Swift/dp/B078K1HFQP
Men's - https://www.amazon.com/adidas-Outdoor-Terrex-Swift-Hiking/dp/B07FBNCPVR/
The Adidas R2 GTX is a low-cut waterproof hiking shoe that works perfectly as a trail running shoe. It is ideally suited for the rough path and rock terrain. Needless to say, using them in the city would be grievously underusing them, but even then, they'd work perfectly.
It's relatively heavier compared to Vessi but reasonably weighs 1 pound 8.6 ounces. It is impressively stable with excellent traction. Traction on the Adidas Terrex Swift is mainly due to the deep and durable lugs that grip well on rock and are substantial well-spaced. The rubber outsole is noticeably hard, which helps make them durable, while the rigid, stiff design and structure help maintain your foot and ankle in place. The rubber outsole design also helps prevent mud from caking up on your shoes.
The upper is high enough to keep water from seeping in, and just like many Gore-tex lined shoes with protective overlays and mesh fabric, the closed structure and design prevent the mud and dirt from sticking on the upper.
The Terrex Swift R2 Gore-tex liner makes it fully waterproof and somewhat creates enough airflow to let your feet breathe.
Pros:
They have a fit that is true to size
The shoe is slightly wider than most brands, so their standard size should work for most people with normal to wide feet
They make a tremendous waterproof trail running shoe option that can also be used for walking
They offer reliable quality shoes for both men and women
Cons:
The overall stiffness of the shoe
The lacing system, Lace Bungee, is a bit clunky and not as convenient
5. Brooks Ghost 13 GTX
Women's - https://www.amazon.com/Brooks-Womens-Running-Black-Peacock/dp/B083XVL4LH/
Men's - https://www.amazon.com/Brooks-1103421D-Ghost-13-GTX/dp/B0842NZMMC
Brooks Ghost 13 GTX is made of mesh layers, synthetic material, and a Gore-tex lining to give you a waterproof, breathable, comfortable and supportive feel. Its midsoles are made of Brook's BioMoGo DNA foam to give you that incredible spring and shock absorption as you run on whatever surface.
It also features a 12mm drop to give you extra heel support as you run. The traction and stability offered by the outsoles are perfect, but it is important to note that they are well suited for modest terrains. If you plan to run on rough paths, opt for a shoe with deeper treads.
Pros:
The Gore-tex lining makes the shoes waterproof
The Gore-tex lining offers a decent amount of insulation during cold runs
They are breathable
Use of the BioMoGo DNA foam for that incredible spring and shock absorption
Cons:
The low-cut is not suitable for people with high arches
The slim design is not ideal for people with wide feet
Factors to Consider When Buying Waterproof Running Shoes
A. Fabric and Materials
The quality of materials used to make the shoe and its construction very well determines whether or not it's waterproof and whether or not it's going to last. Vessi's Dyma-tex technology and its engineered materials provide next level waterproof aspects, breathability and are also built to last.
B. Weight
Running should be downright light enough to complement your training and movements. Heavy grinning shoes might cause ankle injury as your foot tries to maintain stability.
C. Terrain
The terrain of the routes you run on will determine what kind of running shoe you need.
Frequently Asked Questions on Waterproof Running Shoes
1. How can I maximize the efficiency of my waterproof running shoes?
Consider using waterproof pants to complement your waterproof running shoes. To work best, they should go all the way down to your ankles. You can also use gaiters to prevent water from getting in from your ankles when it rains.
2. Should I get waterproof socks?
Most runners will only use socks in extreme weather conditions. Simply avoid water seeping into the shoes, and if you have to use socks that will not be slippery to prevent injury as you run.